Location
Hesperia, California
(760) 947-5538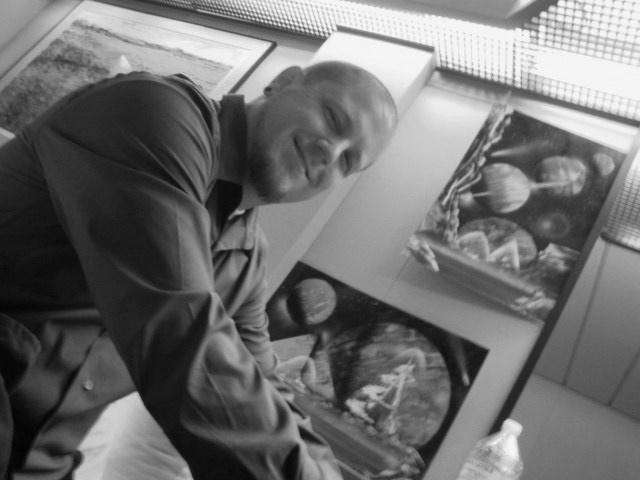 Scott Grosjean's first introduction to tattooing began when he received his first tattoo at age 14 by a recently paroled "veterano" straight out of prison with a home made tattoo machine. Scott's love for getting his body tattooed became an obsession.
During his late teen years and early 20's Scott was a bassist to a local grind metal band, Point Blank, which played gigs throughout San Bernardino, Riverside and Orange County venues. Scott worked several dead end jobs which included construction and warehouse labor while trying to juggle his music band. Self taught, Scott started tattooing in the year 2000.
Most of Scott's early pieces began with black and grey art which were influenced by artists such as Paul Booth. Starting his first tattoos in friends homes; Scott had a desire to expand and refine his skills and in the year 2004 he began working shop to shop through out the Inland Empire and worked his way to Orange County, to cities such as Fullerton and Huntington Beach. Making many great friends and meeting many artists Scott added more art to his own body from top artist within the industry which includes Kat Von D, Carson Hill and good friends Chris Burnett and Tim Trevino and the list goes on.
Scott's taste for body art has no limits. His art pieces commemorate family members while others display black and grey art and a bio mechanical back piece. Scott believes that a tattoo is not something one should pay little money for, "you get what you pay for."
To grow as an artist Scott strives to surround himself with other artist that had similar motivation so he could learn as much as possible. He knew and still knows that the best way to advance artistically is to surround him self with people who challenge him daily. Over the years Scott worked with a number of amazing artists but never found a place to call home. Long from where he first started Scott continues to feel motivated, determined and driven to succeed.
Having received an offer of a lifetime Scott has finally found a home. He can now be found at the Art Junkies Tattoo Studios working along side some of the best artist in the industry. Scott feels that he has a lot to bring to the Art Junkies and knows that his skills will only expand his art skills to the next level. With all his experiences both personal and professional Scott finds that the sky is the limit and he believes he can accomplish anything he puts his mind to.