Tattoo Information
Here's where you will find all sorts of information about tattoos. From the latest and greatest tattoo news on the net to the archive of info for people just learning how to tattoo. Check out the links below.
Tattoo News : rss
Bob Tyrrell DVD Method to my Madness for sale!
From TattooNOW 4/15/14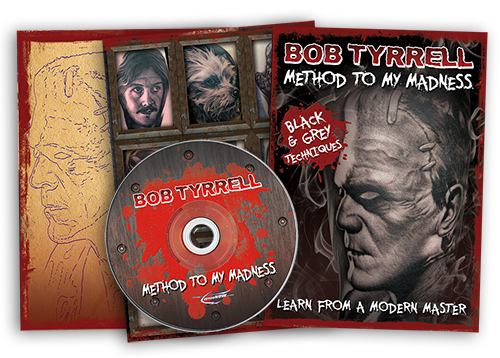 The long awaited Bob Tyrrell DVD "Method to my Madness" is now shipping! This DVD is distilled from an 11 hour long marathon webinar Bob gave during his visit to Off the Map Tattoo in Easthampton Mass.
In this in first ever DVD from Bob, he covers in depth, his step by step process of executing a finely detailed and perfectly rendered portrait tattoo. He covers machine choice, setup, needle selection, and ink preference. Here's your chance to look over the shoulder of a black and grey tattoo master. Gain unprecedented access to Bob Tyrrell's methods, techniques and best practices.
Included is in this DVD is a comprehensive slideshow taken from Bob's seminars that he has presented at tattoo conventions across the globe. Bob highlights past work and his reasons for specific choices he made during the creation of those tattoos.
You'll be able to sit in the booth with Bob as he takes you from setup, to photo reference to creating and applying the stencil; followed by a stroke by stroke tutorial of his realistic portrait tattoo style. The camera's eye is trained on Bob's needles so you can see the ink going into the skin, so you will truly be able to understand the Method to his Madness.
Buy this DVD today and get access to the full 11hr webinar for free!
---
TattooNOW Network Headlines
Recent Forum Posts
4/18 - [137] - TATTOO PARLOUR IN DELHI...
4/18 - [1] - Tattoos in Mumbai city
4/17 - [92] - tibetan tattoos
4/16 - [1] - New support group for the self taught artist!
4/11 - [7] - CALF PAIN
4/11 - [31] - Borneo Flower
4/10 - [117] - scream tattoo ink
4/9 - [1] - Tatto Machines Help.
4/8 - [1] - Tattoo Artist Wanted Chicago area
4/8 - [1] - SPLASH OF INK TUCSON
4/8 - [1] - splash of ink tattoos tucson
4/8 - [1] - Body Piercer Needed
4/6 - [1] - Tattoo artist wanted in Maryland!!!!
4/5 - [11] - Hi, I'm Dough and I'm a scratcher.
4/5 - [73] - Best tattoo artists in NJ
4/5 - [20] - Seeking Tattoo Apprenticeship
4/3 - [5] - dominick cianci, nick cianci aka nick volpe
3/24 - [162] - skin bumps underneath tattoo
2/28 - [55] - Best tattoo artist in Singapore?
1/19 - [105] - free sample tattoo ink
1/17 - [53] - Joe Rose LION'S DEN TATTOO STUDIO
10/10 - [4] - FAMOUS TATTOO ARTIST IN INDIA
2/8 - [58] - tibetan translation
12/31 - [366] - Tibetan tattoos
12/20 - [2] - How goes it?

Tattoo Age Video - Grime Part 3
In a more personal look at Grime, we hear about how he has self published two books based on his personal art and journal writings. We also learn of his need to constantly create in order be self satisfied.
---
TattooNOW Video channel
Tattoo Age Video - Grime part 2
Tattoo Age Video - Grime Part 1
Tattoo Age Dan Santoro Video Part 3
Tattoo Age - Dan Santoro Video Part 2
Tattoo Age - Dan Santoro Video Part 1
Tattoo Artist Magazine - 2011 Ink-n-Iron
Gypsy Gentleman - New York City
Tattoo Age - Trailer
Graceland Tattoo Video
Nathan Kostechko - June 2011
Jeff Johnson - Interview
Scott Olive - 2011
jesse-smith-tattoo-artist-08
Markus-Lenhard-Netherlands-Tattoo
Mike-Giant
I-45 Ink - Houston Texas Tattoos
Legacy-Tattoo
English Johnny - Tattoo Artist
Petri Syrjala