Tattoo of the Day
12.26.17
Join us to watch resident artist Gao Feng (instagram @gaotattoo) cap off a shoulder with a beautiful Japanese traditional dragon! Call 413 527 6574 or go to www.offthemaptattoo.com/freeconsult to book a free consultation with Gao or any of our other talented artists!
11.19.17
<iframe src="https://www.facebook.com/plugins/video.php?href=https%3A%2F%2Fwww.facebook.com%2FOffTheMapTattooNE%2Fvideos%2F10155910111911977%2F&show_text=0&width=560" width="560" height="315" style="border:none;overflow:hidden" scrolling="no" frameborder="0" allowTransparency="true" allowFullScreen="true"></iframe><br>
Tattoos For Equality Benefit at Off The Map Easthampton ballroom
Come on down now to get a tattoo today for the Tattoos For Equality Benefit.

Benefit day is one of the highlights of the year since starting the annual event in 2010. Tattoos from this flash sheet will be $100 each this year, and 100% of the proceeds will be donated to the National Coalition Against Censorship, meaning that for every tattoo made, $100 will be donated. The National Coalition Against Censorship (NCAC) is an alliance of more than 50 national non-profit organizations, including literary, artistic, religious, educational, professional, labor, and civil liberties groups. NCAC's mission is to promote freedom of thought, inquiry and expression and oppose censorship in all its forms. NCAC is unique in that they are national in scope, but often local in their approach. For more information:http://ncac.org/about-us

Flash designs were created by Off The Map Tattoo resident artists Tim Senecal, Haley Gogue, Sydney Beene, Mark Tousignant, Nicole Laabs, Laura Jade, Oleg Turyanskiy, Matt Driscoll, Bri Howard, Gabriel Londis, Ben Licata, Maximilian Rothert, Justin Wayne, Asia Rain, Tyler Chaney, Dee Soto, Ryan Muldoon, Ed Lott, Jeff Gogue, Gao Feng, and Kellsey Mull.

Thanks for sharing.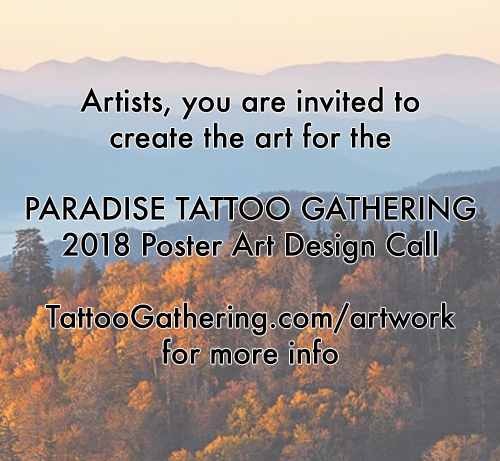 All artists are invited to submit artwork for the 10 year anniversary Paradise Tattoo Gathering.
The goal of this contest is to identify and honor an artist who understands the spirit of the Paradise Tattoo Gathering and can render an amazing image to attract like minded artists and collectors. The image will be used for all PTG merchandise including posters, postcards, banners, clothing, the website, and more. Past PTG artwork has been created by Joe Capobianco, Tom Strom, Jeff Gogue, Chet Zar, Juan Salgado, and Stefano Alcantara.
The Paradise Tattoo Gathering is an intimate tattoo convention hidden away in the hills of Western Massachusetts. It's unique location allows some of the world's most talented custom tattoo artists to ply their trade in a focused relaxed environment amongst nature and insure that the event is filled exclusively with truly motivated lovers of the tattoo culture. Education, inspiration, and sharing responsibly is the primary focus of the event and theme of the weekend. Tattoo artists and apprentices learn by getting tattooed, watching many masters at work, and by the numerous educational seminars and panels taught by experts in the field of custom tattooing throughout the Gathering. The public can learn all about the very best that tattooing has to offer as they see true masterpieces being tattooed right in front of their eyes. The Paradise Tattoo Gathering is designed for custom tattoo artists, apprentices, apprentice hopefuls, and tattoo collectors. Jiminy Peak is a unique location away from the hustle and bustle, a place filled with peace and quiet and serious focus on custom tattooing. (Oh and an alpine slide!). Thanks to everyone for 10 years of amazing support.
Artist picked receives:
$1,000 (Awarded onstage at the Gathering)
Artwork and lettering featured on PTG materials
Featured Artist space at PTG.
Interview on Off The Map LIVE!
Full page feature in PTG Event Booklet.
We would like to welcome Cole Gridley to our Darkside Family! Cole recently moved to CT from Massachusetts. He specializes in bold new school color tattoos, but is also very versatile. Come down and book an appointment with Cole, you check out his portfolio at http://www.darksidetattoostudio.com/tattoos/Cole_Gridley/, we will be updating it more soon!
December was a super busy month for Cookie & I, as well as the rest of the Rebel Muse Crew!

We celebrated our RM Holiday party at Main Event, and had a BLAST. All majorly turning heads in our ugly sweaters.

After eating waaay too much food, we laughed it out in a super vengeful round of white elephant.

For those who don't already know, "white elephant" according to urbandictionary.com, is: A party where people (usually family, friends, or a combo of the two) get together and have a game where you unwrap, steal, and trade off presents never actually useful in real life.

I dunno, the gift I stole from Danny has been pretty useful in real life…

You already know that the Rebel Muse Crew bowling was super competitive, and then the arcade games!

Laser Tag to end the night, followed by redeeming our "Farts In a Can", selfie stick, and other hilarious toys from the prize shop.

Only a few days after, Cookie and I were off to Australia for a little bit of business, and some much needed time off!

We went on long beach bike rides under the sun, and caught up with some dearly missed family.

It was a bummer to leave, we wish we could spend more time in Australia, but we are over our jet lag and ready to take 2018 by storm.

It is going to be another exciting and busy year for us!

I am stoked for the new project opportunities that I will be able to take on in the next few months, and for the chance to finish up some pieces that I have already been working on.

I will be tattooing at Inked Hearts Tattoo Expo & the 23rd Annual Motor City Tattoo Expo. Dates & locations of those:
Inked Hearts Motor City

February 1-4, 2018 March 2-4, 2018
Blue Lake Casino & Hotel Detroit Marriott at the Renaissance Center
Blue Lake, CA Detroit, MI
Buy tickets for Inked Hearts using link below: Motor City Tickets only available at Expo
https://www.eventbrite.com/e/inked-hearts-2018-tickets-40187715539?ref=ebtnebtckt

To stay updated on what I am working on, and be notified of my LIVE sessions, follow my pages!

Facebook: @lizcooktattoos
Youtube: youtube.com/lizcooktattoo
Instagram: @lizcooktattoo
Snap Chat: @lizcooktattoo

Cheers!

-L