Tattoo of the Day
08.26.15
At long last we are thrilled to launch a brand new custom responsive website for our friends over at Needlewurks Tattoos in Saratoga Springs, New York. Their site has a gorgeous, dramatic look to it with golden filigree elements and a color palette that was quite literally taken from photos we took of incredibly delicious bourbon. Put that in your glass and drink it, template websites of the world. (Sorry, getting a little heated here!)
Below are a few little snapshots of what the sites looks like on different devices. In this day and age it's absolutely imperative to have a website that can be viewed seemlessly across all different types of computers, notebooks, tablets, and mobile devices. The first image will give you a sense of what the site will look like when you pull it up on a tablet and the second reflects the user interface on an iPhone. Needlewurks definitley made the decision to upgrade their site at the right time because Google just changed the way their search results are ranking sites that are not mobile friendly.
Needlewurks currently has four full-time artists including Jesse Levitt, Matt Mrowka, Bridget Punsalang, and Michael Backus who are well versed in all types of styles. Jesse is known for his super creepy black and grey monster type tattoos, Bridget loves working with bright colors, Michael brings the traditional and neo-traditional flare, and Matt rounds things out with some really well executed black and grey work.
Be sure to hop on and their out their site, tell a friend that lives in the area to stop by for a tattoo, or submit a tattoo request throguh the contact form that we embedded directly into their site.
Check ya later!
08.23.15
We are happy to have found this video up on Youtube. It is also on Netflix we believe!
Hori Smoku Sailor Jerry is a feature length documentary exploring the roots of American tattooing through the life of its most iconoclastic figure, Norman "Sailor Jerry" Collins. Considered by many the foremost tattoo artist of all time, Collins is the father of modern day tattooing, whose uncompromising lifestyle and larger than life persona made him an American legend. Through rare interviews, photographs and hours of archival footage, Hori Smoku Sailor Jerry: The Life and Times of Norman Keith Collins, explores the past, present and future of the global tattooing phenomenon.

Based in Honolulu for most of his career, Sailor Jerry would come to symbolize the masculine ethos of a time when thousands of enlisted men were embanked in Hawaii, during World War II. Miles from home, ready to die, and fueled by devil-may care attitudes, these men went on shore leave with a single purpose in mind: to get "Stewed, Screwed and Tattooed."

Jerry marked these men with what would come to symbolize a new style of American folk art; tattoos that blended traditional elements of continental motifs with the finesse, shading, and artistic nuance of the Japanese tattoo masters, known as horis. Borne from his own years of travel on the high seas, Jerry synthesized the best of East and West and created a dynamic, spectacular new art form by introducing an array of his own advancements into tattooing, from color creation and machine building to the introduction of sterilization. Permanently etched on the bodies of the hundreds of men who passed through his Honolulu parlor, his work tells of war and heartache with a dedication to style, craft, and detail that would make 'Sailor Jerry' one of the most influential, if little recognized, American folk artists of the 20th Century.

A man of many faces, Jerry was an intelligent, dark humored prankster with a fiercely independent mind. A pitiless, right wing, social libertarian, Jerry believed in freedom with a capital 'F' as symbolized by the secretive, closed world of back alley tattooing - or as he put it, "the ultimate rebellion against the squares."

In this film, the first of its kind, Sailor Jerry's story and mystique is explored in depth through interviews with his peers and those he influenced, like protégées Don Ed Hardy and Mike Malone. Through their stories and shared memories, a dynamic tale is woven that chronicles the story of a great American artist whose work has never been displayed in museums, but on the bodies of those brave and fortunate enough to serve as Jerry's canvas.

buy DVD: http://horismokumovie.com/
We are happy to present the full Off the Map LIVE! webisode from 5/5/2013 featuring interviews with Guy Aitchison, Jeff Gogue, Nikko Hurtado, and Canman. Questions about tattoos came from host Ben Licata and the TattooNOWTV.com chatroom. "How do I get a tattoo by Nikko Hurtado" as well as more technical questions such as "What is best Coil or Rotary Tattoo Machines" along with many more questions. The chat room was filled with both people curious about tattooing and individuals working in the tattoo industry. Each of the attending artists talked about their upcoming presentations for the World Wide Tattoo Conference in Boston.The full episode also went over Tattoo Of The Day winners from TattooNOW.com which showed many of the world's top tattoo artists such as: Deano Cook, Scott Olive, Tony Adamson, Roly Viruez, John Montalvo, Ryan Mullins, Nick Baxter, Brent Olson, Erin Chance (one of our favorite back pieces of all time) and Ivana!
Catch Guy, Nikko, and Jeff at the Portland Oregon edition of the Worldwide Tattoo Conference October 19-21 2016!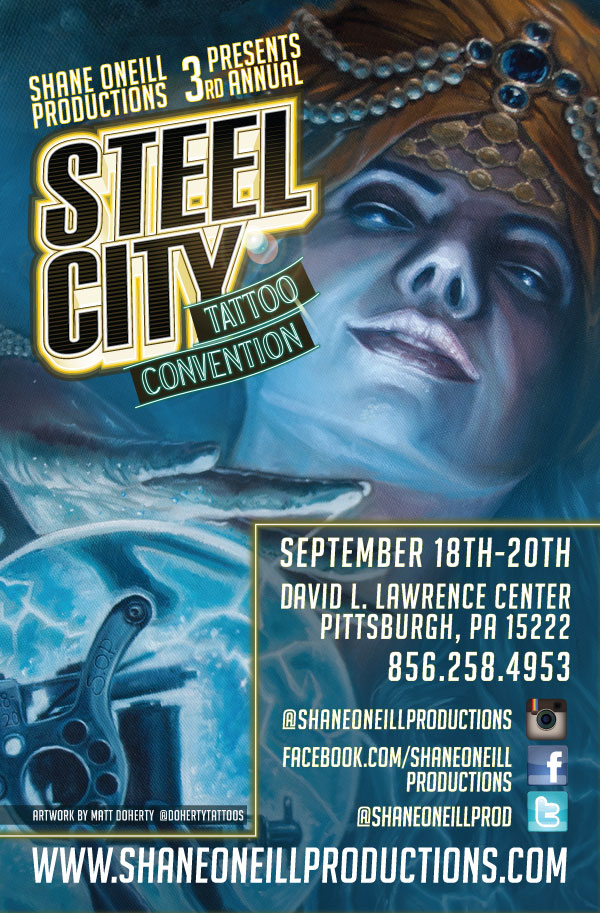 Fall Sullen Clothing Line - The new Fall Sullen Clothing line is available to purchase! Visit our website at www.luckybambootattoo.com for a selection of Sullen Clothing or the official Sullen Clothing site at www.sullenclothing.com. We appreciate all your business and interest in the Sullen Clothing line and your purchases help keep us an approved Sullen retailer...so thank you and we will continue to bring you the very best!