This sleeve is an interpretation of classical vanitas paintings, depicting the fleeting nature of life and beauty. The rose on the front of the shoulder was done previously by Jeff Ensminger, so I matched it with another rose and incorporated the simpler traditional style, as well as some Art Nouveau ornamental shapes, into the rest of the subject matter. The client Alison makes some amazing tattoo aftercare products, in small batches with only the finest ingredients under the label Stay True Organics, and as you might expect she healed perfectly after each of her grueling 2-day sessions.
TattooNOW News
4/15/14
Bob Tyrrell DVD Method to my Madness for sale!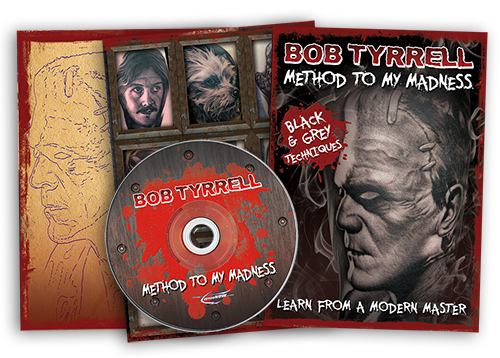 The long awaited Bob Tyrrell DVD "Method to my Madness" is now shipping! This DVD is distilled from an 11 hour long marathon webinar Bob gave during his visit to Off the Map Tattoo in Easthampton Mass.
In this in first ever DVD from Bob, he covers in depth, his step by step process of executing a finely detailed and perfectly rendered portrait tattoo. He covers machine choice, setup, needle selection, and ink preference. Here's your chance to look over the shoulder of a black and grey tattoo master. Gain unprecedented access to Bob Tyrrell's methods, techniques and best practices.
Included is in this DVD is a comprehensive slideshow taken from Bob's seminars that he has presented at tattoo conventions across the globe. Bob highlights past work and his reasons for specific choices he made during the creation of those tattoos.
You'll be able to sit in the booth with Bob as he takes you from setup, to photo reference to creating and applying the stencil; followed by a stroke by stroke tutorial of his realistic portrait tattoo style. The camera's eye is trained on Bob's needles so you can see the ink going into the skin, so you will truly be able to understand the Method to his Madness.
Buy this DVD today and get access to the full 11hr webinar for free!
read more
TattooNOW Network News
Buona Pasqua!!
submitted on 4/18/14 by -
The Gallery Of Tattoo

BUONA PASQUA A TUTTI!!!
informiamo la gentile clientela
che lunedì 21, martedì 22 ,mercoledì 23 e venerdì 25 Aprile
lo studio rimarrà chiuso!!!

Giovedì 24 e sabato26 Aprile saremo aperti.
vi aspettiamo numerosi!!!
Un saluto dallo staff.
---
Hiring
submitted on 4/17/14 by -
Lucky Bamboo Tattoo
We are hiring for a weekend receptionist; Sat and Sun 10-6. Prefer someone with tattoos, customer service experience, and some schedule flexibility during the week. Email resume to info@luckybambootattoo.com if interested.
---
Northwest News: The British Are Coming!
submitted on 4/17/14 by -
Off the Map Tattoo
We're super excited for our British friends Matt Roberts and Jo Harrison to spend some time with us in Grants Pass, Oregon! Matt will be tattooing our very own Jeff Gogue and Jo has some awesome projects in the works as well. Not only are they tattooing during their stay from April 17th to the 26th, but they will both be continuing their tattoos in progress with Jeff. Between their great attitudes, stories of far off travels, and cute British accents we're all sure to have grand ol' time! If you are interested in getting tattooed by either one of them here may be some spots available depending on the size of your project. For information about their schedules just give us a call at the shop or stop by ASAP!
---
Finally Available: Guy Aitchison's Technique DVD
submitted on 4/17/14 by -
Guy Aitchison
For a decade and a half now I've been perfecting my Reinventing The Tattoo curriculum, which teaches some of the fundamentals of artistic design in a way that can be applied toward making your tattoo work stronger, more dynamic, and more unique. It aims to balance understanding of artistic essentials with cutting-edge technical knowledge to give students a broad base of understanding toward being better artists across the board.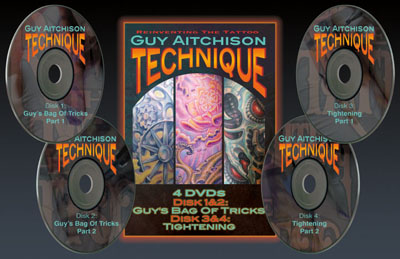 I'd like to announce the release of the latest installment in the Reinventing series, Technique. It's a four disk set that shows you closeup footage of the machine in action as I work through five different projects, presented in a concentrated format. The first two disks are a special edition cut of my Guy's Bag Of Tricks webinar, showing a project being done from start to finish as I answer a variety of questions from the audience. The other two disks, Tightening 1 and 2, go into detail about finishing techniques, showing four projects up close, with a voiceover describing every move in detail as I demonstrate line building, detailing, smoothing and other development.

This four disk set is about as technical as it gets. It's a natural follow-up from the material I teach in the original Reinventing The Tattoo book and DVD set, but is also made to serve as a stand-alone educational experience whether you've read the original book or not. It's intended for professional tattooists only, or apprentices working under the guidance of a professional. Available now at our online store!
Thanks, and we'll be in touch soon!
---