Tattoo of the Day
05.26.18
When I was 9 years old, I saw someone getting inked on a snowboard video, I had never known about tattoos before then. When I watched this scene, I realized that Tattoo was going to be a big thing for me.

So I've been drawing a lot since, I designed my first tattoo 6 years later. I didn't think about the pain it would cause, I thought about finally showing who I am through my skin. Getting inked has confirmed my love-at-first-sight for this art, that this was my place in society.

I appreciate many styles, there is always something interesting in each tattoo and I like to mix different visions. Most of the people tattooed by me are between 25 and 40, they see this art as a way of self-expression, a way to go through each step of life. Mixing lines and colors in different styles allows me to highlight the genuine ideas as I use symbols and references.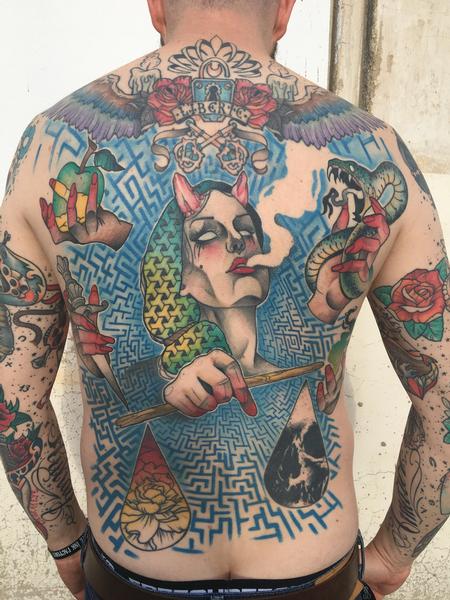 I really enjoy tattoo shows, meeting so many artists with different styles, seeing so many ways to use their skills. I like the competition too, showing your work at your best. Though it's really subjective, it's always an honor to win some prizes. They remind you that you can improve yourself each day. There are so many artists nowadays, tattoo shows are a great way to know just how good you are. I was a judge once, and I realized how hard it is to select the "best" candidates among the others. You really need to set apart your own preferences and be objective, trying to only focus on the technical part. This is a tough job!

I'm trying to go to more shows abroad lately, a different country means a different culture, I can evaluate my style out of my borders. It is so rewarding to get a prize in a foreign show! I was offered a spot at the Warsaw Tattoo Convention in Poland two years ago. It's been an interesting and enriching experience, most of the artists there are into realism, the average level is so high no matter renowned they might be. Offering a style like mine was really challenging for sure. Many people would be surprised by my colorful and one of kind designs contrasting with the spirit.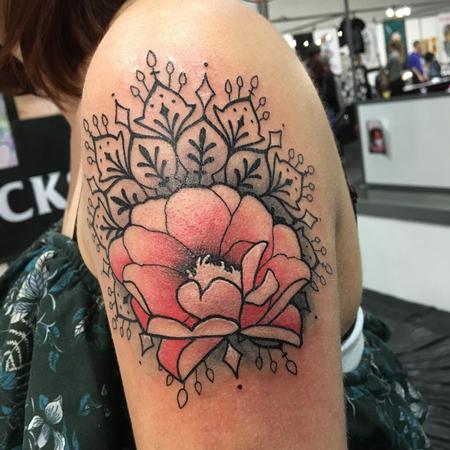 I've also been a guest at the Brussels International Tattoo Convention these last two years, it is a real honor to participate at such a gathering of worldwide talents. So many different styles from all around Europe, I met a lot of great personalities, the contest has been the toughest of my career. There were so many entries in the color category, my prize was a real victory!

Lake Tahoe Tattoo Convention last year has been a great experience too, it was massive and filled with worldwide talents, all of this in such a wonderful place; it was my first time so far away from home. People loved my style anyway and I had a chance to work on great projects for a few days.

Television and social media has a large impact on tattoo for sure. When I got into it,14 years ago, tattooing was an underground thing. People were pretty scared of the tattoo scene and had a pretty negative picture of us. In some way, mass media helped tattoo to grow up as a true art, it also helped people realize that having a tattoo doesn't t make you a different person. It also helped some people to find who they are through this art, tattoo can be seen as a way of expressions way of life. It can show your values, your past, your identity. Television contests also helped people realize how much the technique impacts the tattoo, in every kind of style.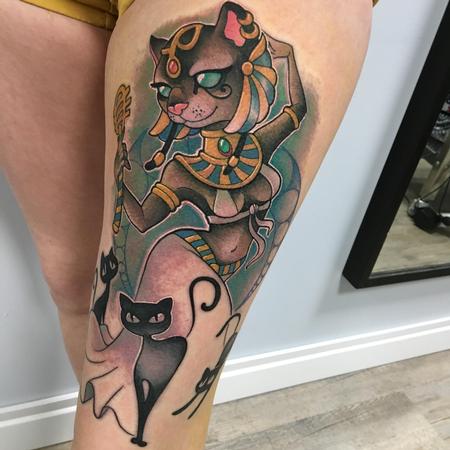 I love travelling and discovering each country's cultural tattoo style. I've been to a few countries and I'm always amazed by how much you can tell about the country by the tattoos the people get. Eastern Europe, for example, has a lot on realistic and dark styles, while on the other hand, tattoos in the USA are more diversified, colorful and full of life. Germany's style is a bit apart, being crazy and tortured, black and violent. Europe is really rich in its styles and influences, from naive to realistic. Some European artists have a really singular style. Scandinavian artists try to get back to their roots, for example, putting Celtic heritage into modern design. USA is full of great artists too, with a very good technic, this country is amazing!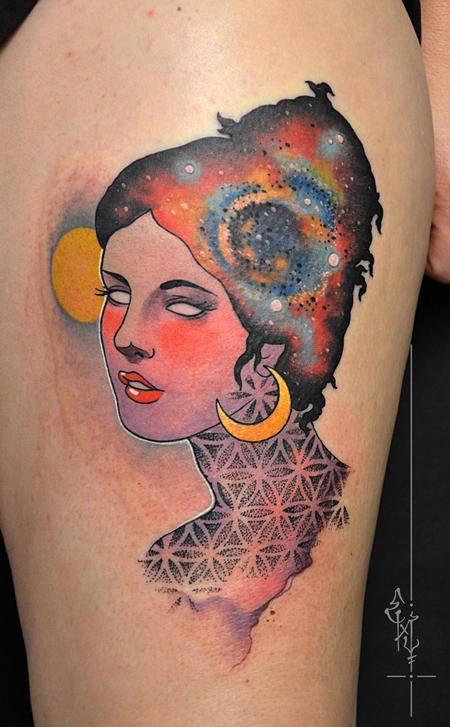 I started tattoo 18 years ago, got inked by various artists from renowned ones, trainers, trainees and even from myself ….it all depends on the genuine idea, I'm always heading to the one artist that fits this idea from my perception. I've got a pretty wide range of styles that I love, and am influenced by many various artists. Loogsok, El Schwino and Rafal Makarow are renowned for their graphical creativity for example. Uncle Paul and Paul Vander Johnson on the other hand are genuine creators inspiring heaps of artists too. I'm also following Mathias Bugo, Dylon Forte, Manuel Mathow, Justin Hartman and Jeff Gogue for their technical approach to drawing and tattooing. They are a daily inspiration, and it really helps me improve my skills.

Being a tattoo artist is really demanding, you need to be rigorous and have self discipline every day. Just like your everyday life, if you want to reach your goals, you need to work on it, pay attention to seemingly meaningless details sometimes in order to improve. You also need to listen to what people tell you, know who they are and what they say without judging them. Empathy and tolerance are the key.

We're used to spend hours chatting with every kind of people, exchanging points of view, culture and experiences; it's real a human odyssey that keeps your mind open. I've heard so many things from so many different people, slices of life from many cultural horizons, I had to hear tough stories. Getting someone's point of view isn't easy sometimes but that's how you learn to stay humble.

It's really important to keep an objective eye on what you do, knowing your weakness and be aware of your mistakes, to work on it. Jump from one style to another helps a lot in mastering different techniques, so you can adapt to every demand. I've been working on lines for a long time, I put geometric designs on many tattoo to keep improving with lines, that helps me getting better every day.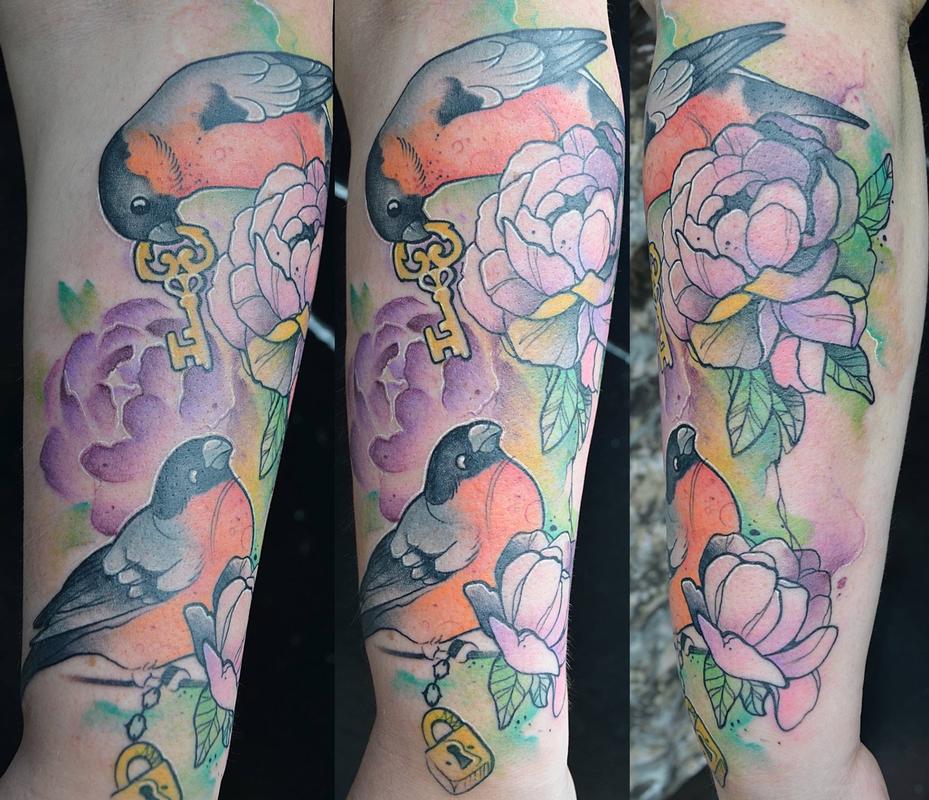 I'm kind of a workaholic, I've been working 6 days a week. Not because I had to but because I love to. My designs get more and more complicated as my technic improves. You never stop learning you know! You can always get better, there isn't no perfect tattoo but I'm doing my best every day to be closer to perfection.
Emy Blacksheep has a streaming on demand webinar, LINES AND COLORS
You can reach Emy Blacksheep at:
Blacksheep Tattoo
9 Rue Gabriel Péri - 38000 Grenoble
+33 09 81 84 53 71
Email
blacksheep-tattoo.com/
05.25.18
Hello there, we have added coupons to the catalog, and to test it out would like to offer you a great 2.5 hour webstream for $1! When checking out use the coupon code PTG-2009 for the $19 discount.
KEEPING SHARP
EXPERT ADVICE FROM LEADING TATTOOERS
This on demand stream contains two and a half hours of unedited conversations with some of the world's leading tattooers. A variety of topics covered, plenty of food for thought for artists young and old.
Panel 1: Keeping sharp featuring Guy Aitchison, Joe Capobianco, Nick Baxter, Litos, Nikko Hurtado, & Nathan Kostechko
Panel 2: Pushing skin to it's limit featuring Bob Tyrrell, Joe Capobianco, Nick Baxter, Jime Litwalk, Nikko Hurtado,
& Tom Strom
Bonus Material: an interview with Guy Aitchison, various artist clips, the tattoo of the day contests!
Check out some of the footage from the 2009 event: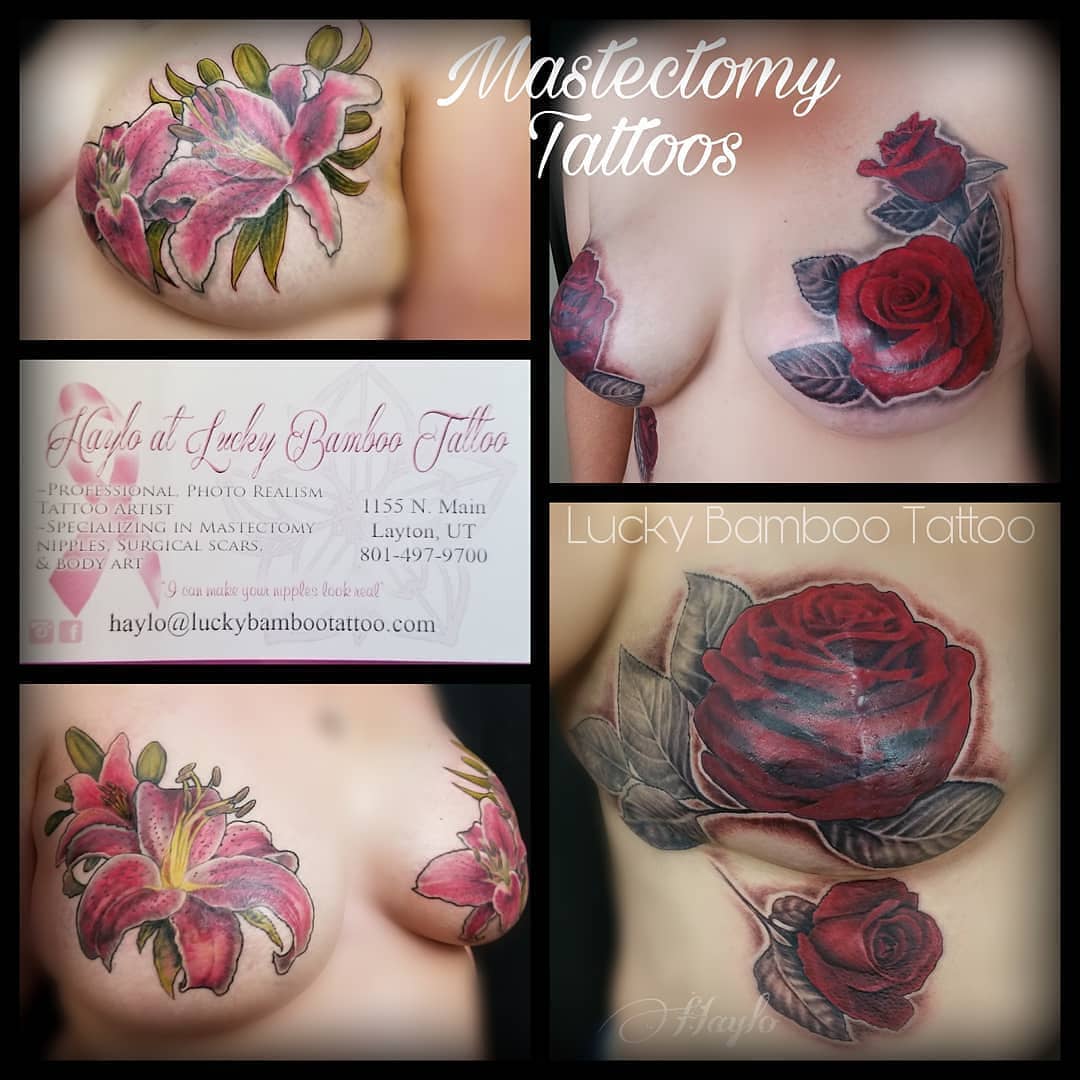 Most breast cancer survivors are faced with whether or not they want to reconstruct when dealing with a masectomy. If you are looking to cover or embelish your beautiful battle scars we can help you decide.
If you or a loved one is looking to get more information about how to get a post-masectomy piece. Haylo offers at no cost, private consulations where design and time would be discussed.
Give us a call at 801-497-9700 with any questions. You can email us at info@luckybambootattoo.com
We are excited to have guest portrait artist Ryan Miller at the shop June 13th-17th 2018. His appointment schedule is currently booked up for this trip, but please take a look at his work on IG under @ermillertattoos. He does come back to visit once or twice a year.
Hey everyone, I will be working at this years Titanic Tattoo Convention in Belfast, Northern Ireland. The convention will be held in the Titanic Building that was purposed build to show the history of the RMS Titanic. This will be my first time working at the convention and I'm looking forward to it as in past years I've attended as a visitor it has been great.
It will be held from the 27th-29th of July. If you are in the area and would like to get tattooed by myself go to my website and fill out the contact form. My website is www.tattoosbygeorge.com
Or if you are just visiting Belfast at the time come check the convention out and say hello. I will be with the studio I work with Belfast Tattoo Collective.
Hope to see ya there.