TattooNOW News
9/15/14
New Custom Responsive Website: Merkaba Tattoo
We just wrapped up an exciting custom responsive website for talented tattooer Mallory Swinchock. Head over to www.merkabatattoo.com and check out the crisp, clean layout and colorful tattoo images that provide a great contrast. Mallory has been a long standing client of ours and we were happy to work with her on this redesign project. One exciting element that this new site contains is its highly responsive layout. This means that you can view her site on desktop computers, tablets, and cell phones and it will automatically adjust the display accordingly. This helps our clients insure that visitors that are going to their website always have a great viewing experience and get all the necessary information without having to hunt around.
Desktop Computer View:
Cell Phone View:
Mallory currently tattoos at her private tattoo studio in Santa Barbara but will be visting Off The Map Easthampton at the beginning of October from the 1st to the 4th. At this point her schedule is pretty full but she is still accepting people on her waitlist for a possible cancellation spot. Mallory is known for her fusion of brightly colored tattoos on a pastel pallet and enjoys working on floral designs, bird tattoos, and so much more. For more images of her beautiful tattoos head over to her tattoo gallery.
If you're interested in improving on your current website or building out something all new, contact Brian at TattooNOW at (413) 585-9134 for more information!
read more
TattooNOW Network News
Looking for artists
submitted on 9/17/14 by -
Lucky Bamboo Tattoo
Currently looking for 2 full time artists
email info@luckybambootattoo.com
---
Off the Map LIVE! News: We want to hear from you!
submitted on 9/17/14 by -
Off the Map Tattoo
We want to hear from you, our viewers. Who would you like to see us book for the upcoming episodes of Off the Map LIVE!? We're looking for tattoers that you are interest in getting some insight about or from. Send us and e-mail HERE and let us know who you want on the show and we'll do our best to make that happen.
Our last episode with Russ Abbott and Guy Aitchison is available now on our YouTube channel, as a podcast on iTunes and via community TV across the United States. In this episode we talk in depth with the amazing illustrative tattooer Russ Abbott about his new tattoo specific color wheel. Russ is joined by biomech master tattooer Guy Aitchison. They discuss their upcoming collaborative tattoo project and the challenges and benefits of collaborating with another artists. Do not miss this chance to hear from these two tattoo greats.
---
Sponsorship and the NeoTat Family
submitted on 9/16/14 by -
NeoTat
We recieve many inquiries about how to obtain sponsorship with NeoTat. First of all, we don't really 'sponsor' anyone. What we have is a gourp of artists who we have worked with for years, we are like a family, we travel conventions together. If you would like to be part of this family then I recommend you travel to the same shows as us, meet with Ray, and see where that takes you. We do have banners, t-shirts and stickers that we will send to artists who write us, tell us about themselves and provide a professional portfolio that we can look through. We try and watch out for talented artists using our machines and offer small rewards or discounts when it comes available. But all in all, we do not have "SPONSORED" artists. Please feel free to email neotatmail@gmail.com with your portfolio or contact info such as website, etc. Meeting with Ray in person, on the road, is the only option as far as becoming part of the team or family of NeoTat artists.
---
Appointment Process
submitted on 9/16/14 by -
Matt Driscoll Tattoos
Currently I'm booking out 6 months which can be considered a long wait by clients. I thought a post about the process could clear up some questions potential clients might have.There's really three parts when it comes to getting a tattoo appointment with me. It should be noted the third step is really optional based on the size and number of sessions the tattoo will require.
1. The first step is to get your project accepted. I have really dedicated clients who often get work pertaining to my interest or focus. This means that getting into the rotation can be a bit difficult. I give priority to in progress clients followed up by projects within the realm of my interests. Currently I want to work on projects that involve dinosaurs as the subject matter or bio mech tattoos.This does not mean I wont accept your idea though. I still love to tattoo flowers, nature tattoos such as bird tattoos, underwater tattoos and wildlife in general even sometimes custom script. It's best to send over a loose idea of your tattoo as sometimes a general idea can be really inspiring.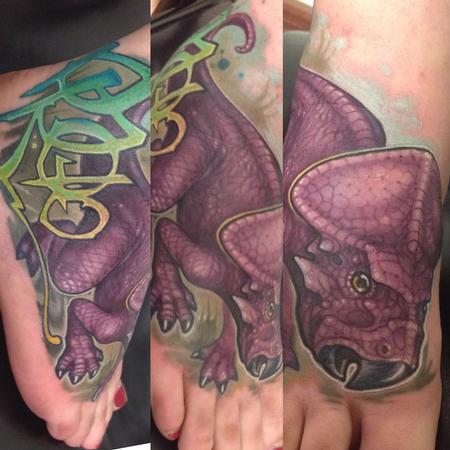 2. Whether you are looking to get a real school tattoo, bio mech tattoo or dinosaur tattoo we'll set up a consultation appointment. This will let us go into detail about the tattoo and let me ask specific questions. The consultation period also helps me explain my approach and develop my initial inspiration from your idea. This also will allow you to ask any questions about the process or voice any concerns. I also enjoy drawing on the skin with sharpies. This can be alarming to some as they expect to see a fully renedered drawing but the process gives me specific advantages over stencils. Some of the advantanges include creating a tattoo thats designed to flow with your body and allows me to make key adjustments with agility.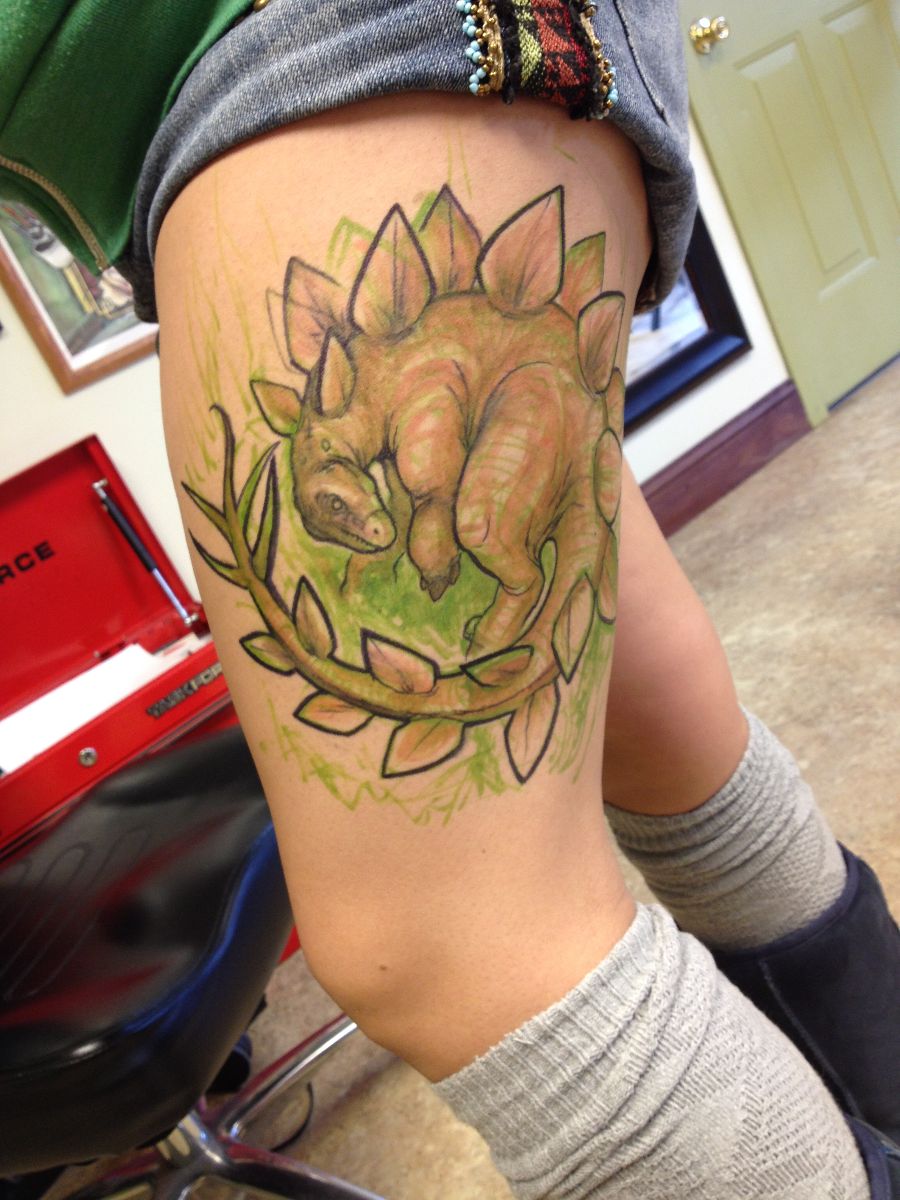 3. If you have a multiple session tattoo we'll set up dates for each sppointment. Once you are in the rotation you will get my full attention until the completion of the tattoo. I prefer to work on the tattoo once every month but if the peice is large enough I also like to book back to back sessions. If you are a first time collector that might sound really intimidating. The fact is that we'll be focusing on multiple areas of the tattoo which can make the process much easier. Either way I often do not book a back to back sessions until after the first session where I can gauge your individual skin reactions and tolerence.
I try to travel internationally and around the country so please send over your location with your idea. If you have any initial questions about things feel free to send over an email
---