Tattoo of the Day
08.17.18
Jesse Smith interviews Richmond Tattoo & Arts Academy presenter Gia Rose. www.richmondtattooandartsacademy.com/
Topics include:
Experience with Inkmaster TV show.
Art school in the Pacific Northwest.
The effect of Oregon's requirement that tattooers go to tattoo school.
Her traditional tattoo apprenticeship 15 years ago in North Carolina.
Tattoo and other original art inspirations.
Her experience beating cancer 5 years ago, including how tattoo ink effected her lymph nodes.
Her upcoming seminar about the importance of composition in tattooing.
08.08.18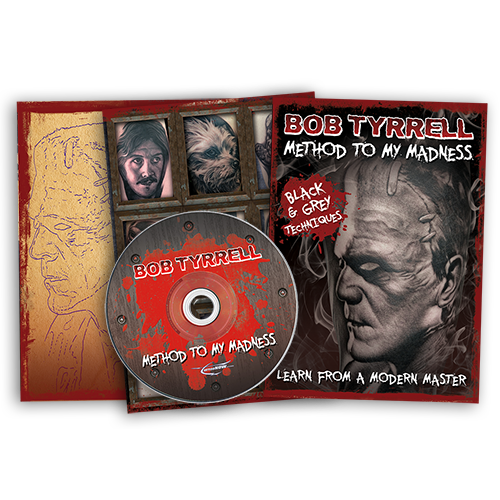 Bob pays a visit to internationally known tattoo shop Off the Map Northeast in Easthampton, Massachusetts. This DVD is distilled from an 11 hour long marathon webinar Bob gave during his visit.
In this in first ever DVD from Bob, he covers in depth, his step by step process of executing a finely detailed and perfectly rendered portrait tattoo. He covers machine choice, setup, needle selection, and ink preference. Here's your chance to look over the shoulder of a black and grey tattoo master. Gain unprecedented access to Bob Tyrrell's methods, techniques and best practices.
Included is in this DVD is a comprehensive slideshow taken from Bob's seminars that he has presented at tattoo conventions across the globe. Bob highlights past work and his reasons for specific choices he made during the creation of those tattoos.
You'll be able to sit in the booth with Bob as he takes you from setup, to photo reference to creating and applying the stencil; followed by a stroke by stroke tutorial of his realistic portrait tattoo style. The camera's eye is trained on Bob's needles so you can see the ink going into the skin, so you will truly be able to understand the Method to his Madness.
BACK IN STOCK & on sale for a limited time!
We will have portrait artist Ryan Miller (IG:@ermillertattoos) back at the shop for a guest spot September 10th-16th 2018. Check out his stuff on Instagram! If you'd like to book an appointment, email us soon before his schedule fills up. depictiontattoos@gmail.com
ATTENTION!!
WE WILL BE OUT OF THE OFFICE BETWEEN 8/17 - 8/26
Please note: If you place an ORDER between 8/17 - 8/26
we WILL NOT be shipping your order until 8/27.
Any other questions or issues will be taken care of on 8/27
Sorry for any inconvenience!!
Want some better content in your email inbox?
Subscribe to the Lucky Bamboo Tattoo newsletter! Released on the first of each month, and full of awesome content that you'll be happy you opened.