Tattoo of the Day
04.07.17
Bearcat Tattoo Gallery is ready to bring on a new resident artist as well as new guest artists.
We value original and inspired tattoo work. Positive energy and motivation is essential for our team. Bearcat was built on creativity and the quest to learn and grow as artists. Everyone is focused on extended learning and artistic education. Through art shows and paint nights we stay inspired and motivated. Were definitely not a street shop. Our studio is appointment based but we do try and accommodate walk-ins when there is time.
Each Bearcat artist is currently booked out up to a year. We have an amazing clientele that would jump at the chance to start collecting from a new talent in our crew.
If you are ready to join an amazing group please let us know! Email sierra@bearcattattoo.com Send us your work and introduce yourself. We look forward to meeting you and seeing your portfolio.
Check them out on instagram @bearcattattoogallery
03.21.17
Let us start by saying that we're not telling you to not get these types of tattoos, just that you want to really think about what you're getting. Tattoos are permanent and meant to be something that you enjoy, not regret. With that being said, Capone and Cap1 Tattoos in Denton have a few tattoos you might want to think twice about getting.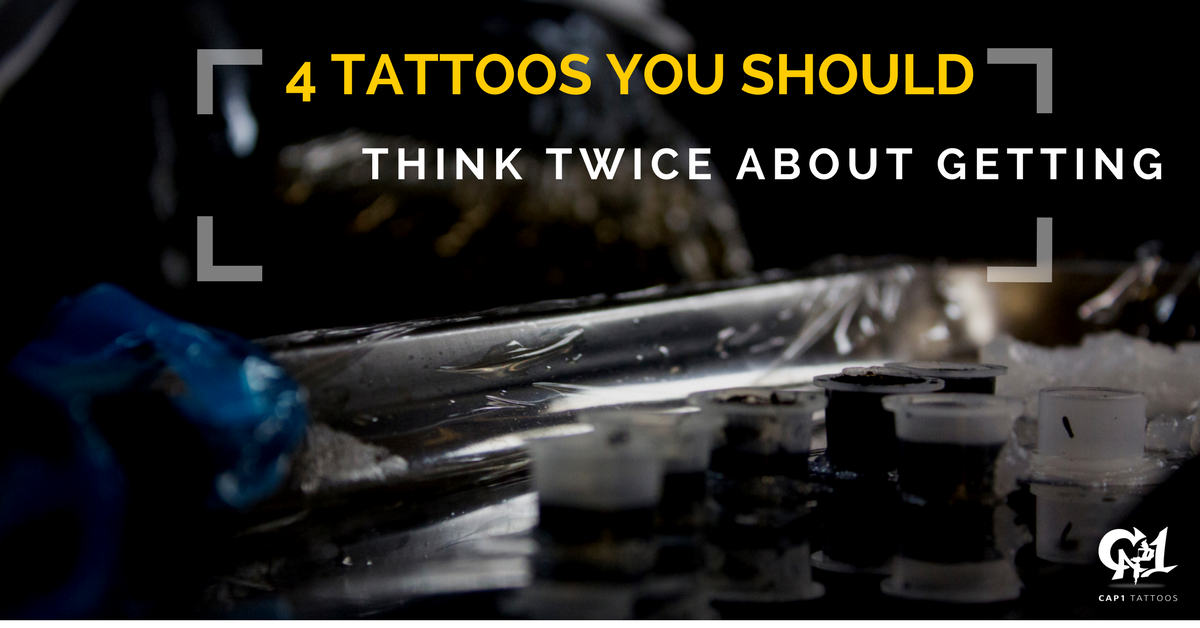 1. Words in a Foreign Language
Rule of thumb: just because Google told you that was the Chinese symbol for love doesn't mean that it's right. The best way to ensure that the symbol, spelling or accent placement are correct, check with multiple sources. You want to extra careful with phrases rather than just one word.
2. Someone's Name
Nothing shows your commitment like willingly putting someone else's name on your skin, but it can also be a huge risk. Most everyone problem knows someone that has a name of an ex tattooed on them. We're not saying not to get your significant other's name tattooed on you. We're simply saying that you should really think about it.
3. Alcohol-Inspired
If you want to get the Jagermeister logo tattooed on you, go for it! That isn't the type of alcohol-inspired we're talking about. We're talking about the tattoos you think are a great idea after having a few drinks. Getting tattooed drunk is not only disrespectful to your tattoo artist, but it also poses as a safety issue. Not t mention you might regret getting it. Just wait out the night, and if that design your buddy drew on a bar napkin still sounds like a great idea – go for it!
4. Anything from an Unlicensed Artist
This should be a no-brainer. Even if they're your best friend or some guy that's just willing to give you a free tattoo. Unless they're a licensed tattoo professional, it's a bad idea. Not only could the tattoo be done poorly, you also run the risk of developing a possible infection. And that's the last thing you want!
All of this is to say, it isn't a bad thing to be spontaneous and get fun tattoos. As long as you accept any possible future regrets. If you want a true piece of body art that you will love to show off, contact Capone today. You can also check out some of his work and more tattoo design inspirations on at Cap1 Tattoos Pinterest.
Come check me out at the 2017 Kansas City Tattoo Arts Convention! I'll be tattooing from May 19th-21st. I still have some open tattoo time. If interested in getting an awesome new tattoo from me shot me an email.
Come out to the 5th Annual Chop Shop Old School Bike Show & Tattoo Contest! Saturday May13th starting at noon at 3601 Bell Dr Hurts, TX 76053. There will be live music provided by Jack and his band Joint Efforts. Food from the Bucking Pig BBQ and Captain Sideshow will also be there! There will be Motorcycle contests and Tattoo contests.
Enteries for the motorcycle contest will be from 12-3pm.
The Catagories are: Twin Cam - Evo - Shovel - Pan/Knuckle - Antique - Metric - Rat - Sporty - European
Entries for the tattoo contest will be from 12-4pm.
The Catagories are: Comic/Supehero - Harley Davidson - Animal - Mom - Unusual - Color - Black & Grey - Realistic - Portrait
If you have a tattoo or a bike you want to enter it is $10 per entry. The trophies are handmade out of Bike parts and they are always really cool!! This is always just a day of fun and friends. They have a drag car that comes out too and does runs on the street. It is intense! Come check it out. We will be closing the shop down so we can all attend!!!