Tattoo of the Day
11.23.16
Live from Off the Map Studio in Easthampton MA. Our host Ben Licata is joined by Andy Robinson and Tony Romel. Andy is the newest resident artist at Off the Map Northeast. He comes to us from Philadelphia. Ben gets to know this committed artist. Tony Romel is the president of Tattoo Society Magazine. Tony is embedded in the tattoo world and holds sway with the who's who of tattooing. Tattoo Society is the benchmark for promotional publications in the industry. The inimitable Josh Suchoza brings us the Network News.
11.09.16
Live from Off the Map Studio in Easthampton MA. Our host Ben Licata is joined by Nick Baxter and Kellsey Mull. Tattooer, Painter, Photographer and multi-media artist Nick Baxter is known for his inquisitive style of art, penetrating the veneer of structural knowledge, attempting to expose deeper truth through his artwork. Kellsey is an Off the Map NorthEast Resident with a knack for achieving disarming, whimsical new-school imagery with the occasional Old-school twist.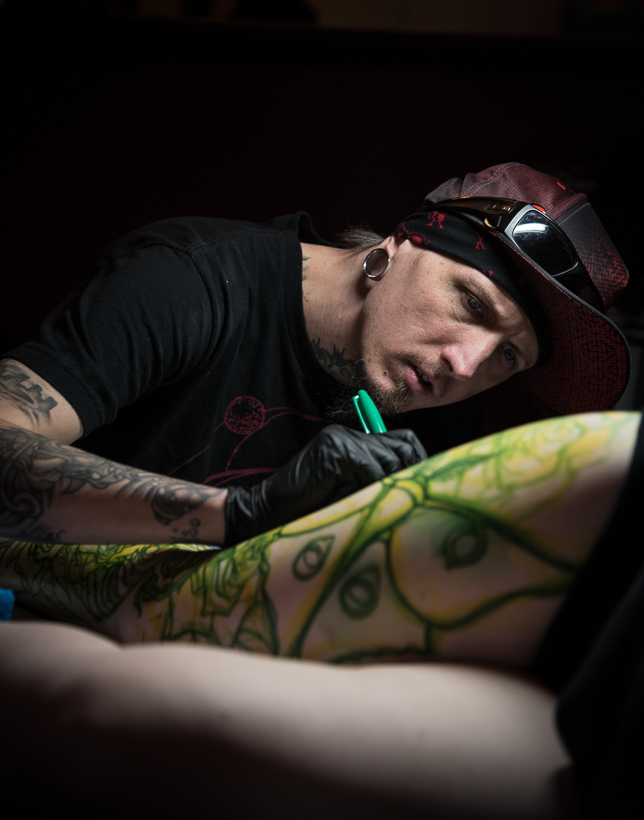 Here is a candid shot of me sketching the marker outline for a floral leg sleeve with a luna moth thats bigger than my head. I am super pumped with this piece and I can not wait to get back into it.
Stay tuned to watch the progress
Mark
JOIN THE EVENT: https://www.facebook.com/events/846079498828988/
Saturday, December 17th starting at 12pm we will be collecting toy donations for ACH Child and Family Services. All donations will be rewarded with a $25 shop gift card! Limit one gift card per person.

-12PM - 6PM OPEN-HOUSE -
Adults and children welcome
Face painting available between 2pm - 5pm!

- 6PM SHOP AFTER-HOURS PARTY -
Adults only

COMPLIMENTARY FOOD AND DRINKS WILL BE PROVIDED

Everyone is invited so please come by, have a great time and donate a gift or two!


All items must be new and unwrapped.

ALL AGES:
Board Games - Books - Stress Balls - Movies (P & PG)
Craft Kits - Art Supplies - Fun Pillows - Twin Bedding
Blankets - Undershirts - Underwear - Socks - Christmas
Wrapping Supplies - Coats - Hats - Scarves - Gloves
Tickets (ice skating, Six Flags Holiday in the Park,
The Nutcracker, ICE at the Gaylord)

LITTLE ONES:
Learning toys (such as VTech & LeapFrog) - Sesame
Street-themed Items - Little People Play Sets
Clothing (sizes newborn-5T)

GIFT CARDS Increments of $10-25 work best:
Wal-Mart - Target - Game Stop - iTunes - Bus Passes
Local Malls - Fast Food REsaurants - Movie Theaters
Gas Satations - Pre-Paid Phone Minutes - Hair and
Nail Salons.

ELEMENTARY AGE:
Themed toy items (Littlest Pet Shop, Disney Princesses,
Star Wars, Pokemon, Minions, Paw Patrol) Barbies and
Dolls (diversity is great!) - Play-Doh - Legos - Sports
Balls - Portable DVD Players - Superhero Toys, Games,
DVDs (G & PG) - Hot Wheels with Race Tracks.

YOUTH/YOUNG ADULTS:
Personal Music Players with Headphones - Texas
Sports Teams Clothing - Scented Lotions and Soaps
Graphic Tees (all sizes male and female) - Perfumes
and Colognes (Axe Brand) - Makeup - Drawstring
Backpacks - Small Purses and Wallets - Picture frames
Journals - Hair accessories - Sweatshirts & pants
Books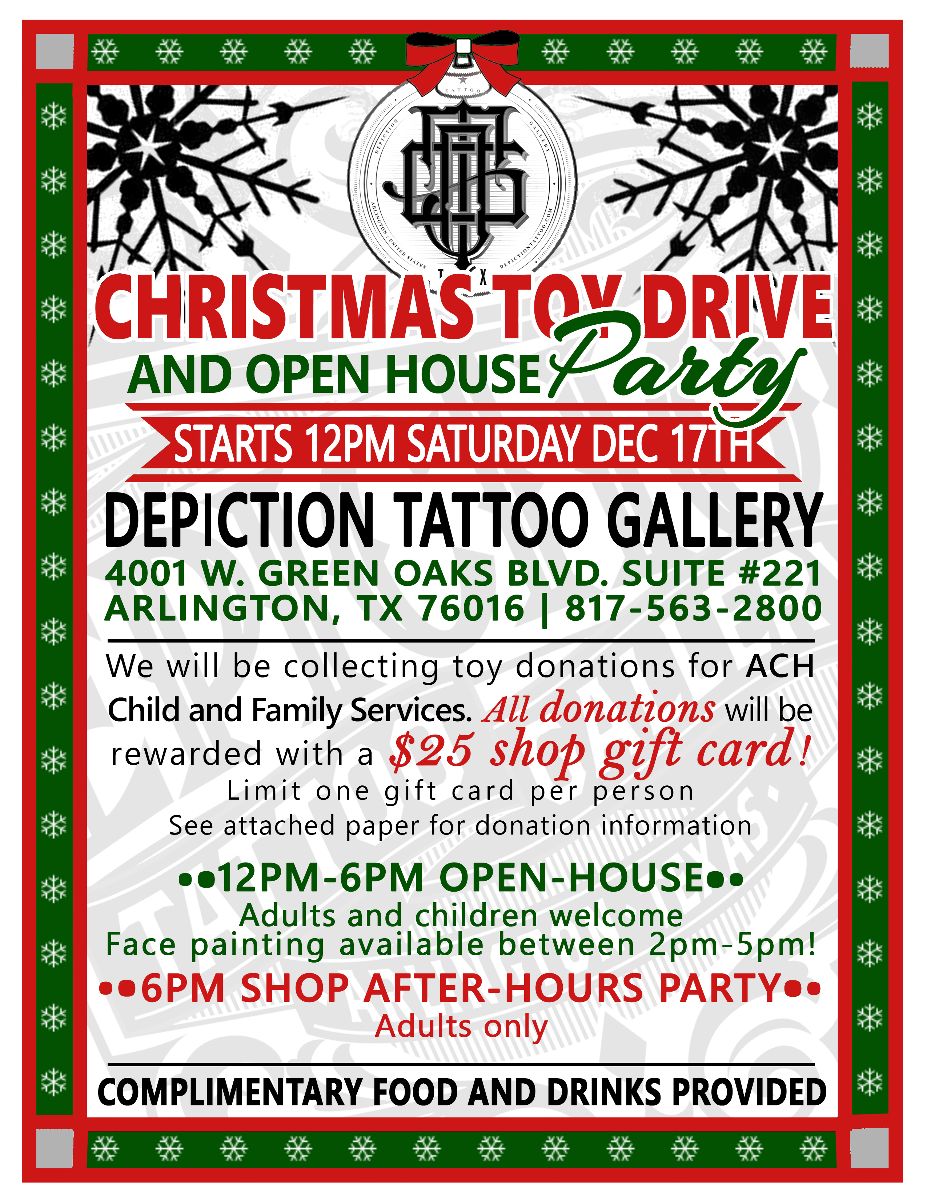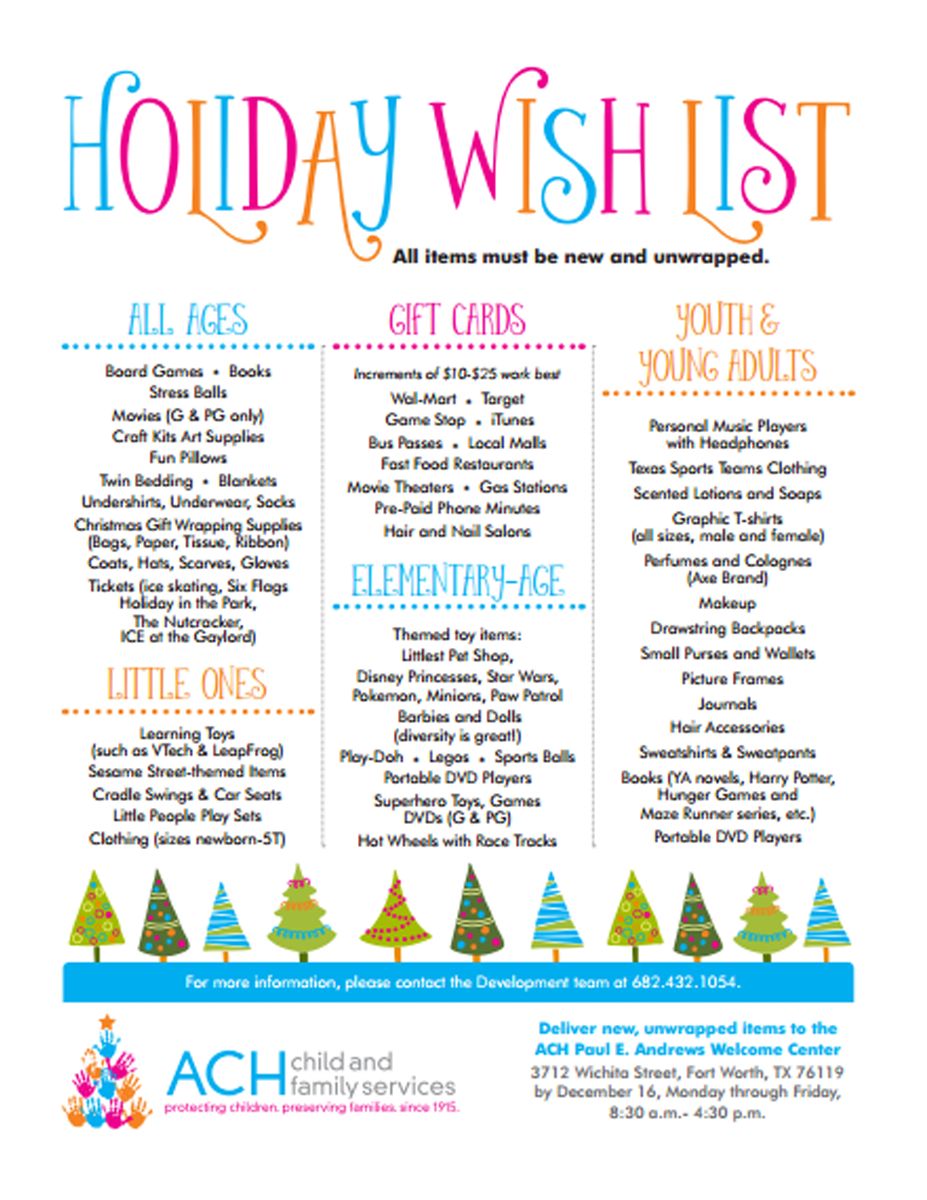 This year, get your loved ones something they REALLY want, give the gift of art!
Purchase a gift card in any amount you'd like. They can be used towards tattoos, tattoo removal, hoodies, t-shirts, tank tops, beanies, artwork and more!
Purchase your gift card HERE.
Check out our online store for more gift ideas!