A tattoo filled with amazing North East elements. You can see more detail shots in my gallery
TattooNOW News
8/19/14
Have you heard about the World Wide Tattoo Conference?
The World Wide Tattoo Conference was developed by Alex De Pase. He wanted to create an educational only event that comprised of a rotating list of talented industry leaders. The WWTC has had 4 renditions around the globe since its 2011 creation. Teachers have been: Nick Baxter, Jeff Gogue, Boris, Guy Aitchison, Bob Tyrrell, Nikko Hurtado, Joe Capobianco, Stephano Chaudesaigue. This year will include fine art presentation by Boris Vallejo and Julie Bell along with a marketing specialist Gabe Ripley.
Reviews of the event have been consistently positive with users praising it as career altering. You can check out a great review from Crash over at Tattoo Artist Magazine of the Chicago rendition.
This year the WWTC returns to Italy, this time to legendary city Venice. The event is guarantied to be filled with inspiration and great times. We'll be highlighting the educators and event over the next couple weeks but you can check out www.WorldWideTattooConference.com for more details and tickets!
read more
TattooNOW Network News
ITALY NEWS: ancora 1 unica possibilitą per farsi tatuare da REMIS e CLOD THE RIPPER
submitted on 8/20/14 by -
Off the Map Tattoo
C'è ancora una sola disponibilità per farsi tatuare da 2 dei più acclamati artisti del tatuaggio internazionale presso il nostro studio Off The Map di Cervignano del Friuli. Dal 21 al 23 Agosto infatti avremo l'onore di ospitare il versatile e grandissimo REMIS http://www.remistattoo.com/ e il dark CLOD THE RIPPER http://www.milanocityink.com/clod.html . Remis è disponibile per appuntamenti solo venerdì 22/8 e Clod the Ripper sabato 23/8. Affrettatevi!
---
Inked Out New Jersey 2014
submitted on 8/19/14 by -
Art Junkies Tattoo Studio
The next convention the guys will be attending will be Inked Out New Jersey September 13, 14, &15. The guys are now starting to take appointments for the expo, if you are interested in booking a appointment give us a call at the shop 760-947-5538.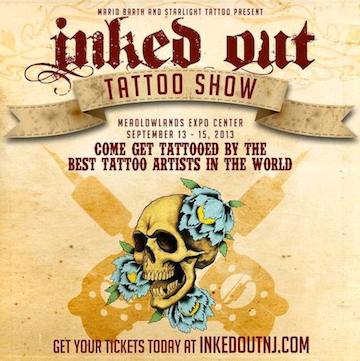 ---
Boston!
submitted on 8/19/14 by -
PowerLine Tattoo
Oh hey! Boston Tattoo Convention has snuck up quickly!! It's next weekend (8/29-8/31) at the Boston Back Bay Sheraton Hotel! Call the shop to inquire about any availability that we may have left. The shop will be closed all weekend for the show, so come and see us there instead! As usual, it's always greatly appreciated to come represent by showing off your beautiful tattoos and entering them in contests. The list of contests/info is all on their website ( www.bostontattooconvention.com ). We hope to see you all there as it's always a fun convention to check out!
---
Large Scale Updates
submitted on 8/19/14 by -
Matt Driscoll Tattoos
I've got some really dedicated clients at Off The Map Tattoo which is beyond awesome. Most of my larger tattoos can take upwards of 50-60 hours. Completing these projects can be bitter sweet as I really get to know the clients during this process. I normally like to work on exisiting projects every month, sometimes in back to back sessions. This makes getting new clients into my schedule difficult, so I'll be doing a news item focusing on getting an appointment with me soon.
This summer brings the conclusion to two of my larger projects which I'm really excited to share. I've been teasing them out on my instagram: @RaptorLazer which you can follow for almost daily updates and in progress shots. The first I wanted to showcase is a sleeve tattoo I uploaded is titled the Rake Reaper which focuses on North East elements.
Click the teaser below to see the full tattoo and some of my other latest projects:

---