Tattoo of the Day
05.25.16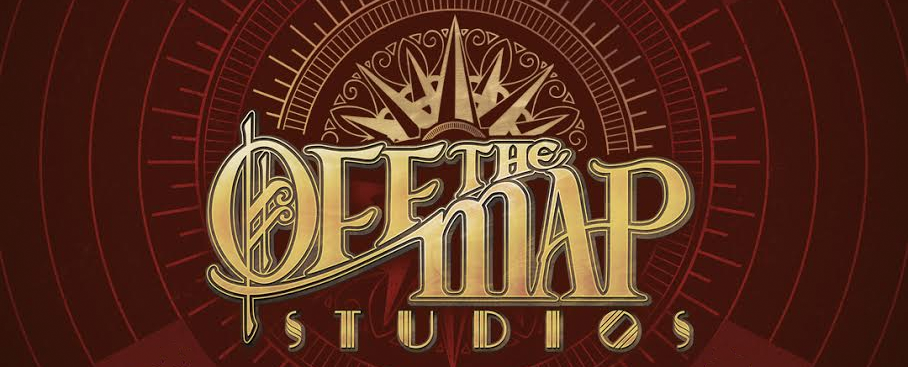 Off the Map Studios and TattooNOW in Easthampton, Massachusetts are seeking a talented, growth-hungry graphic designer to help out with a huge variety of projects.
A Little More About Us:
We own and operate 3 tattoo studios, one in Massachusetts, one in Oregon, and one in Italy, that all share the same brand. We also have a sister company with its own unique brand that creates websites & streaming educational seminars primarily for tattoo artists, studios, and supply companies. We produce a bi-weekly, live streaming interview show right out of the tattoo shop. And we produce a variety of events tailored specifically for artists to learn, network, tattoo at and collect tattoo at. Each of these events also have their own specific brands and aesthetics - however all of our brands often intermingle with each other. Priorities shift quickly, short turnarounds are common, and there's always something new and different to be working on!
A Little More About You:
You are experienced in…
Adobe Photoshop
Adobe InDesign
Designing for both print & the web
And you have some experience / can get around in…
You have a confident design sensibility, a keen eye for typography and color combinations, and are comfortable working in a variety of different styles depending on client needs.
You are confident picking up materials designed by others and running with an already established brand / look, and can use pre-existing assets to create new work & expand/create new visual assets to match.
Depending on your experience and talent, there is opportunity for a lot of growth within the company.
The types of projects you can expect to work on:
Instagram / social media ads
Newsletter imagery
Website layout design for desktop & mobile
Banners / large format posters, ads & signage
Postcards
Posters / Flyers
Bumper Stickers
Convention / trade booth set ups
Trifold brochures & mailers
Candidates can expect a casual, fun-loving atmosphere, a bustling tattoo shop vibe, with opportunities for travel and a variety of fun creative projects when working here.
Interested applicants may apply by emailing aaron@tattoonow.com (and cc gabe@tattoonow.com). Please include the following:
Your resume
A short bio (particularly regarding your design experience)
Why you want the job
What you think you can bring to the position
A link to your online portfolio or a diverse selection of samples of your work
05.25.16



Disappearing inc., New England's premier laser tattoo removal studio, is expanding and now seeking two Tattoo Removal Laser Technicians. We are a hip, tattoo friendly environment that is more like a high-end tattoo studio. Disappearing inc. currently has three locations in the Boston area (Boston, Braintree & Framingham) and has plans for growth. We are seeking a full-time laser technician to work in our new location in Western MA (at the brand new Off the Map Studios!) and a part-time laser technician to work in the Boston area.
Please include a well-written, thoughtful cover letter describing why you want to be in the laser tattoo removal business and why you are the right person for us to hire/train. Resumes without a cover letter will not be considered.
The Laser Technician's primary role will be to remove and or lighten clients tattoos; however, they will also be responsible for the daily operations of the business.
Job Type: Full-time and part-time
Duties:
Welcome and greet clients, giving them the proper paperwork for their appointment and manage all aspects of customer relations
Treatment of clients
Client follow-up and client management
Handle all post-appointment payment and scheduling
Answer the phones to schedule appointments and answer questions about the tattoo removal process
General business and office management including: adhering to company standards, working with the owners, maintaining a clean office, keeping the client files up-to-date and organized
Job requirements:
College degree or equivalent work/life experience required
Laser tattoo experience a plus; however, no laser experience required as we will train the right candidate
Must work 5+ days a week including Saturdays and an occasional Sunday
Must be flexible and be able to work in an expanding, fast-paced environment
Must be a good listener and learner
Visible tattoos not only accepted but encouraged. We LOVE tattoos and you must as well
A high level of professionalism and customer focus
An effervescent and upbeat personality
Very detail oriented
Solid computer skills
Must have a car
Wages commensurate with experience.
Please respond to this with cover letter and resume.
NO PHONE CALLS PLEASE.
Please send resume and cover letter to: rob@disappearinginc.com
The last Saturday of May and our NW location is packed with guest artists! Every artist in the shop is busy tattooing today and we are so full we had to build and impromptu station for guest Rudy Lopez. Things return to normal to close out the month, with the exception of Rudy who will be with us through June 6th.
Eddie Zavala tattooing a client's foot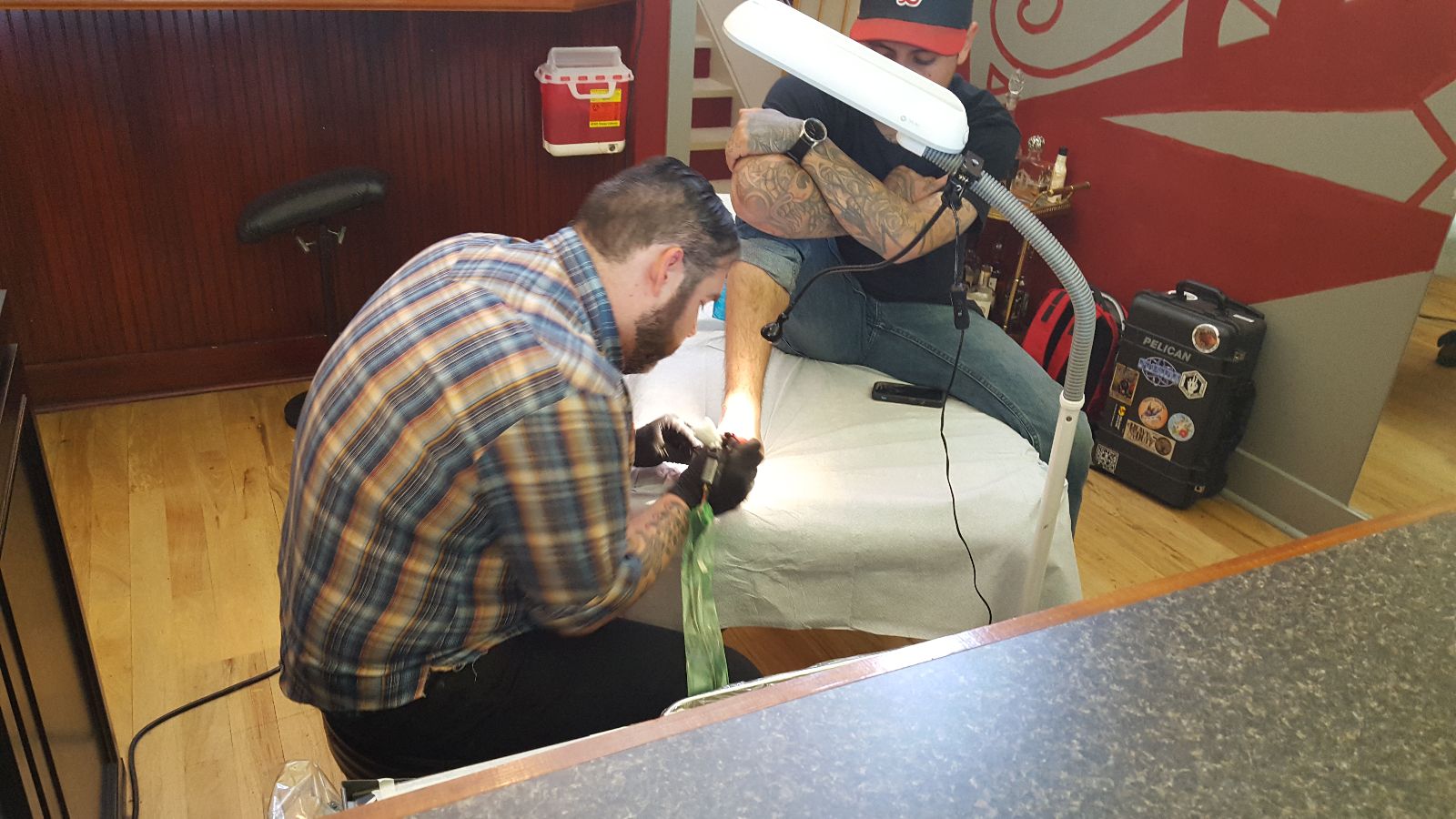 Jon Highland working on a shoulder/chest piece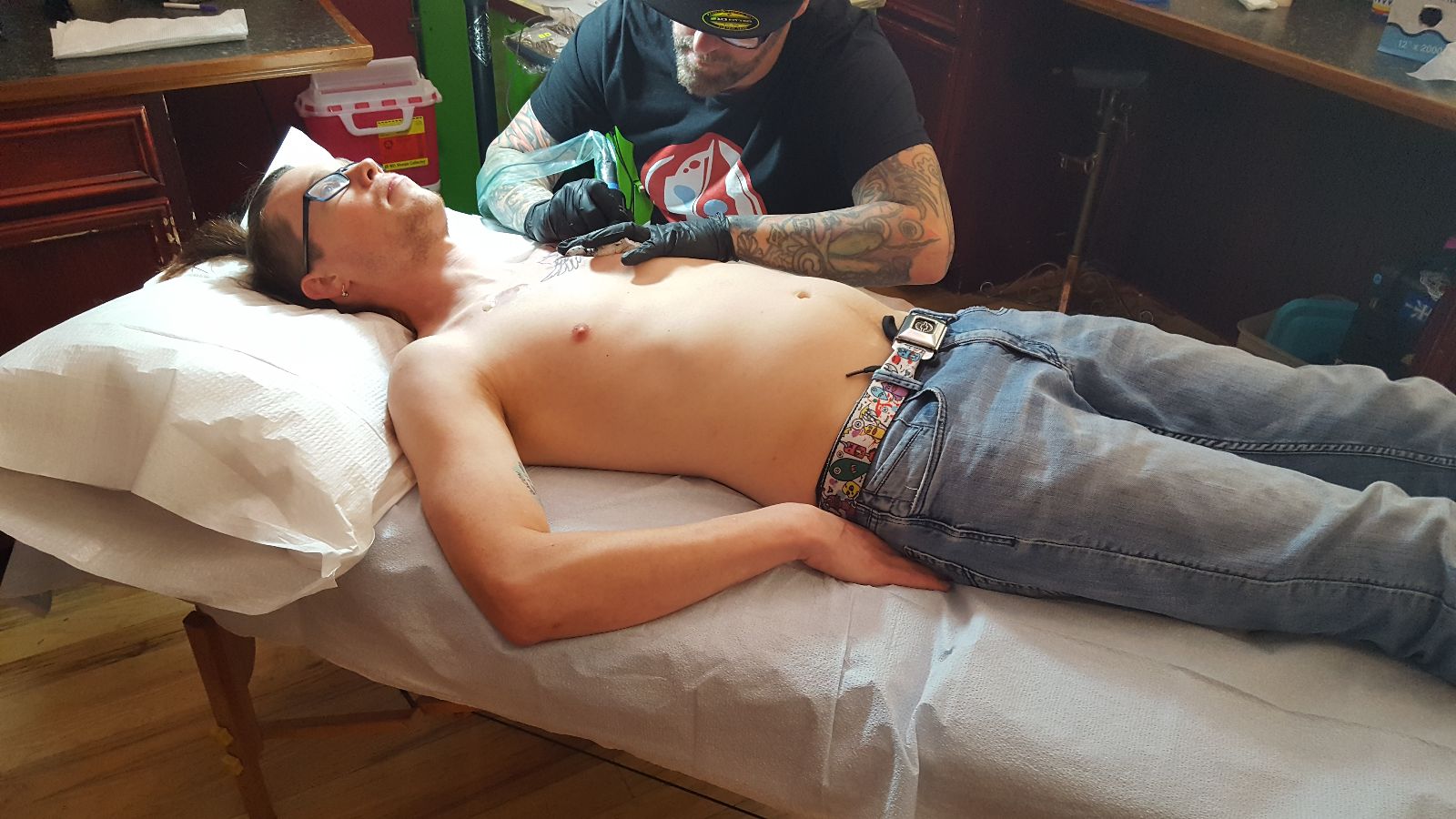 Dave Koenig working on a front torso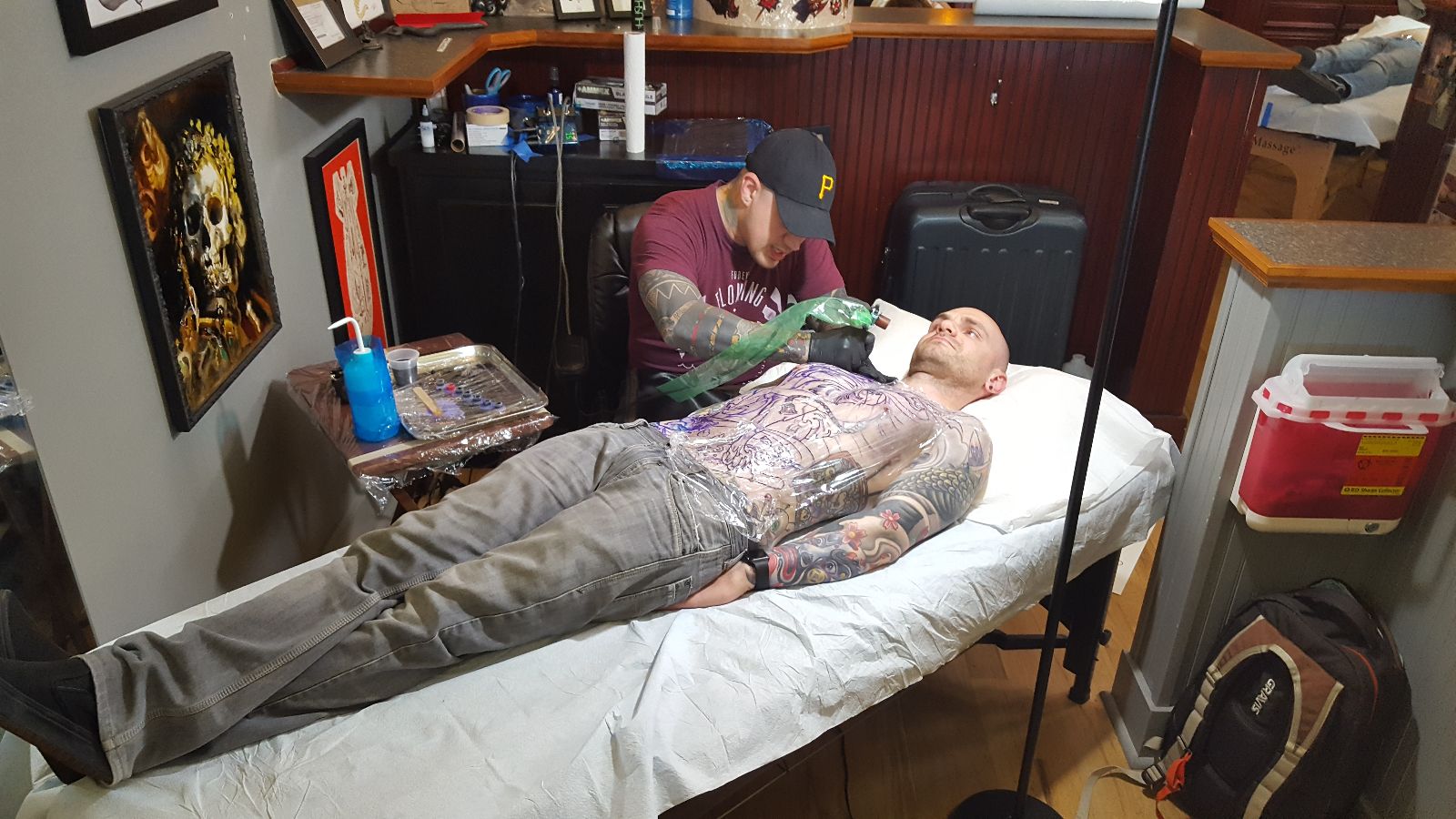 Rudy working on a forearm piece in his impromptu station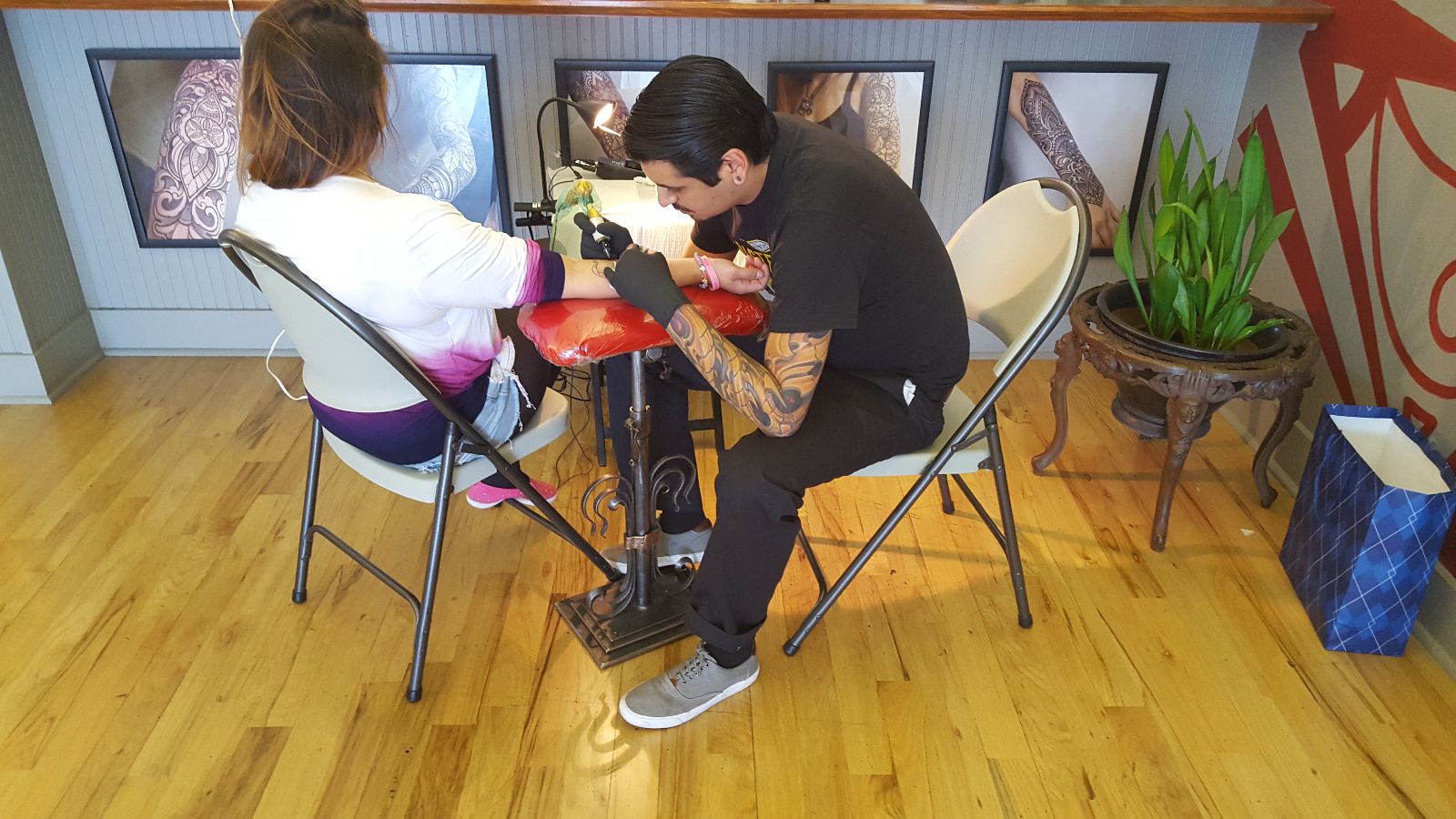 Our resident artists are hard at work too. Haley Gogue working on an inner arm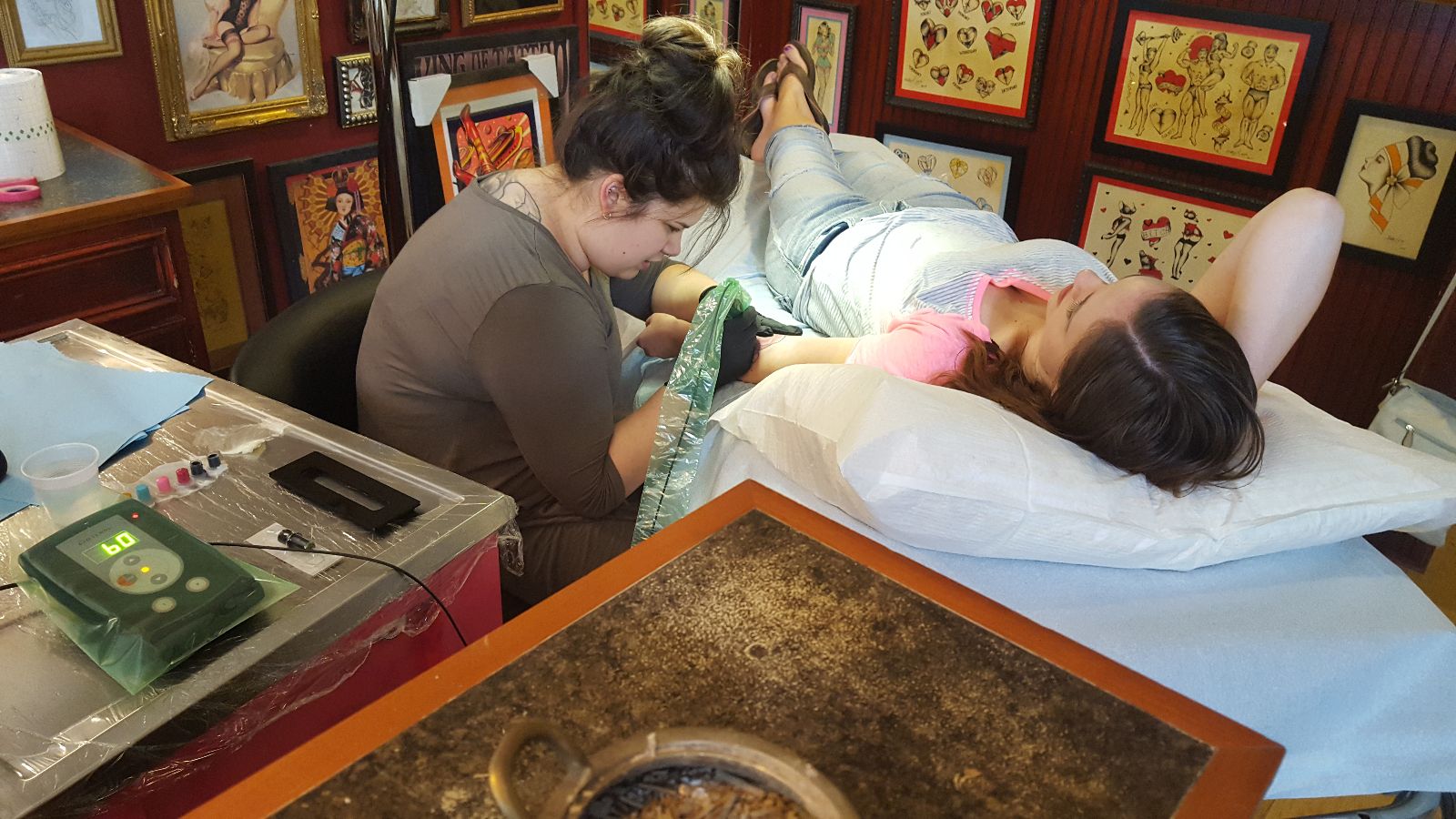 Resident artist Laura Jade working on a half sleeve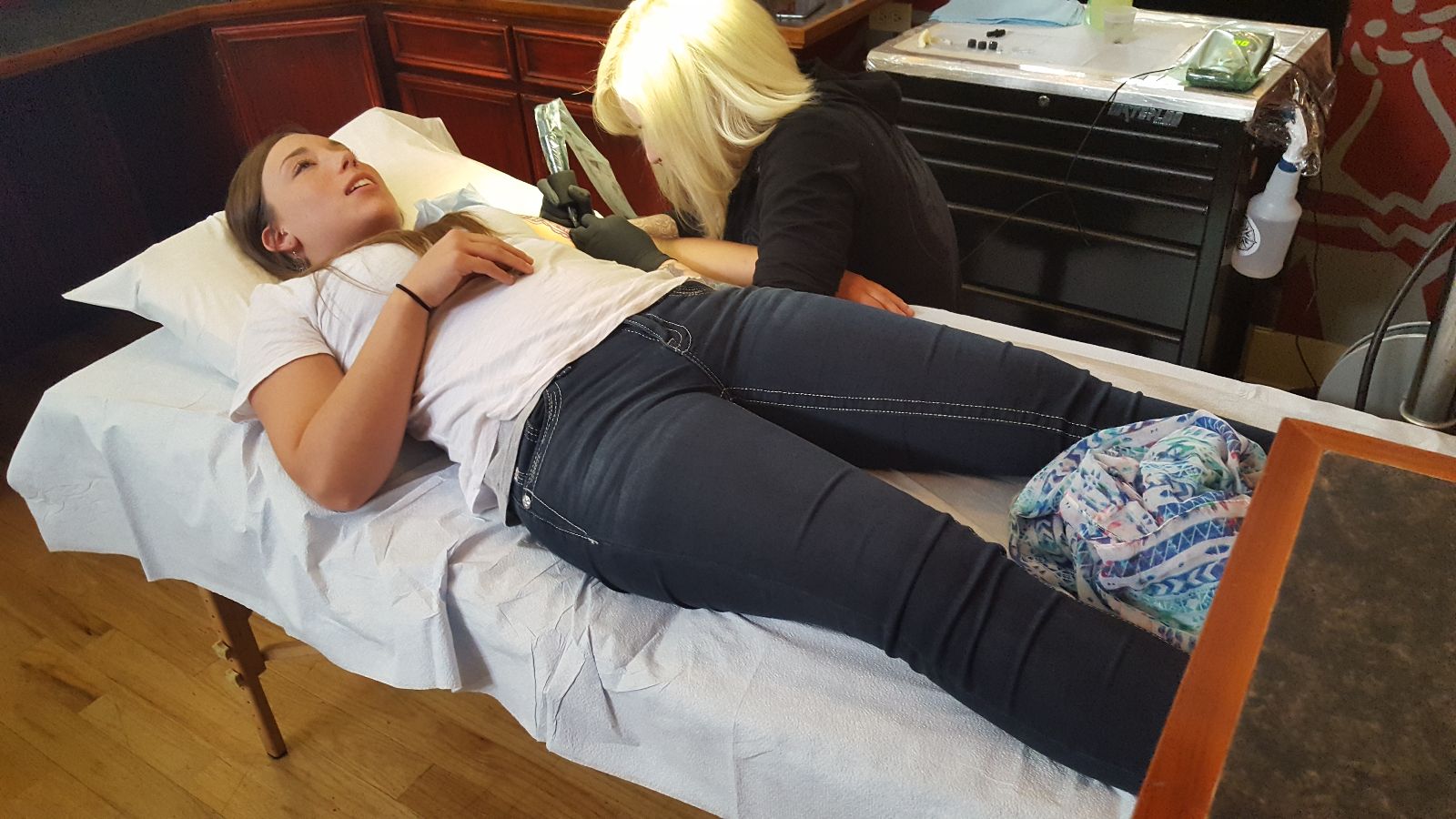 After much travel and an extended period of mostly tying up ongoing projects, I am looking to hear from some new and existing clients. I have availability upcoming to add several new large projects, and I have room for smaller single shot tattoos also.
I am looking to work predominately pushing my evolving style yet interested in hearing ideas which may have me explore outside what you have seen from me. If you think we might work well together I'd like to hear from you. I will be accepting all projects that catch my interest, and none that do not.
To have your idea considered please call the studio 413 527 6574 to set up a free sit down consultation, or you can reach me via email tmoneymasterslice@gmail.com
Huge thank you to Off the Map Tattoo and Sugar City Tattoo for having us out for guest spots. Thanks to everyone who got tattooed and for the hospitality! Looking forward to coming back.
San Francisco- we will be back in the East Bay area at Sugar City Tattoo http://www.sugarcitytattoo.com/ late June, July and will keep yu posted for exact dates. Email Soringaborart@gmail.com or Kristinaontheroad@gmail.com for appointments.
Thanks!!!