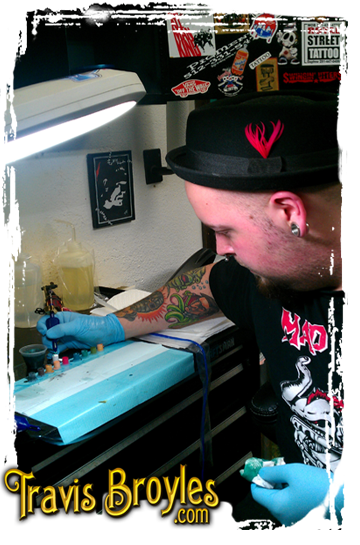 My entire life revolves around everything art related. From the fine arts, to music, to film – I love it all.
I have been a professional tattoo artist for 8 years. I apprenticed under William Addams in Indianapolis, IN. William taught me the basics as to making a great tattoo. Bold lines, solid color, and consistency – however my career has developed since then. I have had the privilege to work with many great artists in this journey and have learned a lot of the tricks of the trade so to speak. I feel that these things are what make me a strong artist. I strive to provide clean, bold, yet solid line work, bright colors, dark blacks, and smooth grey wash. I find myself favoring American Traditional, Neo-traditional, Illustrative, Cartoony, Realism, as well as Black and Grey – but that does not mean I am limited to doing those tattoos, and only those tattoos.
I have been drawing for as long as I can remember. Through middle school and high school, I constantly stayed in the art class to finish another painting, or loose myself in another charcoal. I have always favored Graphic Design and Web Design (as that is another one of my professions). I received my first computer at the age of 8, and since day one, I was fascinated with how they work, how websites work, and what it takes to build my own. I feel that having a strong graphic design background also improves my artistic abilities on many levels including saturation, exposure, contrast, composition, and etc. I am currently certified in the Microsoft Office Suite, and have many other certifications including Adobe Photoshop, and etc.
Among tattooing, coding websites, and graphic design – I also run a record label by the name of Robot Monster, Inc. We are an all horror music record label, based just outside of Seattle, WA. I run Robot Monster with my business partner, best friend, and fellow tattooer Jake Hades. We have quite the list of bands, but this is no hobby label. Our bands span the globe with terrifying music. Check it out for yourself at: http://robotmonster.us
The past few years I have been trying to open a clothing company by the name of Phantom Creature Clothing and Apparel. With little time left to even sleep as each day passes by, this idea may be on the back burner for a few more years – but it will see the light of day.
Another item that holds strong to me, are horror movies. Anyone who knows me knows that I have a huge passion for cinema, focusing on the macabre. I have quite the movie collection, with 95% being all horror, the rest being comedy of all things. I guess horror movies have accidentally influenced my musical and artistic tastes as well. In 2008 I even had the honor to tattoo Michale Graves (former singer of the Misfits, Gotham Rd., Graves, Marky Ramone's Blitzkrieg, and etc.), as well as JV Bastard (Michale Graves band, Mister Monster, Gotham Rd., Doomsday Prophecy, Darrow Chemical Co. and etc) on multiple occasions.