Tattoos of the Day
05.02.23
Join us 5/3 @ 11am est for a discussion panel featuring Bob Tyrrell, Marshall Bennett, and special guests! Moderated by Whitney Schiller. Sponsored by Lucky Tattoo Supply and Hustle Butter Deluxe. Tech by TattooNOW. Hosted by Unify Tattoo.
03.14.23
Another seminar skull from my bro @bobtyrrell and Marchall Bennet at the @motorcitytattooexpo this past weekend. Been a hectic week ! We used both our gray wash sets on this one …. I used mine and he used his. Maybe next time we will switch lol . Always have a blast doing these seminars and I always learn thanks to the cool talented artists that attended. Catch us at Black and Grey week at Unify Tattoo Florida! UnifyTattooFL.com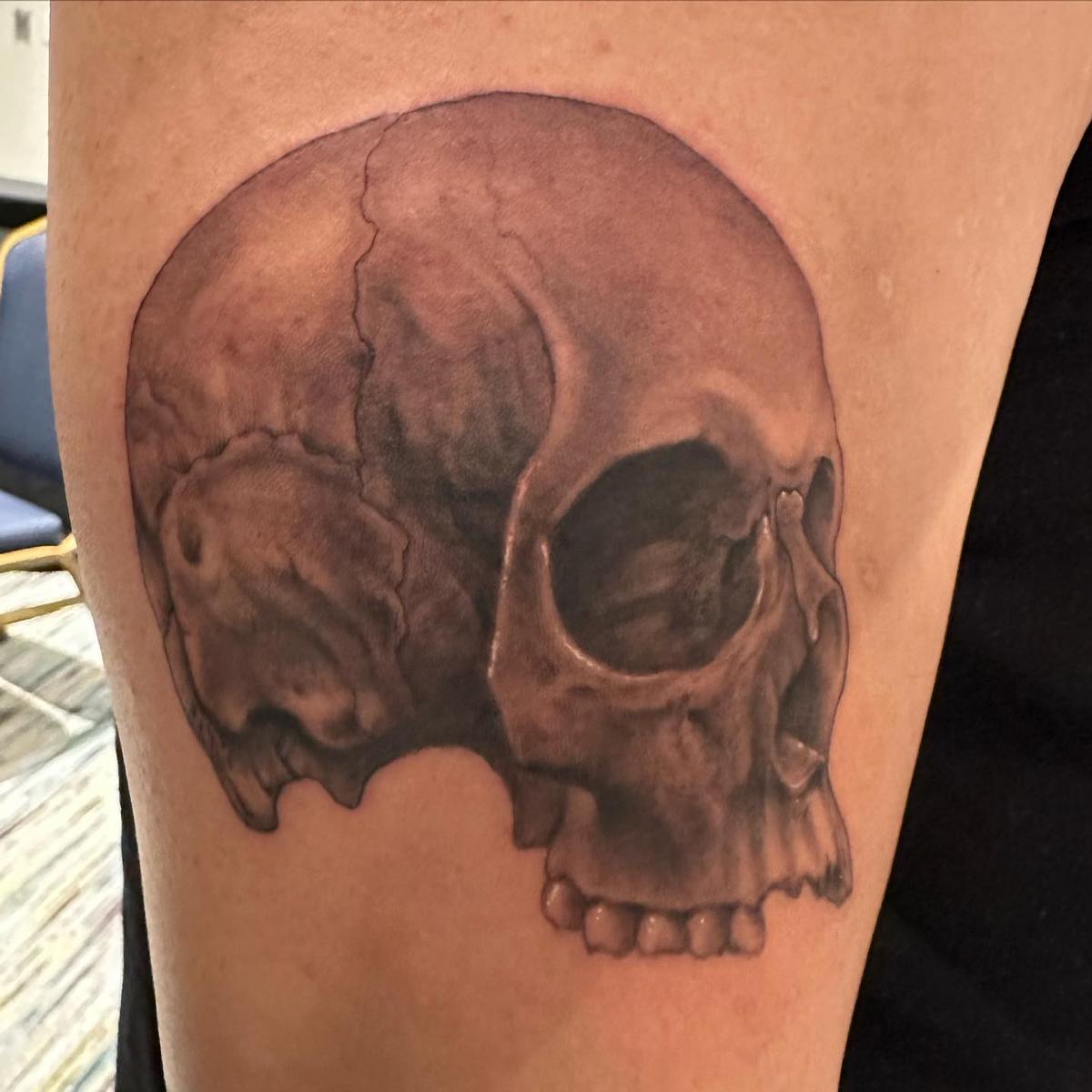 Join us each week as we blast off through the tattoo universe! We'll talk about our own thoughts and inspiration, as tattoo collectors, as well as the journey of our guests. We'll delve into everything from first tattoos, to full body suits, and everything in between. In this podcast, we will not be talking about how to tattoo, or any technical tricks of the trade. There are thousands of other platforms just for that. Here, we talk about tattoos from the collectors point of view. We'll share advice for collectors, as well as our specific experiences from our own tattoo journeys. We want to prepare, and inspire other collectors. https://www.tattoocollecting.com/community
Let's Talk About The REAL Problem, Non-Standardized Manufacturing!
[35:51] "If we're talking about that, high-end 8, 9, 10 on the technical lining scale, I don't think it'll happen unless somebody can find a way to make the little plunger fully attach where it doesn't allow that side to side movement."
— Cooper
As the popularity of cartridges has grown over time, the need for needle-making skills has become rarer or even obsolete. The outsourcing of products like needles has also shifted much of the power into the hands of manufacturers who primarily cater to market demands and needs, without giving much thought to innovation. Some individuals still prefer using coils with tubes and handcrafting their own tattoo needles for the day, but this skill is gradually fading away. It used to be that proficient needle makers could achieve a level of consistency that manufacturers today seem to struggle with.
So what is the problem with cartridges? Cooper's suggestion of improving the connection seems like a plausible solution, doesn't it? Here are a couple of ideas to consider: What if a soft rubber grommet was placed around the plunger? It could provide some resistance while offering stability and reducing vibrations. Alternatively, the plunger shaft could be hollowed out, allowing the stainless steel stick to insert into the plunger. This could enhance stability but might increase friction. However, it's important to note that not all tattoo machines use the same mechanisms, making it challenging to standardize cartridges in this manner.
Are there any other ideas floating around? Do you have a potential solution in mind? Perhaps it's time for manufacturers and tattoo artists to engage in a serious discussion about the industry's needs. They could also leverage the expertise of excellent organizations such as the APT (Association of Professional Tattooists) or TAG (Tattoo Artist Guild) to collaborate with manufacturers and address these concerns effectively.
Watch the full episode:
The Goal
"As tattooing evolves and you're trying to share a technique with a colleague and you said "I was tattooing this person and she's a '3' everybody knows what you're talking about…"
-Shawn Bellina, S8 Tattoo Chemist
We've touched this topic a few times already, but having systems and language in place would help with ease of communication between individuals and between sectors of the tattoo industry. A set of symbols or numbers that everyone in the industry understands.
If you want to get more technology into tattoo, the main thing holding it back is a lack of understanding and common terminology. We really need to define some key terms and variables. Once we have a shared language, we can start to create technologies to improve the tattoo experience.
Common Language
"So, if we can define some of these terms and variables then you can look for appropriate technologies to make the experience better...make the outcome better."
-Shawn Bellina, S8 Tattoo Chemist
There have been many new ideas and technologies coming into the tattoo industry. With new government regulations such as the "EU Pigment Ban" it might be a good time for tattooing to start coming together as a community and form its own industry regulations.
Making efforts to build these systems for communication like a standardized color palette or a standardized skin tone scale enables tattooers and the industry to analyze, test and properly label tattoo ink. Along with that it increases our ability to push back on such regulations and recapture it ourselves.
Looking outside tattooing
"It's not unlike some of the problems that we're trying to solve in design and in drawing…It's having a common language, so that whenever you say something people read it the same way."
-Jake Meeks
So what do we do? How do we find this "Common Language" we keep talking about? I think the best examples might be outside the tattoo industry. To start, I think a stellar example would be music. The idea that any trained musician can just walk into a gig and the band leader says "We're gonna play a II-V-I in b#m" and that person says, "Okay" is the same kind of thing that's lacking in tattooing. Now music isn't the only example. We have a wide range of other disciplines we can pull from including chemistry, physics, and art. But, being able to communicate in these terms is exactly the same type of problem we should be trying to solve. Being able to have a language and body of literature not only allows tattooers to communicate more easily, but it could potentially create a better and safer experience for clients as well.
Watch the full episode: