Location
Eötvös u. 3., Hungry
0036-92-347-889
Follow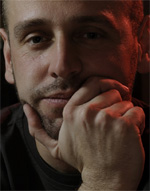 I was born in Zalaegerszeg in 1972, i still live here.
I made my first tattoos in 1992, using amateur equipment. In the following 2 years besides studying and working I made tattoos whenever I had the possibility, then I opened my current studio in 1995.
I participated in the 1996 Budapest Tattoo Expo first, where I won 2 awards and i have been taking it seriously since then.
In the first years I learned the profession alone. I met some tattoo artists in 1996, who accelerated the learning process.
I opened my second studio in Keszthely in 1997, I work there during summers. I went to an international convention first September, 1997 as a spectator in Barcelona and it had a huge impact to me. The next ones were Bologna and Berlin. I stood behind the back of well-known artists and watched how they were working, which techniques and equipment they were using. I tried out and learned everything while working.
The 1999 Berlin Convention was the first one, which I visited as a participant.
I spent most of my time in my studio, but also took part in the foundation works of the Hungarian Tattoo Association and I am the provincial professional vice-president.
What could I write about my work?
I am lucky, because my job is my hobby. I cannot describe my style as I am not commited to any of the trends. I like doing new things every day, I am susceptible to everything new, but of course I take the limits of the skin into consideration.
I prefer customer demands with not only visual, but mental content as well. I like customers with own ideas, because they inspire me and start my imagination working, but it is very important for me to get enough freedom in execution.
I consider all of my works to be equally important, as each of them is the most important to the person who wears it. Of course there are some, which really close to my heart, you can recognise them by looking at my drawings and photos.
I prepare all of the tattoos as if I made them for myself, so I make them as a work of art and not only as a work and I make my drawings aware of that. The drawings are drafts, they are very precise and workdemanding.
If you are interested come and visit me in my studio or at an expo.
All the best till then: Boris