Sci-Fi Week - 11/29-12/3 Ft. Adam France, Evan Olin, Josh Suchoza, & Ian McKown
10.27.15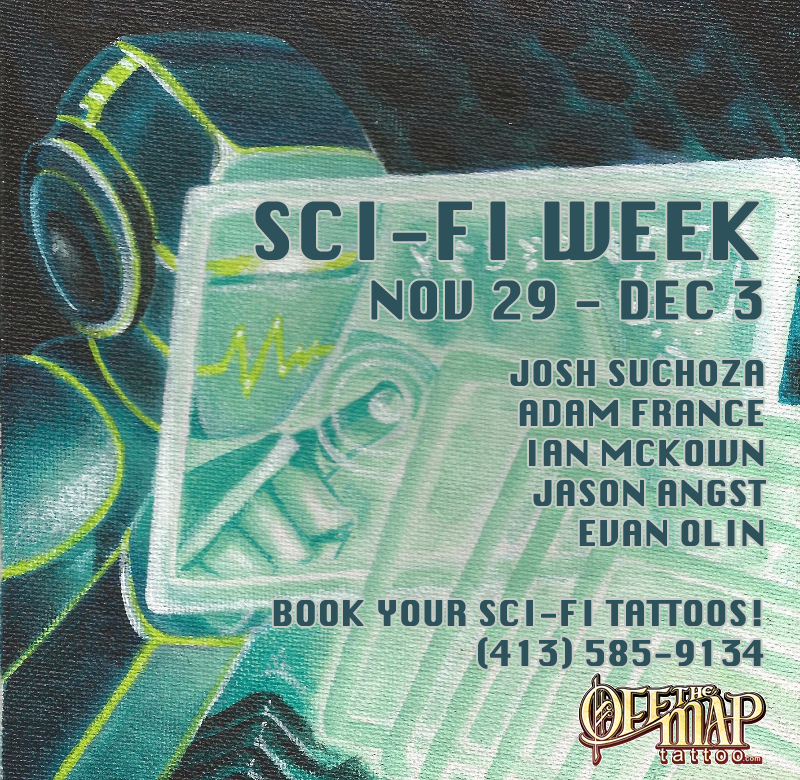 We're incredibly excited for our Sci-Fi week events that are coming up at the end of November/early December. We're blocking off a whole week to honor all things delightfully nerdy and Sci-Fi related. Mark your calendars because course of that week we will be visted by Evan Olin (Powerline Tattoo), Adam France (Red Tree Tattoo), Josh Suchoza (Off the Map Tattoo), Jason Angst (Artisan Tattoo) and Ian McKown (Old Larimer Street) at Off the Map Northeast in Easthampton, MA. All four artists will be tattooing sci-fi themed tattoos and we'll be live streaming it on www.offthemaptattoo.com/live!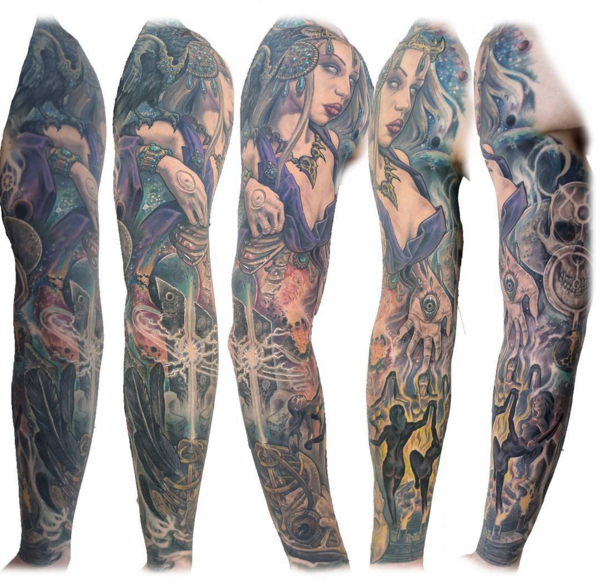 (Featured from left - bottom - Evan Olin, Adam France, & Jason Angst)
In the market for an amazing tattoo with a sci-fi flare? This is definitely the week to make some time in your schedule! Give us a call at 413-527-6574 and make an appointment before these artists completely book out.
(Featured from left to right - Ian McKown & Josh Suchoza)
Can't make time for an appointment? Busy on the livestream days? Have no fear cause we'll be doing a sci-fi themed episode of Off the Map LIVE! on Sunday, November 29th
Check Ya Later!
Webinars, DVDs, Merch & More!

Featured Products
Select TattooNOW Projects

Website Showcase
Advertise with us
Reach our network of tattooers & collectors with fine taste with a variety of advertising packages for any budget.
Classifieds
Banner Ads
Mini-Magazine Ads
Video Spots
Sponsorship Deals
Call (413) 585-9134 for more options!
No one can get you more qualified traffic
"I have been happily associated with TattooNow.com for many many years now and finally gave up control over myself built web site and had these experienced tattoo related web builders put together a kick ass new site. I am linked in with many of the popular networking sites like Instagram, Facebook and Twitter and even have several language translation options available for foreign countries. They make it easy to update the images and info yourself any time you feel the need and I could not be happier. I am already getting much more traffic to the site and I'm picking up more clients as well. I would highly recommend them for anyone especially those in the Tattoo Industry. I will also be having them build a new site for my entire shop soon. Thank you so much TattooNow.com"
– Larry Brogan
"I absolutely love the website that TattooNOW has done for me! With being a new shop owner and having a lot on my plate designing a webpage was one of the last things on my mind. TattooNOW was able to totally help me in designing my page and I receive compliments from my clients from it all the time! My shop is in a little remote town and over 50% of my clientele comes from this website! People come from all over the country to my little town in Missouri. It's amazing the power of the Internet these days. I don't know what I would've done without this website!!"
– Jessica Weichers
"Just got done watching the Jeff Gogue hand webinar. Best $150 I've spent in a while! Every single one that I've signed up for has been superb and really makes a difference for those of us living overseas who don't have access to conventions/seminars period. So this is definitely the next best thing and I'm thankful for having access to them."
– Nick Tse
About TattooNOW
TattooNOW is a professional multimedia development company specializing in Tattoo web sites, webinars, and online promotions. TattooNOW was started by top professionals from both the tattoo industry and multimedia field to fill a void: Reliable highly effective websites for professional tattoo artists.