Rubber City Tattoo Invitational Leaving Its Mark on Akron July 31-August 2, 2020
02.12.20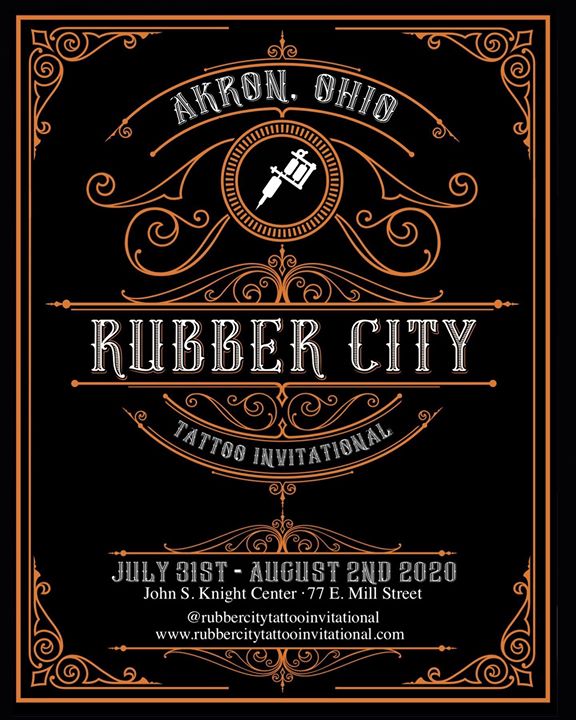 Akron, Ohio: Look at the person to the left of you and the right of you. Chances are, between the three of you, one person has a tattoo. That's right--according to recent research, one in three people in the United States has a tattoo. This summer, The Rubber City Tattoo Invitational will debut at Akron's John S. Knight Center to celebrate the industry and give tattoo enthusiasts a chance to show off their ink.
The show's founders, Tony Urbanek and Elizabeth Clay, are excited to have the Invitational in Akron. Urbanek, who owns and operates Inka Dinka Doo in Pittsburgh, has been tattooing for over 25 years. He is also a machine builder (hint: it's a tattoo machine, not a tattoo gun!) and his shop was just named best shop in Pittsburgh by Pittsburgh Magazine. Clay is an Akron native with a Master's Degree in Psychology. Her research focus was memorial tattoos and how they help with emotional healing.
"I've been travelling to shows for most of my career. Conventions give people a chance to meet some of the top artists in the industry, learn about styles they may not have seen before, and even get a new tattoo from an artist they've admired on Instagram," said Urbanek. "Plus, Akron is one of my favorite cities. People who don't visit Akron just don't understand how cool it is. We want to help promote the city with this event."
"If you talk to anyone with a tattoo, it's amazing just to get the story behind it. The psychology behind why we get tattoos is incredible--everything from where we put it on our bodies to why we choose specific images or words is such a personal experience," Clay added. "The Rubber City Tattoo Invitational is not only a chance for tattoo enthusiasts to share their stories, but to also learn more about the craft, maybe get some new ink, and definitely make new friends and connections in one of the most open and accepting communities in the world."
The family-friendly event will take place July 31-August 2, 2020 and will include best tattoo contests in various categories, kids' events, celebrity tattoo artists, and a travelling tattoo museum. Aside from Tattoo of the Day contents, you do not have to get a tattoo at the Invitational to be eligible to enter your tattoo in contests. For more information, visit www.rubbercitytattooinvitational.com or follow the Rubber City Tattoo Invitational on social media @rubbercitytattooinvitational to stay up-to-date on announcements and news regarding the event.
xxx