Owen Paulls - UK Tattooer who loves Disney
06.07.18
For those unfamiliar with your tattoos and story, please introduce yourself.
Hi! My name is Owen Paulls and I tattoo animation and cartoons in black and grey! I started tattooing in the south of England around four years ago and have spent this last year on the road full time, trying to get to as many studios and conventions as I can!
Where have you been traveling to?
I've been traveling all over! Got to go to Australia and Japan earlier this year, that was an amazing experience! Highly recommend Tokyo Disney for anyone who has the chance to go!
Where are you headed next?
So next on the agenda is the U.K. for a month or so to catch up with a few friends and customers, maybe do a couple more tattoo swaps!
Where are you going to go in your wildest dreams?
Tattoo wise or location wise?Tattoo wise I've always been pretty strict with meeting my five/ten/fifteen year goals. Id like to get my foot in the door with the American market and start to make more of a buzz over there. The rights of passage festival would be a big one for me also. So my goal work wise I guess my aim is to just keep working as hard as I can without dying!
Locationwise - South America would be pretty cool to visit!
What attracted you to tattooing?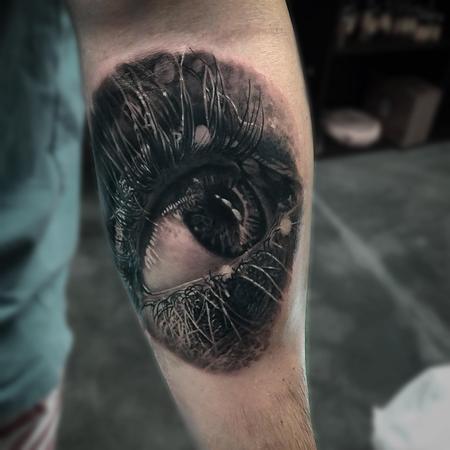 In the beginning, I was attracted to the rawness of it all. The history of tattooing on the south coast of England is really strong. There's a huge traditional influence over there and I think that side of things pulled me in from the start!
Who have you collected tattoos from?
I have a cool Mickey on my arm from Josh Russel who now works out of Manchester, a nice little Dani Green shark who's now in Italy and a couple of cool ones from my home town. I'm keen to get my half of a trade off I did recently with mike DeVries. That would be a cool one to have!
Who were the artists who influenced you back when you started tattooing?
So back when I started, the big names out there were Mike Devries, Bob Tyrell, Bullet bg, Boris, Roman, Sarah Miller... etc. All of them were so solid and still are. I remember seeing some of Bob's work healed for the first time and spending an hour just inspecting every detail. I don't know what the owner thought I was doing but I was so into it!
Do you work in other mediums? If you which, and how do they influence your tattooing?
I like to paint when I can. it's a little tough to take all my supplies through airports, so I've been working on my digital painting recently. It feels good to practice on the iPad for when I get a few days off to paint properly. To keep my wrists moving on my days off.

I'm a portrait guy, so I've been trying to get to at least one art gallery for every guest spot over the past year. Sometimes this works out and sometimes there's just not enough hours in the day!
Which galleries would you recommend to other traveling tattooers and collectors?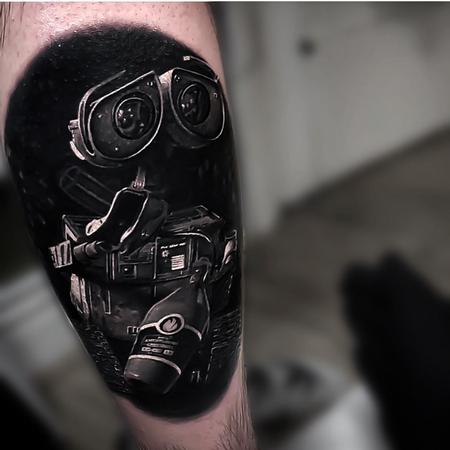 That's so tough because I guess everyone likes different styles of art! I'm a Rembrandt fan so getting to go to the national gallery in Edinburgh was awesome, also the national gallery of Victoria jn Australia is a good one for classical oil stuff. There's a museum in Lucerne, Switzerland that has some really cool collections, but you have to time it right for who they have on display! I say just explore! Because you might find a gallery that's filled with hidden gems just around the corner!
Thanks Owen!
You can find out more about Owen's portfolio and travels on TattooNOW and Instagram at @owenpaulls