ITEM OF THE WEEK: 'Inside Out' by Chris Dingwell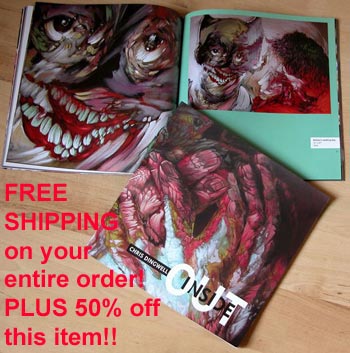 This Week Only (March 20 - March 26)
'Inside Out' by Chris Dingwell
is the Featured Item this week.
Order this item and get FREE SHIPPING!!
PLUS - 50% off the price of the item!!
(FREE SHIPPING to US orders only. Shipping to Canada is $30.00 and anywhere else is $45.00.
Order more items and get the shipping special on your WHOLE order!!
Any additional shipping charges will be refunded when order is filled)
'Inside Out' by Chris Dingwell: $40 - Sale $20
"Painting in the tattoo world is not exactly a new thing, but tattoo people painting with the excellence that rivals the world's fine artists is." Johnny Thief on Chris Dingwell
Chris Dingwell is a respected and accomplished tattoo artist and fine painter, from the grotesque to the sublime this books chronicles the last 8 years of his painting career. His style is all his own and yet clearly he draws on technical skills that he has been honing for a life time, his work is alive, vibrant and engrossing and anyone who collects art, knows art, or studies art will get something of value out of this book. Each page draws the viewer into a world that is a bit surreal, sometimes chaotic but always visually mesmerizing. A perfect item to round out your art book collection. 10x10", approx. 150 pages
Webinars, DVDs, Merch & More!

Featured Products
Select TattooNOW Projects

Website Showcase
Advertise with us
Reach our network of tattooers & collectors with fine taste with a variety of advertising packages for any budget.
Classifieds
Banner Ads
Mini-Magazine Ads
Video Spots
Sponsorship Deals
Call (413) 585-9134 for more options!
No one can get you more qualified traffic
"I have been happily associated with TattooNow.com for many many years now and finally gave up control over myself built web site and had these experienced tattoo related web builders put together a kick ass new site. I am linked in with many of the popular networking sites like Instagram, Facebook and Twitter and even have several language translation options available for foreign countries. They make it easy to update the images and info yourself any time you feel the need and I could not be happier. I am already getting much more traffic to the site and I'm picking up more clients as well. I would highly recommend them for anyone especially those in the Tattoo Industry. I will also be having them build a new site for my entire shop soon. Thank you so much TattooNow.com"
– Larry Brogan
"I absolutely love the website that TattooNOW has done for me! With being a new shop owner and having a lot on my plate designing a webpage was one of the last things on my mind. TattooNOW was able to totally help me in designing my page and I receive compliments from my clients from it all the time! My shop is in a little remote town and over 50% of my clientele comes from this website! People come from all over the country to my little town in Missouri. It's amazing the power of the Internet these days. I don't know what I would've done without this website!!"
– Jessica Weichers
"With social media always changing, the importance of a professional website is imperative. I loved the design inspiration package they had me fill out to describe how I wanted my website to look. They were able to take my concepts and visualize them for me into a site that really felt individual and personal. I love that I can easily access and publish new news items and photos in an instant through the TattooNOW website. The staff is always professional, friendly and easy to reach. TattooNow has helped me reach a wider audience, allowing me to do more of the work I love!"
– Mallory Swinchock
About TattooNOW
TattooNOW is a professional multimedia development company specializing in Tattoo web sites, webinars, and online promotions. TattooNOW was started by top professionals from both the tattoo industry and multimedia field to fill a void: Reliable highly effective websites for professional tattoo artists.