ITEM OF THE WEEK: 'Inside Out' by Chris Dingwell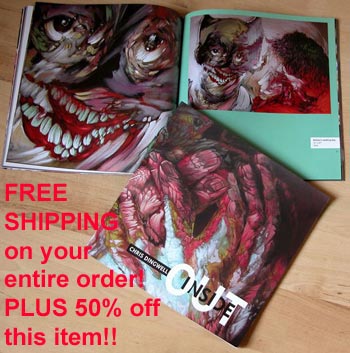 This Week Only (March 20 - March 26)
'Inside Out' by Chris Dingwell
is the Featured Item this week.
Order this item and get FREE SHIPPING!!
PLUS - 50% off the price of the item!!
(FREE SHIPPING to US orders only. Shipping to Canada is $30.00 and anywhere else is $45.00.
Order more items and get the shipping special on your WHOLE order!!
Any additional shipping charges will be refunded when order is filled)
'Inside Out' by Chris Dingwell: $40 - Sale $20
"Painting in the tattoo world is not exactly a new thing, but tattoo people painting with the excellence that rivals the world's fine artists is." Johnny Thief on Chris Dingwell
Chris Dingwell is a respected and accomplished tattoo artist and fine painter, from the grotesque to the sublime this books chronicles the last 8 years of his painting career. His style is all his own and yet clearly he draws on technical skills that he has been honing for a life time, his work is alive, vibrant and engrossing and anyone who collects art, knows art, or studies art will get something of value out of this book. Each page draws the viewer into a world that is a bit surreal, sometimes chaotic but always visually mesmerizing. A perfect item to round out your art book collection. 10x10", approx. 150 pages
Webinars, DVDs, Merch & More!

Featured Products
Select TattooNOW Projects

Website Showcase
Advertise with us
Reach our network of tattooers & collectors with fine taste with a variety of advertising packages for any budget.
Classifieds
Banner Ads
Mini-Magazine Ads
Video Spots
Sponsorship Deals
Call (413) 585-9134 for more options!
No one can get you more qualified traffic
"Just got done watching the Jeff Gogue hand webinar. Best $150 I've spent in a while! Every single one that I've signed up for has been superb and really makes a difference for those of us living overseas who don't have access to conventions/seminars period. So this is definitely the next best thing and I'm thankful for having access to them."
– Nick Tse
"I can say without reservation Gabe Ripley's webinar, and the information presented, was one of the keystones to my career choices and direction the last year. I often quote much of what I learned not only to others, but to myself as well as a reminder to stay on track. I've taken the webinar twice and will purchase it if ever made available on dvd. I can't recommend it highly enough."
– Ian McKown
" Before commissioning TattooNow to build and host my website, I took on the daunting task of building my own sites and promoting myself through social media. When I finally came to my senses and put it in their hands, my business increased drastically and the site paid for itself in just a few short weeks. This was the start of branding myself in the body art world. My business cards, post cards and banner match my site style.
As a gallery and body art studio owner, I get solicitation calls from companies wanting to build a site or just host my existing site. I let them go through their sales pitch as I laugh on the inside. Then I show them the easy function of my site and I top off my moment with showing them how easy it is to update my site through the TattooNow interface and by showing them the countless features in the community. I send them away with their heads bowed as they cannot come close to comparing to what TattooNow offers specifically to artists. "

– Steve Phipps
About TattooNOW
TattooNOW is a professional multimedia development company specializing in Tattoo web sites, webinars, and online promotions. TattooNOW was started by top professionals from both the tattoo industry and multimedia field to fill a void: Reliable highly effective websites for professional tattoo artists.