Creating Depth in a Tattoo!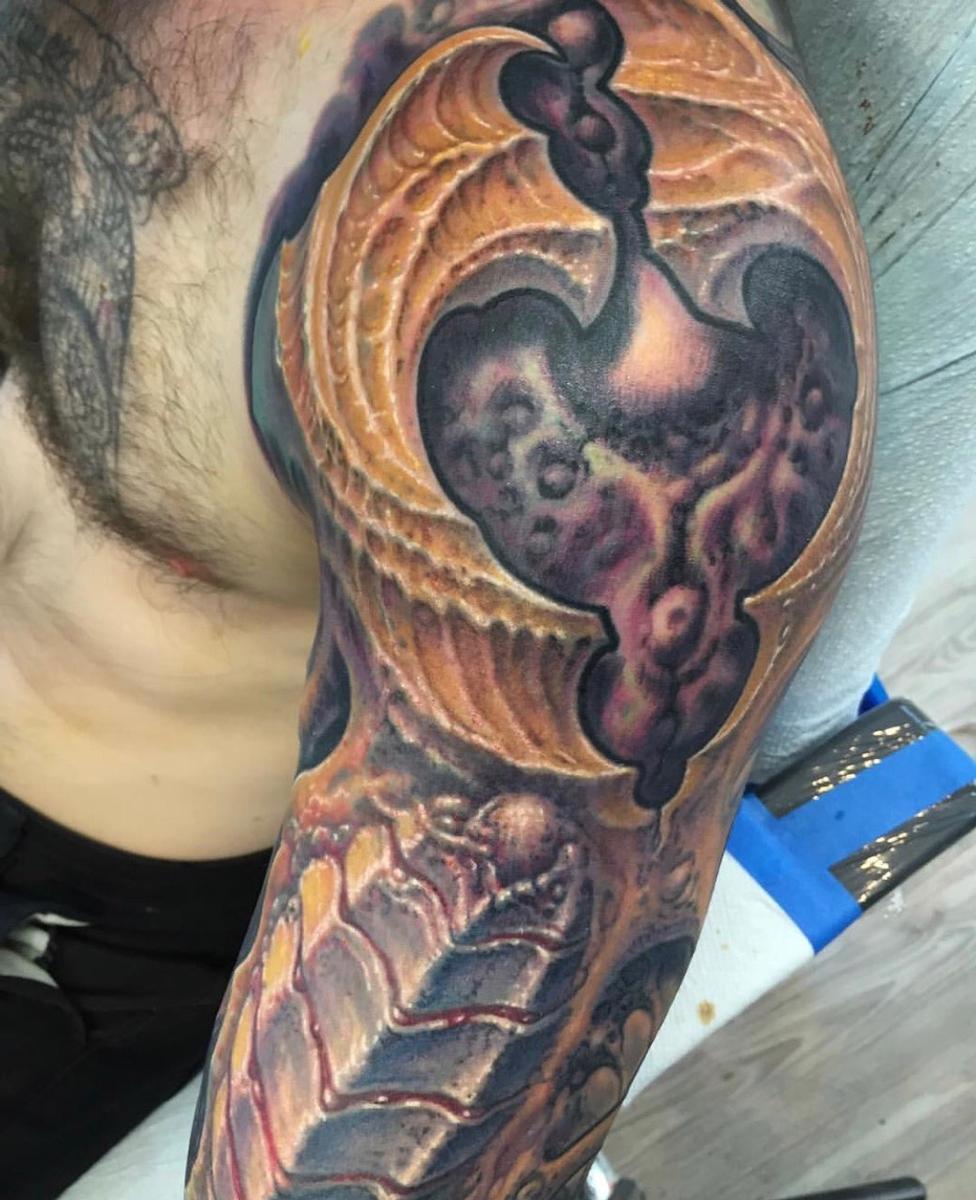 One of my goals with most of my work is to produce a sense of tangible depth- the more convincing the effect, the better. With Biomech work, there are sometimes two distinct layers of mech stuff, a foreground and background layer, and I always try to use all the tricks to produce depth. Reserving true whites for the foreground only is one such trick- note how the background highlights are done in creamy light colors which cause the foreground highlights to look brighter by comparison. You can read about these tricks in more detail in the Reserve chapter of your ReinventingTheTattoo.com subscription.

Webinars, DVDs, Merch & More!

Featured Products
Select TattooNOW Projects

Website Showcase
No one can get you more qualified traffic
"I can say without reservation Gabe Ripley's webinar, and the information presented, was one of the keystones to my career choices and direction the last year. I often quote much of what I learned not only to others, but to myself as well as a reminder to stay on track. I've taken the webinar twice and will purchase it if ever made available on dvd. I can't recommend it highly enough."
– Ian McKown
" Before commissioning TattooNow to build and host my website, I took on the daunting task of building my own sites and promoting myself through social media. When I finally came to my senses and put it in their hands, my business increased drastically and the site paid for itself in just a few short weeks. This was the start of branding myself in the body art world. My business cards, post cards and banner match my site style.
As a gallery and body art studio owner, I get solicitation calls from companies wanting to build a site or just host my existing site. I let them go through their sales pitch as I laugh on the inside. Then I show them the easy function of my site and I top off my moment with showing them how easy it is to update my site through the TattooNow interface and by showing them the countless features in the community. I send them away with their heads bowed as they cannot come close to comparing to what TattooNow offers specifically to artists. "

– Steve Phipps
"I am so happy with the redesign. You've exceeded my expectations and it's been a great experience working with Aaron, the designer. I felt like we were well matched. The site reflects the aesthetic I was trying to create and everything was done rather quickly. The channels of communication were open, I could tell I was being listened to and I think the cohesion of my site reflects that. I'm very happy with the look and function of adamlauricella.com -Thank you Gabe, Brian, Aaron and the rest of TattooNOW.com"
– Adam Lauricella