Tattoo of the Day
03.17.15
Cancer sucks and Spaded and Jaded Tattoo Co are at it again. This Thanksgiving at midnight spaded and jaded tattoo will be tattooing 50 dollar tattoos for 24 hours with all proceeds being donated towards cancer research. Last may this event raised over ten thousand dollars to donate towards the fight against cancer. In addition to the tattooing spaded and jaded will also be a toy drop for the St. Francis children's hospital for kids in need this holiday season.
Event details
The event will start at 12:05 am Nov. 28th and end at 12:05 am the 29th
All open to the public on a first come first serve basis. Free gift bags will be given from 1205am -7am, breakfast served from 7am- 1030am
BBQ served 11am-4pm also a movie tent showing holiday movie classics with hot chocolate and coffee for the wait from 10am-close. Face painting and bounce house for the kids from 12-5. Karaoke party at the carousel lounge from 6pm-close.
Contact info
John Black
spadedandjadedtattooco@yahoo.com
shop - 9186225500 cell - 9185107215
03.16.15
At Artisan Pittsburgh, we love tattoos; we are a tattoo shop after all, but we are also so much more. We are a dream factory where friends and community members come together to find encouragement and support on the road to achieving their goals. These dreams now hang in the balance as we are in danger of losing our space. We need your help!
Our story begins in May 2011 with an empty storefront space in Pittsburgh's East End. Six months later, Artisan Tattoo opened its doors on the second floor of 5001 Penn Avenue in Garfield, a neighborhood in its earliest stages of reinvention. Getting to that point was no easy task, but with a little elbow grease and a lot of blood, sweat, and tears we made it and we're still putting in 80-hour work weeks and juggling multiple jobs to continue building the rest.
Once the doors were open, business flourished and our tattoo artists quickly grew loyal customer bases, which continue to expand year after year. Our experienced artists work tirelessly to provide beautiful, custom tattoos for each client, often alongside an ever-changing roster of national and international guest artists who join us at the shop to add their personal style to our collective.
While we do bring guest artists to our tattoo shop, we also feature local and global artists in our gallery space on the first floor. Not only do we use this space to feature art of all mediums, but also as a community forum for local non-profits and a classroom space for arts education. We participate on a large scale in the neighborhood's monthly First Friday Gallery Crawl, a free event that works to further connect the arts community with the residents of this and other nearby neighborhoods.
To complement our wonderful gallery space and our ever-growing tattoo business our future plans for Artisan Pittsburgh also include building the only café in our area which is already under construction and completion of the Gem Way House, a would-be hostel where we could host visiting guest artists and others who would further enrich the community. We have significantly invested in these projects out of our own pockets and their completion is important to both the Artisan family and the community, especially Garfield which is in desperate need of a community hub and a beacon of positivity.
While we anticipated bumps in the road during our development, we have been faced with a few unfortunate scenarios that put everything we've worked for at risk. The first major setback we experienced came when what should have been a 6-month road reconstruction project on Penn Avenue stretched into an 18-month nightmare. The busy roadway was transformed into a one-way, gridlocked mess riddled with potholes and further congested by a maze of jersey barriers and fencing. With Penn Avenue mostly out of commission, parking a near impossibility, closed sidewalks, and a confusing network of side streets, the foot traffic to our and other businesses ground to a near halt. While this lengthy road closure had hugely negative impacts on us, with the re-opening of Penn Avenue we saw a more attractive setting for our shop, a better environment for our customers, and an immediate increase in business.
Just as we thought everything was back on track and we would be able to see the café build through to its conclusion and begin work on the Gem Way House, we were delivered a heart-wrenching blow in the form of a long to-do list from the area's new building inspector. We have been given six months to teardown and rebuild three ADA-accessible bathrooms, as well as install a three-story fire escape and more. These renovations cannot be completed cheaply, and if we do not finish them within the allotted time frame, Artisan will be forced to close and 5001 Penn Avenue will return to being another vacant storefront in an already struggling area.
We have poured so much of ourselves and of our resources into creating this space; it's hard to imagine it could all come to an end so quickly. While our team of visionaries, dreamers, and do-it-yourselfers have been proving themselves capable of the impossible since our inception, it is hard to imagine being able to complete even the bare minimum required renovations without your help. We chose Garfield for our location because it is truly a neighborhood in need of a place like Artisan, but now our location has left us ineligible for bank financing and we need you to help us raise the funds necessary to remain open.
We know how massive this undertaking is and how little time we have to complete it, but we are no strangers to hard work. We put in 16-hour days, and so do our friends. It's the only way to achieve what we already have. We have the crew, the drive, the initiative, and the vision. All we need is the aid of courageous individuals who believe in our mission to support the community through the arts.
What we need to keep our doors open in the next six months:
Remodel First Floor ADA Bathroom $3200
Finish basement & add 2 ADA Bathrooms $22,000
3 Story Deck & Fire escape $62,000
Total $87,200
To complete our dream and finish the project:
First Floor Café Bar $2000
Gem Way House $75,000
This house was included as part of the sale for the main building. It's entirely dilapidated and in desperate need of repair. Our aim is to turn it into a hostel. Guest artists traveling from all over the globe would have a nearby place to stay while they tattoo at our shop. Resident artists showing their works in the gallery would be able to experience the real magic of Pittsburgh and conjure this cauldron of smoke, steel, and hope into their future works. Also, clients traveling from anywhere in the world to get tattooed would have a convenient, affordable, and friendly place to stay.
If our fundraising goes ridiculously well we can finish the entire Artisan project. $77,000 extra for the Grand Total of $164,200.
This building supports many people. The Artisan Family is large and hopes to grow larger. We have 5 artists, one with 2 children. Jason and Mel have a teenager and supports Mel's mother. Monika works the front desk, Jessica cleans the building, Nathan and David help out the construction crew. The construction crew is headed by Jason Sauer of Most wanted Fine art down the block. He started a contracting business to support his art gallery and program for urban youth. This will be a big job for them. Tyler has invested in all of the coffee equipment for the cafe and spent the last two years getting ready to open. We also have just under two years of art shows booked with artists preparing their work.
We need your help! (for reals)
Check out this Schedule and Supplies list that is easy to print. Say hello to PJ the Sweede!
I am currently taking clients for tattooing at the Hell City Tattoo Convention in Columbus, OH. May 1-3rd. If you're interested in setting something up, send me an email at tattoocity@aol.com.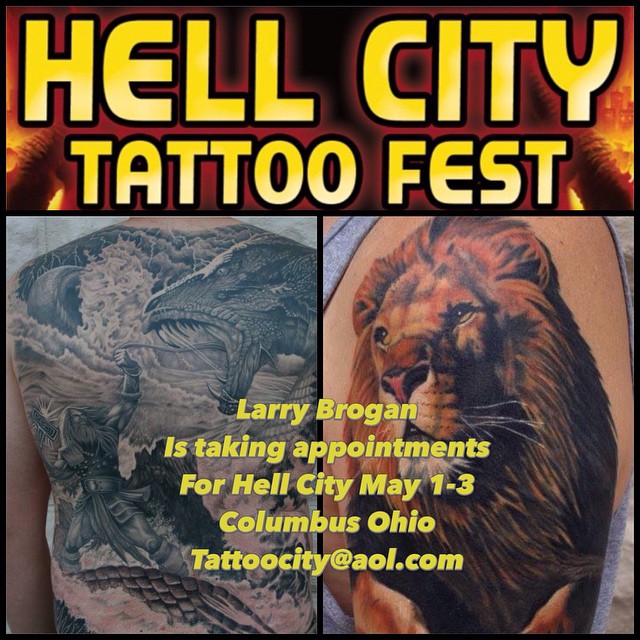 We are close to wrapping up our March Special, where we are giving away free copies of the informative Worldwide Tattoo Conference DVD to anyone who makes purchases of $250 or more at the Tattoo Education online store. We are sweetening the deal: You can order both editions of Tattoo Prodigies for only $150! The Prodigies books are showcases of some of the most exciting work happening in tattooing today, in a high quality large format production. Great for your own coffee table or for your studio waiting room, Tattoo Prodigies 1 & 2 are the kinds of books where you'll keep discovering new things every time you open them. Michele and I are extremely honored to have some of our own work in these books alongside some of the most original talents in the industry. Order both and save!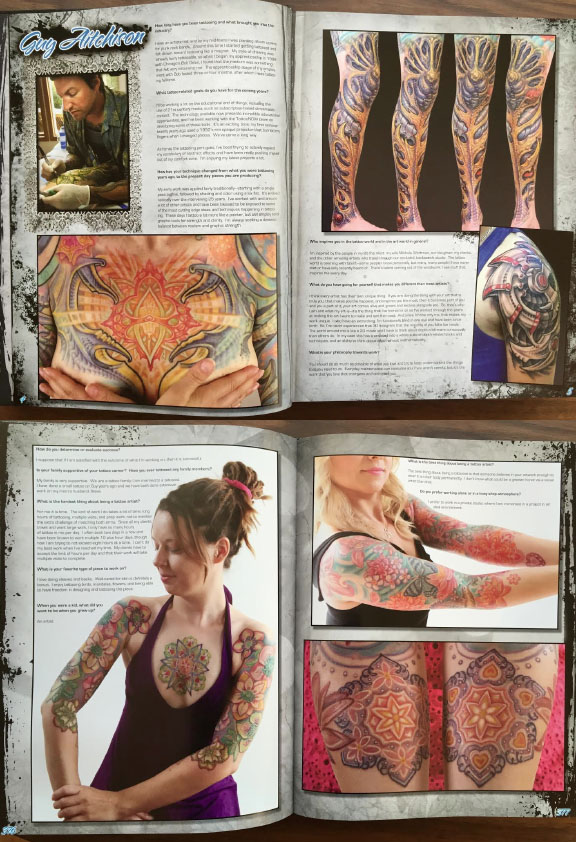 I also wanted to mention that Russ Abbott and I had a great interview the other day with Keith Ciaramello of the Tattoo Mentor podcast series. Plenty of laughs were had, partly at Russ' expense, but most importantly we had an opportunity to talk in detail about our upcoming Wacom Weekend series of seminars that we'll be teaching at the Hell City Tattoo Fest this coming May 1&2. It's a fun and informative interview which should answer a lot of your questions about what we'll be teaching. You can download the podcast for free, or read the detailed course listings at the TattooEducation online store.