Really happy with the outcome on this one. We're putting together a Grateful Dead inspired half sleeve here on my friend, Josh. It's a memorial piece for his brother who was really into the dead. More to come on this one ...
TattooNOW News
9/2/14
Ego V2 Now Available!! from EgoTattooMachines.com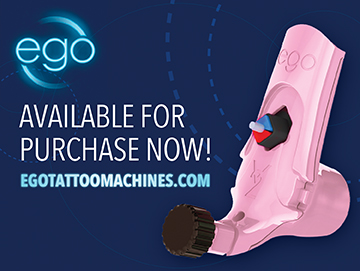 The Little EGO V2 is an extreme-lightweight rotary tattoo machine with a wrist friendly design. With all of the weight shifted forward to create a pen like feeling and eliminating wrist pain, the ego is perfectly balanced for maximum needle control. Made from high-grade scratch free plastics and with a special UV coating it makes the machine easy to clean, robust and extremely light weight.
The Little EGO V2 still features the remarkable "power triangle" system which allows you to alter the "give" of the machine. Each machine comes with a variety of different power triangles and each color is a different density of rubber. These simulate the conventional spring effect of coil machines and allow the artist to configure their EGO exactly how they want it, in terms of give and throw. Any combination of rubbers can be used to create the perfect machine for lining, coloring or super soft shading and blending.
read more
TattooNOW Network News
Boston Recap!
submitted on 9/2/14 by -
PowerLine Tattoo
Did you hear that Evan won Tattoo of the Day on both Friday AND Sunday at the Boston Tattoo Convention this past weekend? ..Along with 1st Place Most Realistic? Boom! We had a great time, tattooed some sweet stuff, and got to meet and catch up with some rad people! Thanks to everyone that came out - we always appreciate your support and allowing us to do what we absolutely love! <3
---
New England & Northwest News: Gift Certificate Sale! Buy $100 get $50 FREE!
submitted on 9/2/14 by -
Off the Map Tattoo
For the first time this year, we will be offering a gift certificate sale! From September 5-7 if you purchase a $100 gift certificate you will get a $50 gift certificate for FREE!
Use it all for yourself, split it up as gifts, whatever you prefer! No strings. Just an amazing deal. This is limited TWO PER CLIENT and can be used on any artist including guests. You can purchase gift certificates online (promotion will be automatically applied), over the phone or at the shop. Valid at BOTH our Massachusetts and Oregon studios.
Feel free to call with any questions!
---
Northwest News: Hanumantra is Here
submitted on 9/1/14 by -
TattooNOW
Off the Map Tattoo Northwest is happy to have Hanumantra back for a short visit. Hanumantra specializes in strong heavy black work. He has spent the first couple of hours hand drawing a completely original design for his lucky client. Hanumantra is also continuing to work on resident artist Jeff Gogue. Keep an eye out for pictures this week. We will be sure to share!!
---
New Website
submitted on 9/1/14 by -
Merkaba Tattoo
Thanks TattooNOW for the amazing new website! I will be tattooing at Off the Map Tattoo, in Easthampton, MA from Oct 1st through the 4th. I am currently booked but if you would like to get on my waitlist for a possible cancellation, you can email me!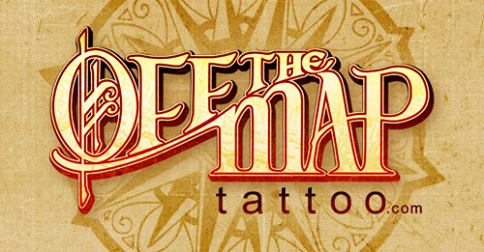 ---