Tattoo of the Day
01.22.15
One of our favorite types of tattoo are animal tattoos. They come in all shapes, sizes, and styles. Whether they are fun tattoos of fluffy bunnies, or realistic tributes to pets or spirit animals, one thing is for sure, animal tattoos are here to stay.
and a timeless favorite
01.21.15
Save the date and time, this Sunday Janurary 25th at 10 PM EST tune into TattooNOWTV.com for another great live webcast! Last time the chat room was so packed, we had to reopen up the interview for another hour!
Heres the teaser video:
I have returned from a digital haitus. I needed to take a little time to unplugg and decompress. It was a much needed break and though I was reluctant to log into all the cyber interfaces, I acknowledge it is necessary for me at this time in my life as an artists. I use these tools to scatter images of things that I make to as many people as I can. I've been delving deep into the teachings of many experts of hidden knowledge and symbols. These lessons have permiated not only my person but my art. I have been formulating ideas and cultivating concepts that are coming to fruition and will be on display at Catalyst Gallery for the month of October 2015 in Beacon, NY. I am also committed to making quality tattoos that preferably have a purpose and communicate a message. I am hoping 2015 will bring me some great opportunies to paint temples. Bring them to me, I am beyond ready.
The picture below was recently finished, the Bodhisattva Vajrapani. The reference was taken for an ancient silk painting circa 850-900 AD. This painting was recently discovered in a cave in Western China. Amazing to think artwork could survive in a cave for over a thousand years.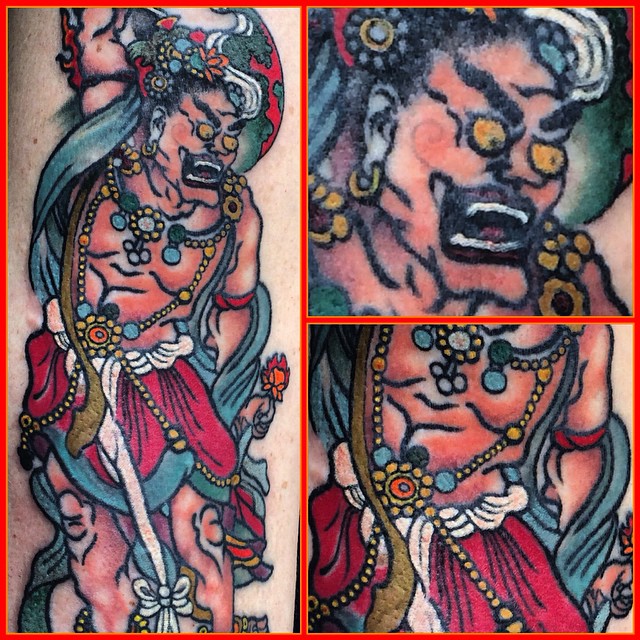 NOW HIRING TATTOO ARTIST! Here at Depiction Tattoo Gallery there is a high demand for custom tattoos. We are currently looking to bring on another experienced, self-motivated tattoo artist! Check us out at www.depictiontattoo.com - Email depictiontattoos@gmail.com or call the studio at 817-563-2800 with artist inquiries. Open Tuesday - Saturday, 12pm-8pm.
Must have a professional portfolio!
This winter weather has been hitting us hard. We will be working by appointment only today, Wednesday 01/28.. If you were scheduled for a consultation or tattoo appointment this Tuesday 01/27 or Wednesday 01/28, you should have been contacted by your artist or one of our front desk managers. If you were unable to attend your scheduled appointment and have yet to speak with us, please call the shop at (401) 369-7771 or email us directly at PowerlineTattoo@gmail.com and we will return your message on Thursday afternoon. We apologize for any inconvenience!