TattooNOW News
12/6/13
Inked Life Tour
--
Inked Up World Tour Wrap Party and Group Exhibition
?Opening reception: December 7, 2013 | 9-11pm
Known Gallery?
441 N. Fairfax Avenue?Los Angeles, CA 90036?
www.knowngallery.com
--


The Keep A Breast Foundation announces an exclusive art show in conjunction with Rockstar Energy Drink and Sullen Art Collective to come together to celebrate the closing of The Inked Up World Tour, a yearlong program supporting the art and culture of tattooing. The tour culminates December 7, 2013 at the official wrap party and group exhibition at Known Gallery, one of the most influential street and contemporary art spaces in Los Angeles.
The Inked Up World Tour is a global celebration of the tattoo lifestyle that combines 12 top tattoo artists, 12 top tattoo conventions, a Rockstar Energy Drink can art contest with a $25,000 purse, a Miss Inked Up model contest, and a Keep A Breast breast cast exhibition. The Rockstar Energy Drink can art contest winner will be announced and art from each of the 12 artists will be on display. The event will include 12 of the best tattoo artists in the country who have combined sculpture, philanthropy, and symbolic artistry creating one-of-a-kind plaster forms made from the female torso of 12 celebrity castees.
The Keep A Breast Foundation Breast Casts™ are part of Keep A Breast's unique campaign to use art and artistic expression to inform young people about methods of prevention, early detection, coping and support. This awareness campaign is like no other, harnessing the power of art to communicate complex feelings and thoughts about health, the female form, and ultimately about breast cancer.
"This unique exhibition features the breasts of so many of my favorite ladies. It's been a honor to work with them all." Stated Shaney jo Darden, Keep A Breast Founder. "I'm thankful for everyone involved in this exhibition from the castees, the artists, Rockstar, Sullen and Known gallery for using your important influence to help raise funds for Keep A Breast and awareness for cancer prevention."
The breast casts will be sold at the exhibition and online to raise funds for Keep A Breast's early detection, prevention, and support programs. Through these programs Keep A Breast strives to eradicate breast cancer by inspiring young people to adopt lifestyle choices that have long-term health benefits.
ARTIST | CASTEE
Robert Atkinson – Audrey Kitching
Shawn Barber – Sabina Kelley
Ryan Smith – Bernadette Macias
Robert Hernandez – Lenora Claire
Nikko Hurtado – Ivy D'Muerta
Moni Marino – Xanthia Pink
NORM – Juliette Simms
Oliver Peck – Cherry Dollface
Jack Rudy – Malice
Camila Rocha – Emii
Carlos Torres – Aleyx Chew
Bob Tyrrell – Bridget Blonde
About Sullen:
Sullen is an Art-Driven Lifestyle apparel brand that integrates like-minded sub cultures within one platform. Co-owner Ryan Smith, a professional tattoo artist for over 15 years has built relationships with some of the world's top tattoo artists, graffiti artists, and painters - The 'Sullen Art Collective'. Sullen is also deeply rooted in the local music scene and in action sports although they are not defined by any one style of music, sport, artistic style or culture. Sullen represents a community of culturally aware individuals inspired by a diverse range of interests. Each of which is represented through Sullen's underground movement. You could describe Sullen's lifestyle in many ways...but it always comes back to the art.
About Rockstar:
Rockstar Energy Drink is designed for those who lead active lifestyles – from Athletes to Rockstars. Available in over 20 flavors at convenience and grocery outlets in over 30 countries, Rockstar supports the Rockstar lifestyle across the globe through Action Sports, Motor Sports, and Live Music. For more information visit: www.RockstarEnergy.com Find us at:
www.Facebook.com/Rockstar ~ www.Twitter.com/RockstarEnergy ~ www.Instagram.com/RockstarEnergy ~ www.YouTube.com/Rockstar
About The Keep A Breast Foundation:
The Keep A Breast Foundation's (KAB) Mission is to help eradicate breast cancer by exposing young people to methods of prevention, early detection and support. Through art events, educational programs and fundraising efforts, we seek to increase breast cancer awareness among young people so they are better equipped to make choices and develop habits that will benefit their long-term health and well-being. For more information, go to www.keep-a-breast.org
read more
TattooNOW Network News
The Grind
submitted on 12/6/13 by -
Joe @ Off the Map Tattoo
Just finished up a print order for another bio organic digital media artist. I really enjoy doing prints for this style because it's the first time the image has existed outside of a computer screen. We've chosen a great archival paper and the colors have come through rich and vibrant. Look for an interview with Sorin, the artist, soon here on my blog.
In preproduction currently is my co-worker Frank Ready. Frank has been on fire with the amount of work he has produced lately and I'm very excited to do a couple runs of his favorite pieces.
The last half of the day i'll be lost in shapes and lines as I layout the other side of the mandala I posted in the most recent segment of THE GRIND
---
Best Tattoo Shop in Upper Michigan
submitted on 12/5/13 by -
Deft Ink
Don't forget to like the Best Tattoo Shop in Upper Michigan on Facebook! https://www.facebook.com/DeftArtStudio
---
Inked Hearts Tattoo Expo
submitted on 12/5/13 by -
David Mushaney Tattoos
I am stoked to be attending the 5th Annual Inked Hearts Tattoo Expo this year in Blue Lake, California with Liz Cook and Wes Brown from Rebel Muse!
This convention will be held on February 14th-16th, 2014.
I have a few spots open for this show - Message me through the contact section on here or email me directly at DavidMushaney@yahoo.com for appointment info!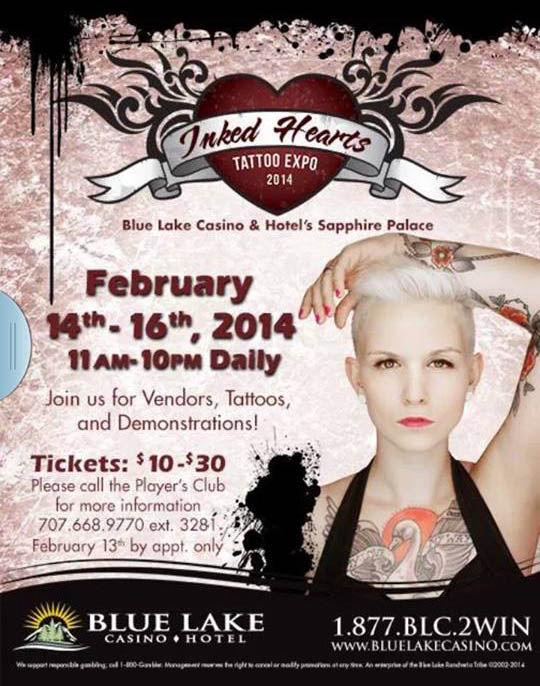 ---
Nate Beavers interview clip - TattooNOW TV
submitted on 12/5/13 by -
TattooNOWtv
Nate Beavers recently skyped into Off the Map LIVE. He talks about how he loves tattooing in a variety of styles, how skull tattoos are never tiring, the current state of tattooing (Nate has been tattooing for nearly 20 years), thoughts on the reality tattoo TV shows, and more.
---