TattooNOW News
11/24/14
New Tattoo Artist Josh Crotty
Benchmark Tattoo & Gallery is happy to announce that we have a new tattooer joining our resident artist team. Josh Crotty is our new artist and he does amazing color work call the shop (218) 730-7285 to set something up.
read more
TattooNOW Network News
Thanks to Frank's Clients & Holiday Gift Ideas!
submitted on 11/28/14 by -
Frank Ready Tattoos
Frank is so thankful for all of his incredible clients that have allowed him to not only flourish in Massachusetts as a tattoo after less than two years, but also gave him the creative freedom to expand his style and grow as an artist everyday. Well what better way to say thank you to clients than to hook them up with some discounted tattoo time for their next (or current) project with Frank! If you've been pondering over a tattoo idea, now is a great time to build up that budget!
From November 28-30 if you purchase a $100 gift certificate you will get a $50 gift certificate for FREE! Use it all for yourself, split it up as gifts, whatever you prefer! No strings. Just an amazing deal. This is limited ONE PER CLIENT.
You can purchase gift certificates online (promotion will be automatically applied), over the phone or at the shop. Feel free to call with any questions!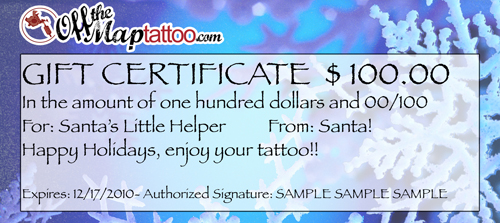 Gift Certificates are awesom, but sometimes you want a little something extra to go with it. Well, have no fear, If you're in need of a creative, customized idea, why not buy a comissioned piece of art from Frank to go with your shiney new gift certificate!
Time is running out to get those commissioned pieces done in time for the holidays, so make sure you contact us quickly! Regardless of what you'd like, Frank can tackle many styles and nearly any subject matter and create the perfect unique gift. Maybe a portrait of your kiddo, pet or even favorite comic book character!
In a rush? Well lucky for you Frank literally has a wall FULL of artwork ready to go to it's forever home!. The tattoo studio is open seven days a week 11am-7pm, so feel free to pop in any time to take a peak at what he's got to offer.
If you'd like to talk about a commissioned piece, you can always set up a time to come and chat with Frank at the studio, or send him an email with your ideas for a price quote.
---
50%OFF
submitted on 11/28/14 by -
The Gallery Of Tattoo

Solo nella giornata di Venerdì 28 Novembre 50% OFF

https://www.facebook.com/tattoogallery.it/photos/gm.737863079626324/876868445664680/?type=1&theater
---
JPJ Apparel Black Friday Event
submitted on 11/27/14 by -
Jose Perez Jr. Tattoos
JPJ Apparel Black Friday Event.
FREE 17x22" Limited Edition Jose Perez Jr. Art Print with ANY Purchase.
Available at www.JPJTattoos.com
JPJ Apparel is 100% Made in USA, hand printed on a manual press on American Apparel Tees, Hoodies, and Scarves.
Quality one-of-a-kind apparel makes for a perfect gift for the Holiday Season!
Offer Valid Nov. 28th & 29th.
---
Black Friday Sale
submitted on 11/27/14 by -
Tattoos by Joe Riley
Hi everybody, I just wanted to let you know that we are still working out the bugs on my tattoo gallery and art gallery. In the meantime, I am having a Black Friday Sale on all of my Original Oil Paintings available at my Big Cartel Store. All Original Paintings will be 30% off from Friday the 28th through Sunday the 30th. Enter Promo Code "BLACK" to recieve your 30% discount on my original artwork. Thanks for looking, and I will have more updates coming soon!
---