TattooNOW News
3/7/14
New Custom Website Redesign!
We recently put the final touches on the redesign of Ryan Cook and Brooke Cook's studio website www.LuckyBella.com. We initially met the artistic couple in the late 2000's at Hell City and have remained friends since. Since then they've gone on to continue to grow as artists recently visiting Madrid, Spain to spend time with Robert Hernandez. Their growing studio currently has two other artists: Howard Neal who has been with Lucky Bella for a little over a year and enjoys doing american traditional. Also at the studio is Chuck B who has a long career in tattooing and enjoys doing large bold, bright and clean work. You learn more about them and the main artists Ryan and Brooke on their Artist Page.





We had a theme of keeping it dark and mysterious while also making the latest tattoos the focus. We focused on delivering all of that and their social media extensions immediately in the top part of the website. After that we wanted to make sure the content and artists were shown uniform to the design.


read more
TattooNOW Network News
Coming up in April: Guy Aitchison Seminar at the Hell City Tattoo Fest!
submitted on 3/7/14 by -
Tattoo Education
With the tattoo art form spreading into every conceivable artistic style, it's important to take a step back every now and then and ask: What does this need to succeed as a tattoo? The question of longevity is the obvious issue, but the larger underlying importance of giving your work strength and clarity is not just about durability across time, but readability across the room.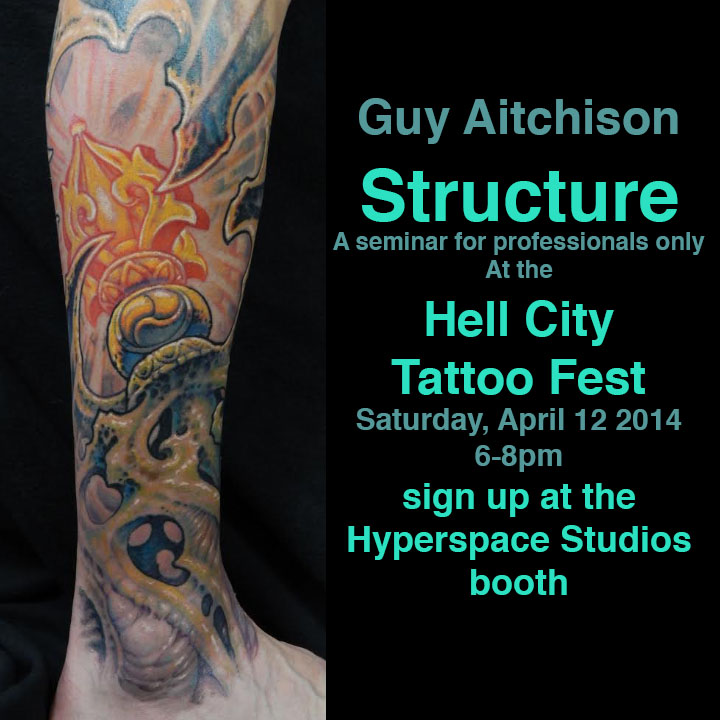 In Guy Aitchison's new seminar, Structure, he demonstrates ways of strengthening your work, both in design and execution. It starts with a well balanced composition, with good flow and fit and strategic use of dark and light, which is then applied to skin using a variety of different ways, some which are shown in closeup video clips. Structure reflects Guy's most recent understandings of making your work strong and dynamic... if you're attending the Hell City Tattoo Fest this coming April 11-13, be sure to take advantage of this opportunity! It's happening in the prime slot on Saturday evening from 6-8pm in the Hell City Seminar Room. You can sign up at the Hyperspace Studios booth on the convention floor, or prepay at the Tattoo Education online store.
---
Shirts and sweatshirts!
submitted on 3/7/14 by -
Jeff Norton Tattoos
Super stoked to share with you guys the mock up for shirts and sweatshirts that will be available within the next two weeks. Shirts and sweatshirts will feature the logo I had created for the Evergreen Tattoo Convention. It was a last minute thing I had thrown together for the convention, but the logo grew on me so much I think I'm going to start using it exclusively for my logo. I'll post an update soon as they ship to the shop, so be on the lookout!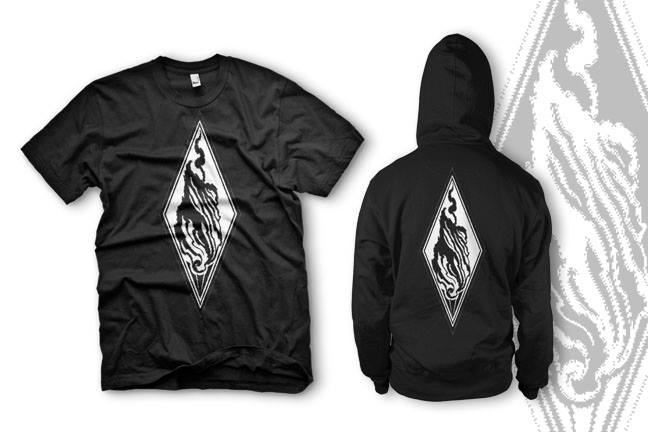 ---
March 2014
submitted on 3/7/14 by -
David Mushaney Tattoos
Hello All! I just got back to my studio, Rebel Muse, in Lewisville, Tx after another tattoo convention. My wife and I went to Fort Myers, Florida for the Ink Life Tour. I had a badass client come in and we worked on an abstract style, music inspired full sleeve the entire weekend. Thanks Kelvee for sitting so well!
Here are a few pictures from the weekend..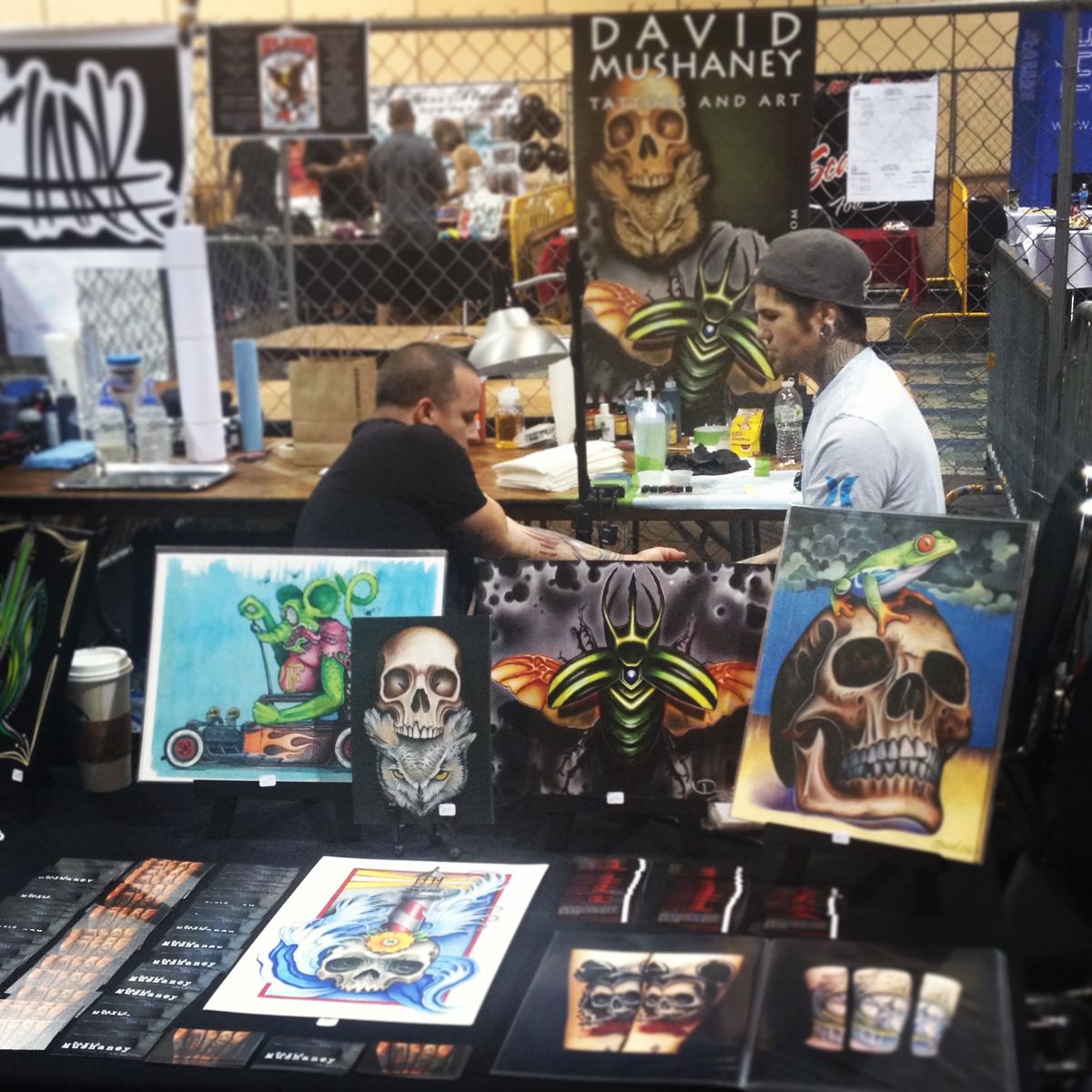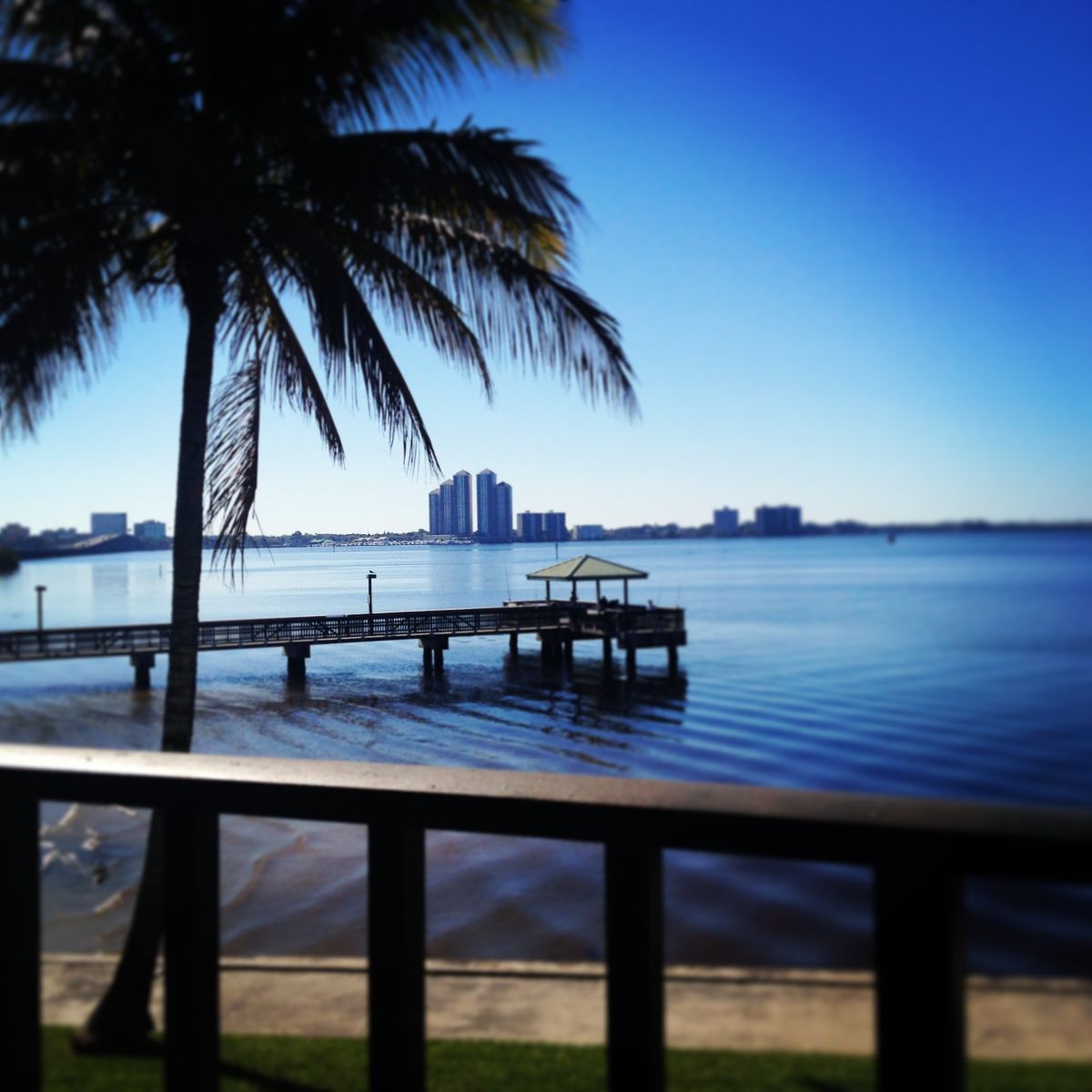 I am currently booked up for the next couple of months in Lewsiville, working on exisiting clients and finishing up several ongoing pieces. I have several awesome pieces that I can't wait to finish over the next several weeks! Here are a few progress pictures.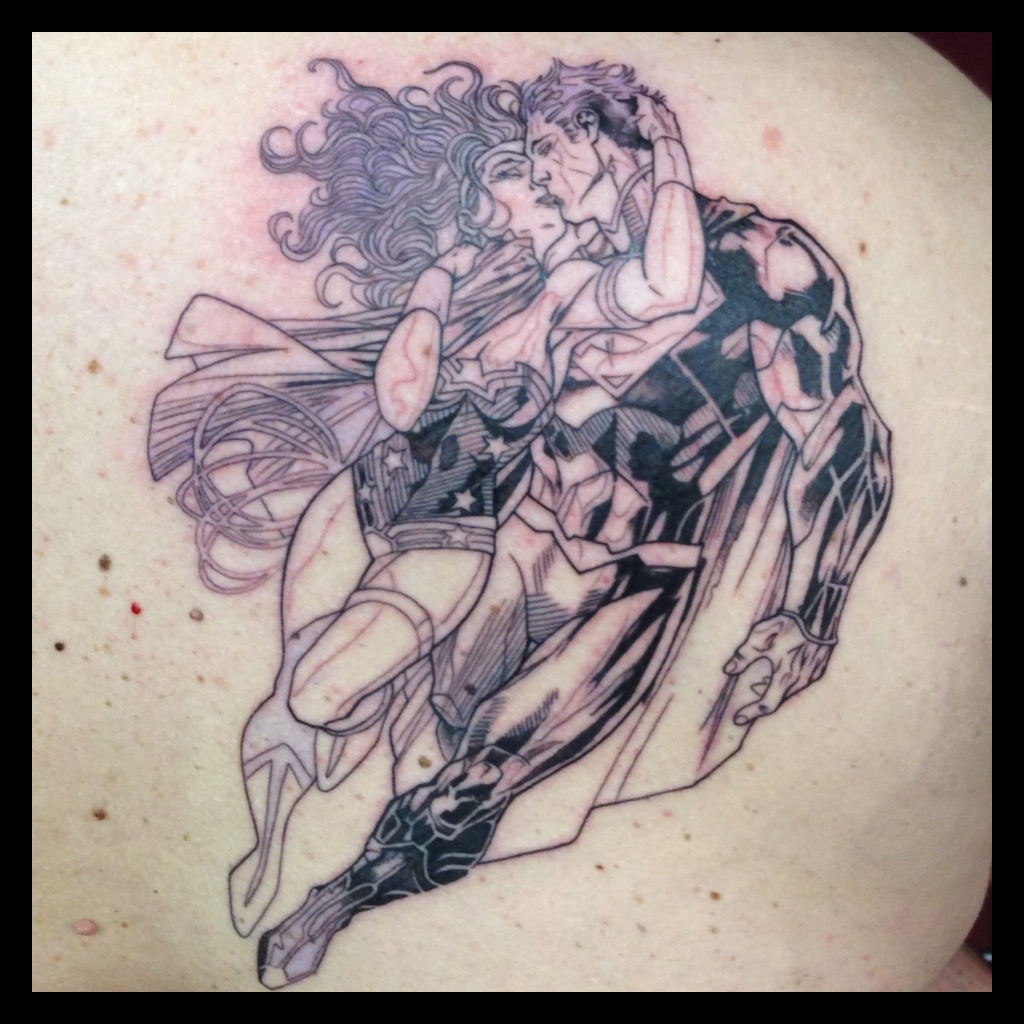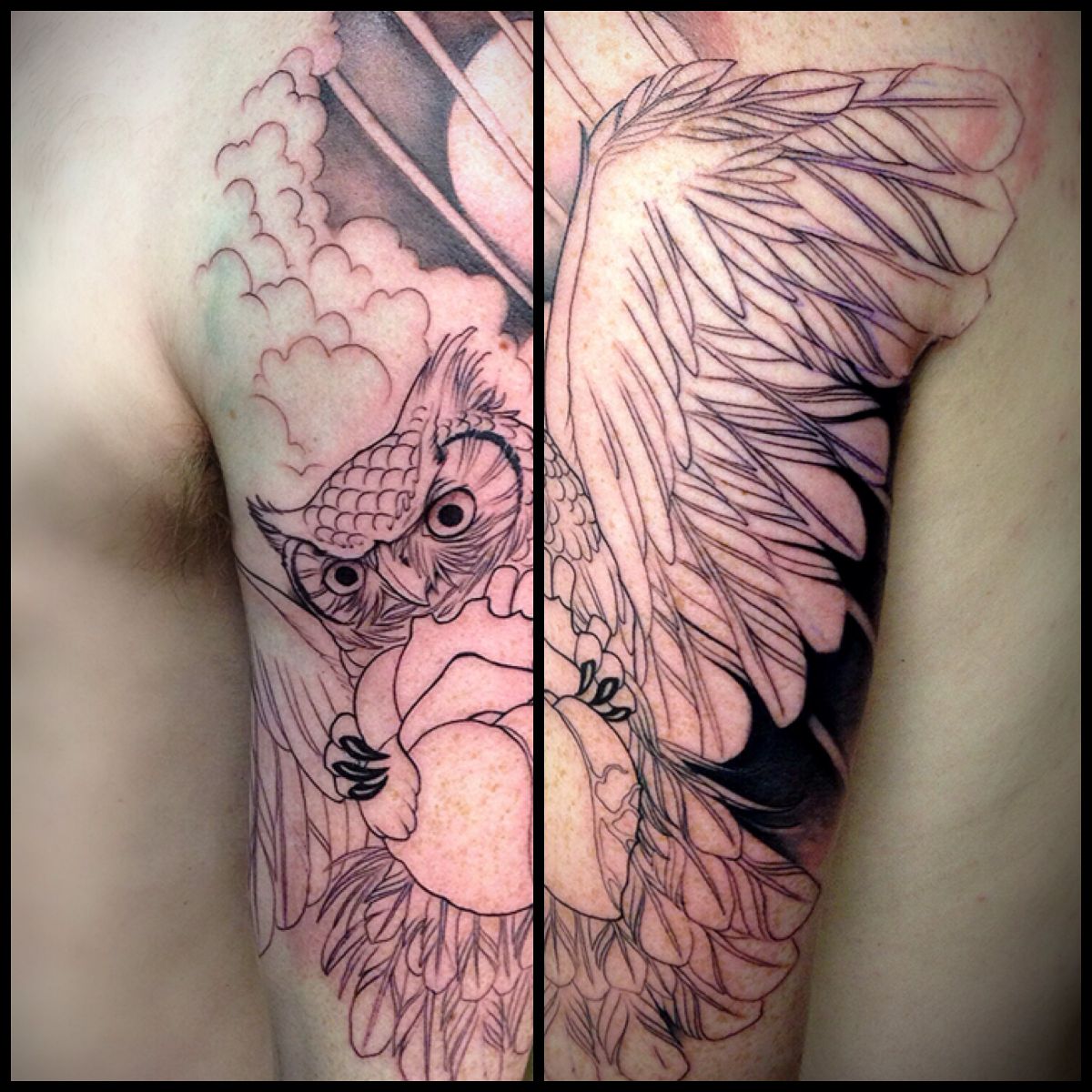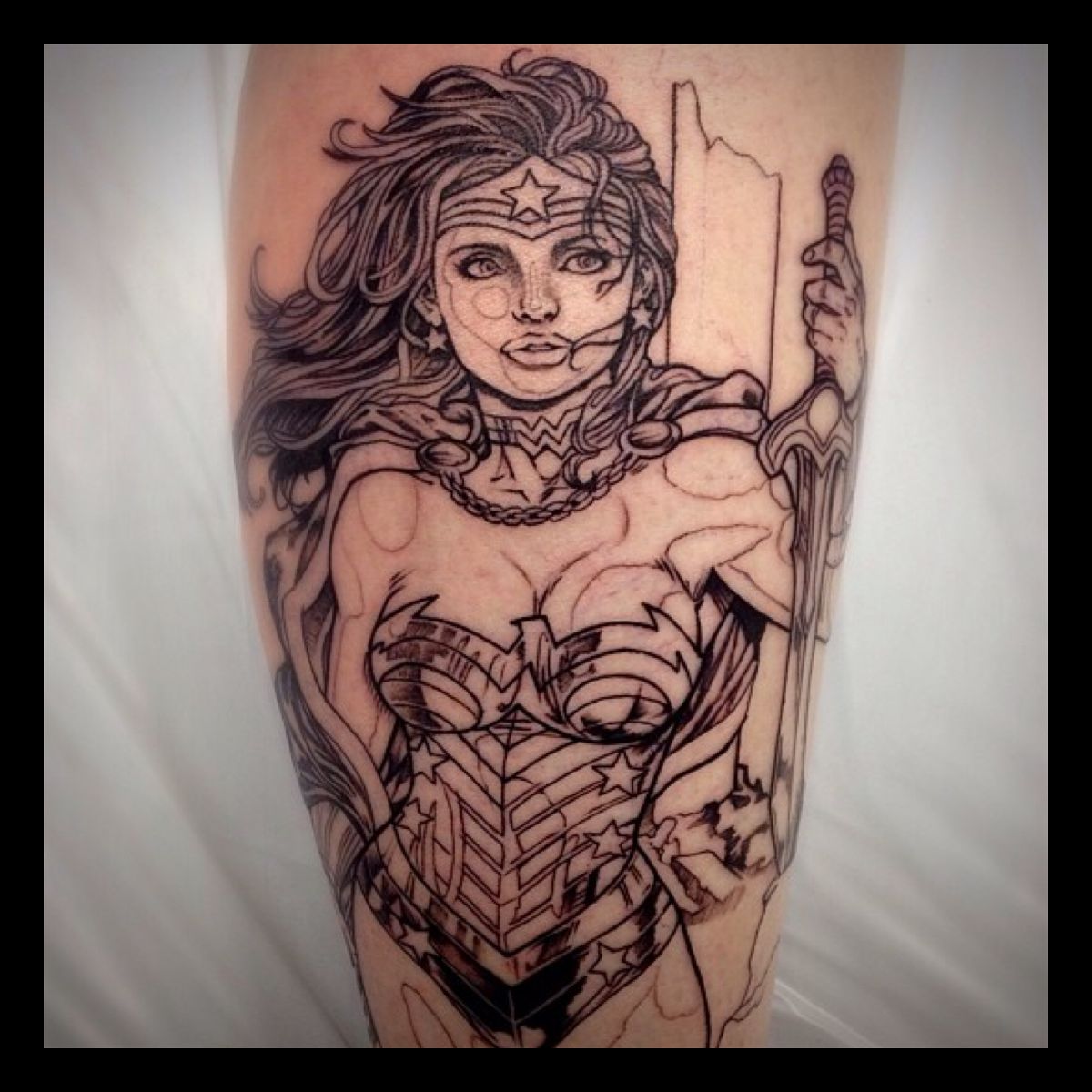 I have a few more conventions coming that I am really stoked to be a part of! Hell City in Columbus, Ohio is coming up first in April. I will be sharing a booth with my business partner, Liz Cook. We are definitely looking forward to this badass show! Contact me through my website if you would like to set up an appointment for that convention.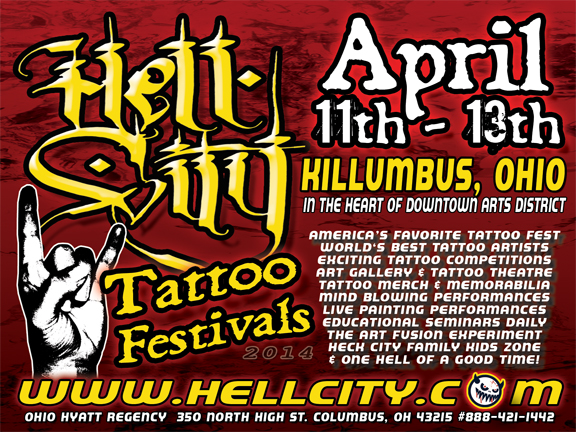 ---
New England, Northwest & Italy News: Off the Map Seeking Full Time Traveling Artist!
submitted on 3/7/14 by -
Off the Map Tattoo
Are you a gypsy at heart, but desire for a place to call home? Do you dream of traveling the US and overseas but not sure how to maintain steady work? If these things ring true, the Off the Map Tattoo Traveling Artist position may be perfect for you!


Off the Map Tattoo is reviewing portfolios in anticipation of hiring an artist to work between our US studios located on each coast, in Easthampton MA and Grants Pass, OR, as well as in our newest location in Italy. While details are negotiable, time would likely be split equally between the three locations in increments of 1-3 months at a time. Seasoned vets who have been tattooing for years and young up and coming tattooers eager to learn are both encouraged to apply! Off the Map Tattoo studios are appointment based custom tattoo studio, and will be deliberate in finding the right artist for this unique position.


We have a very positive atmosphere and helpful staff hell bent on producing the best tattoos and experience for our clients. Off the Map Tattoo is honored to have an amazing guest artist roster which is booked well in advance. We also produce the Paradise Tattoo Gathering and our Easthampton, MA location house the offices for TattooNOW which powers over 85 tattoo industry websites.
Only professionals who leave all their baggage, drama, and headaches at home and bring only their A game to the studio need apply. If you are a very talented, self motivated, responsible, and hard working tattoo artist who wants to invest time building a clientele in multiple locations, please fill out his form. Applicants considered for the position will be expected to do multiple guest spots before starting full time. Please understand that while we try our best to respond to everyone we can't guarantee it.
---