TattooNOW News
8/22/14
Guy Aitchison and Jeff gogue Collab Video part 2
Earlier this year Guy Aitchison and Jeff Gogue met up at Off the Map Tattoo Northwest to colloborate on an amazing sleeve. The whole 8 hour day was webcast and you can purchase the on demand replay for only $19.99. We are also releasing 4 hour segments of the tattoo care of our sponsors. This one hour clip brought to you by Kingpin Tattoo Supply.
read more
TattooNOW Network News
Stroke Lengths
submitted on 8/27/14 by -
NeoTat
The stroke length on your machine varies by millimeters: 1.8, 2.5, 3.5 and 4.2 are the four stroke lengths available for both, Original NeoTat and Vivace' tattoo machines. The 1.8 machine was created for tight lining and permanent cosmetic work, originally marked with a "C". The 2.5 was the original stroke length and now shares the "standard stroke" title with the 3.5. The 2.5 machine was originally labeled with an "X", for the extra power motor that was used, and is now standard in all machines. The 3.5 stroke was originally created as the "color packer" and labaelled with a "P", instead of 3 dots.The 4.2 was created for larger lines and coloring areas, this became the new color packer. Finaly, the Magic* motor came along to offer an even smoother motion on your stroke lengths. The Magic* motor cartridge is available in 2.5, 3.5 and 4.2 stroke lengths.
I know you want to hear which stroke is for shading, which is for color packing and so forth. The bottom line is that they can all be used for any tattooing you made need to do. However, I will be nice and pass on information shared to us about stroke lengths. This is simple feedback of what other artists use their different stroke lengths for.
1.8 - Permanent Cosmetics, Fine Detail Lines, Black and Grey Work.
2.5 - Black and Grey Work, Fine Lining, Traditional Tattoos
3.5 - Color Packing, Bolder Lines, New School, Traditional, All Around Everything Machine
4.2 - New School, Color Packing, Boldest Lines

Jime Litwalk uses the 4.2 mm stroke, magic* motor cartridge for everything.
Frank LaNatra of Into the Woods Fine Art Gallery & Body Art Studio uses the 3.5 stroke, standard motor cartridge for everything.
Jason Clay Dunn uses the Original NeoTat 3.5 mm stroke, standard motor cartridge and sometimes switches it up to his 2.5 stroke OG NeoTat's.

---
tatsbytravis appreciation special
submitted on 8/27/14 by -
Sacred Chao Tattoos
Click the Image to view tatsbytravis Promotion. Thanks!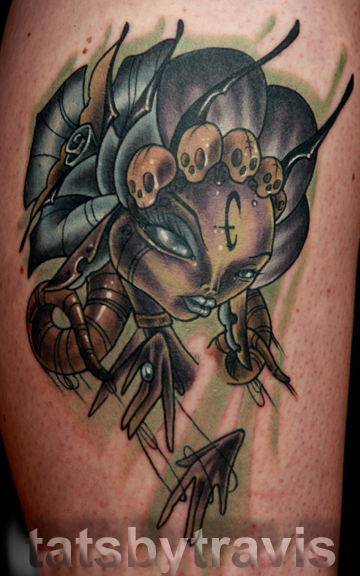 ---
ITALY NEWS: il trio inglese DAVID CORDEN, LIANNE MOULE e JASON BUTCHER sbarca a Off The Map Tattoo Italy
submitted on 8/27/14 by -
Off the Map Tattoo
Gli straordinari tatuatori DAVID CORDEN, LIANNE MOULE e JASON BUTCHER saranno presenti per una graditissima guestspot presso Off The Map Tattoo Italy di Cervignano del Friuli (UD) dal 3 al 6 settembre 2014.
David Corden è già al completo, ma in caso di qualche cancellazione, può essere contattato all'indirizzo e-mail davidcordentattoos@gmail.com , mentre se siete fortunati, per prenotazioni con Lianne Moule e Jason Butcher, l'indirizzo di riferimento è contact@immortalink.co.uk
A presto con nuove news per strepitosi ospiti internazionali!
---
Drink and Draw with Frank This Sunday!
submitted on 8/26/14 by -
Frank Ready Tattoos
Come hang with Frank, create art, and have a tasty beverage or two! This brand spanking new event is hosted by local artist, Rick Beaupre and sponsored by Off the Map LIVE, we will be drinking and drawing starting at 7:00 pm at the Brass Cat, right down the street from the shop.
Drinking is certainly not mandatory but drawing sure is (or at least an appreciation of those creating art)! This event is open to anyone and everyone old enough to hang at the bar.Bring your enthusiasm, an interest in stepping up your art game and drawing supplies. There will be sketch giveaways and FREE Off the Map Tattoo gift certificates for attendees. So you could attend, check our Frank making some killer art, and earn a gift certificate for your next tattoo session with him!
Frank is one of our busiest bees when he's off the clock (although as an artist we're not sure that exists). These creations are just a few of Frank's recent projects.
Who watches the watchmen?...
A potential tattoo design. Who doesn't love buffalo?
And if nothing else, his very decorated booth space sure gives us an idea of how much art he's creating in his "free" time!
For more details and RSVP, check out the Facebook event! We hope to see you there! CHEERS!
---