Tattoo of the Day
09.07.18

Goldthread - Published on Aug 31, 2018
Jiuwu is a professional tattoo artist in Beijing, China. He's been an artist and master tattoo artist for decades and is known for blending his modern techniques with traditional Chinese folklore and Yakuza-style tattoos. In this video, he talked to us about the first tattoo in China, how society's acceptance of tattoos is in constant flux, and the type of clients who come to him for body artwork.
Voiceover by: Dolly Li Written by: Dolly Li and George Zhi Zhao Featuring: Jiuwu Produced by: George Zhi Zhao Shot by: Timmy Shen, Xinyan Yu, and George Zhi Zhao Edited by: George Zhi Zhao Mastered by: Victor Peña Music: Audio Network

09.05.18
As you can imagine we do a lot of surfing the internet for awesome tattoo videos and articles. This was a great find on youtube, a colloborative tattoo with Filip Leu and Chaim Machlev.
This inspired me to do a youtube search for "Filip Leu Tattoo" and what a great time. Here is a sampling of the high quality videos I found. The videos are not in chronological order, get ready for some time warping action!
Interview with Filip Leu,Tattoo Artist, Sainte-Croix, Switzerland
This is a very well produced video from TATTOOS: Perceptions & Perspectives. Published on Youtube Sep 30, 2014.
Extracts from this interview also appear in the full documentary TATTOOS: Perceptions & Perspectives. Produced, Filmed & Edited by Maximillian Jacobson - Gonzalez. Submitted in partial fulfillment of the requirements for the degree of Master of Arts in Creative Media, at the University of Brighton, 2014.
Interview with Paul Booth & Filip Leu from The Daily Bread 2.
An Interview with Paul Booth & Filip Leu about the "Art Fusion Experiment" taken from "The Daily Bread - London". For further Information check: http://www.buddy-olli.com
Filip Leu Tattoo Shop Tour Video

Published on Youtube Dec 24, 2014 by Tattoo Artist Magazine. Filip gives us a tour of the old tattoo shop.

Interview with Filip Leu about his skull paintings

Kintaro Publishing - Published on Youtube Mar 11, 2016
Tattoo artist Filip Leu talks with Kintaro Publishing during the Mondial du Tatouage 2016, about three skull paintings he created. Signed and numbered screenprint reproductions are now available at our online gallery https://www.kintaro-publishing.com

Paul Sayce with Filip Leu. London Tattoo Convention 2017

Paul Sayce Films - Published on Youtube Sep 27, 2017
Paul Sayce with Filip Leu. London tattoo convention 2017.
And if you have made it this far, you get to go way back! Here are some amazing videos transfered from VHS recorded in 1995:

Filip Leu tattooing at Bill and Junii Salmon's Diamond Club San Francisco 1995
I hope you agree that was a fun set of videos about a truly inspiring tattooer. Now, back to work!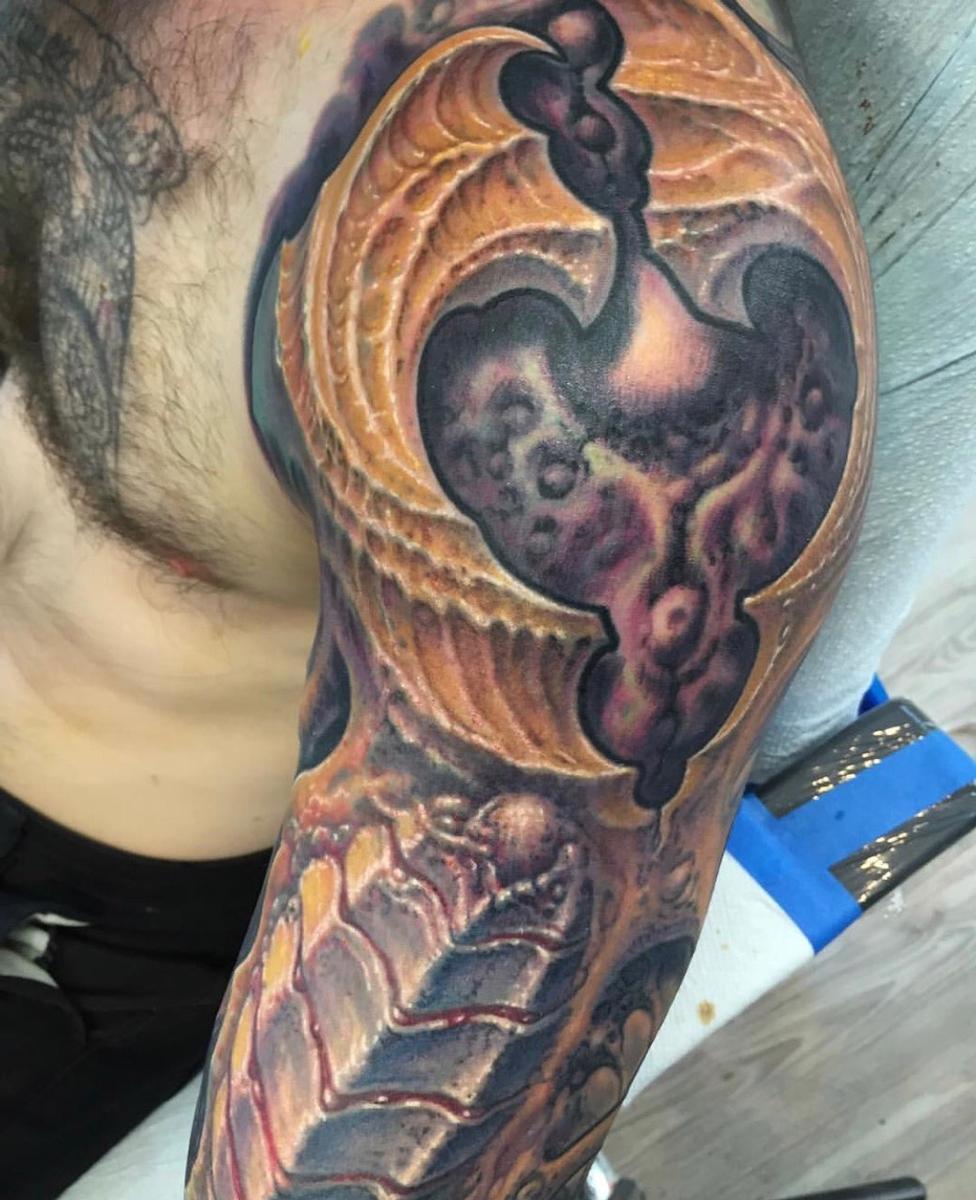 One of my goals with most of my work is to produce a sense of tangible depth- the more convincing the effect, the better. With Biomech work, there are sometimes two distinct layers of mech stuff, a foreground and background layer, and I always try to use all the tricks to produce depth. Reserving true whites for the foreground only is one such trick- note how the background highlights are done in creamy light colors which cause the foreground highlights to look brighter by comparison. You can read about these tricks in more detail in the Reserve chapter of your ReinventingTheTattoo.com subscription.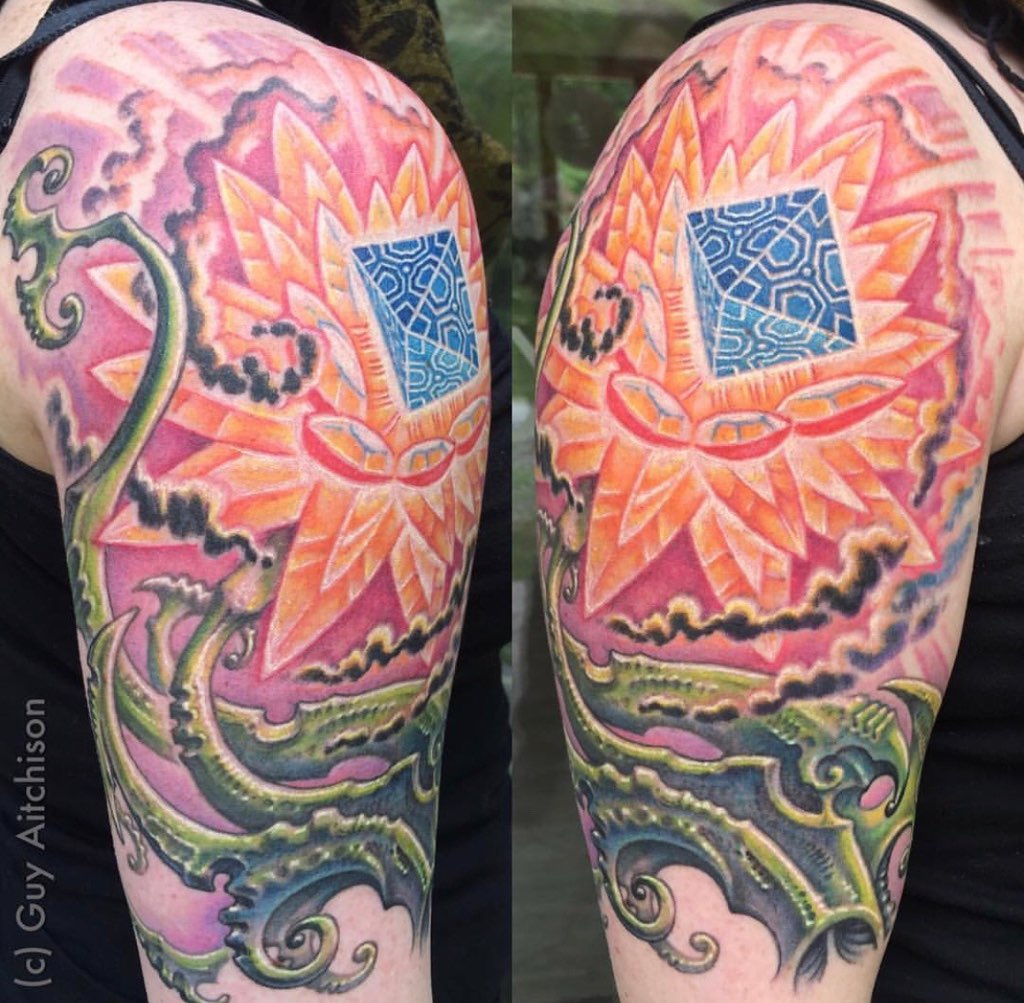 Often we find ourselves tasked with bringing together all of our client's requests on a limited area of skin, without making the piece busy. With the above example on Julia, part of the goal was to give an epic, energetic expressive feeling to the piece, which was accomplished partly by using swirling clouds and light rays. But with all of the design elements in place I had to make the most of color use and other factors to keep it clear, reserving certain colors for some elements but not others. You can find out about my thinking process for this color scheme in the Reserve chapter of your ReinventingTheTattoo.com subscription!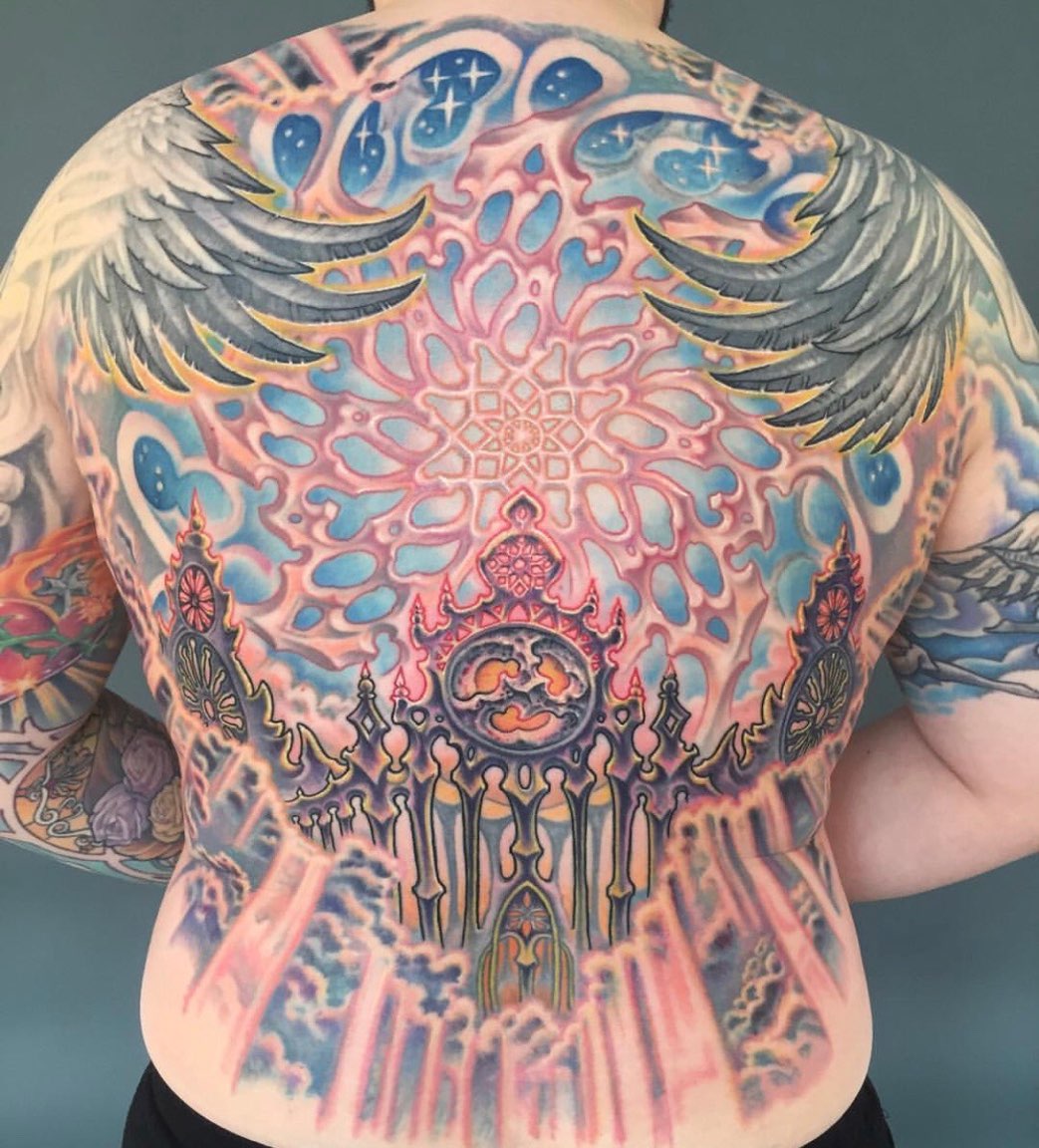 Large canvases such as backpieces can be great fun with all that space to design for, but this fact makes it even more crucial that you determine- Hey, which design elements get your top visual priority? In this Heaven-themed back tattoo that I did with Brian Geckle, we wanted to combine an airy, luminous mandala with a row of fences and gates- both elements being geometric and symmetrical, giving us the challenge of keeping them visually separate. Part of this was accomplished simply by being selective with our use of black. You can read about this in more detail in the Priority chapter of your ReinventingTheTattoo.com subscription.