Tattoo of the Day
10.12.18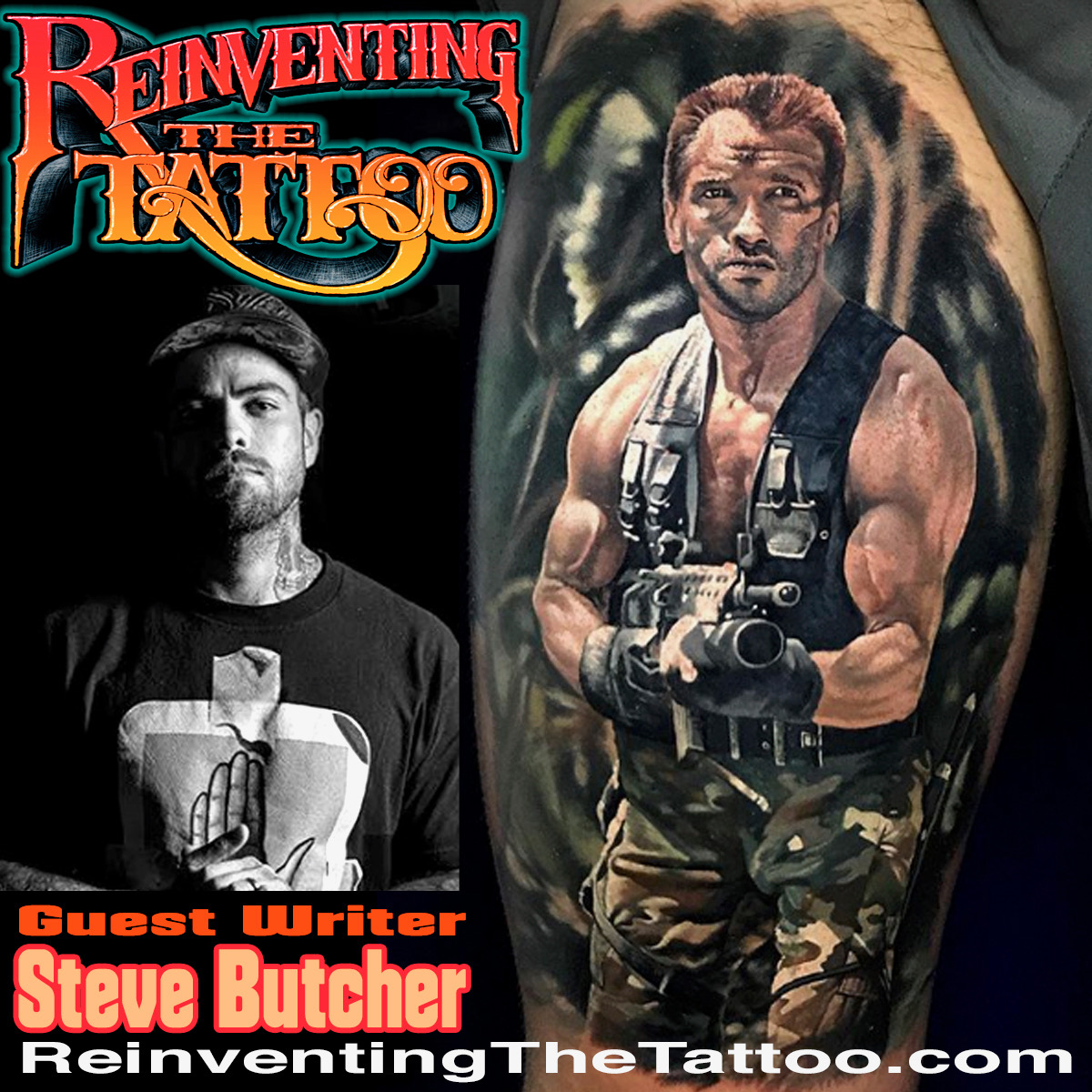 Nobody does focus effects like New Zealand realist Steve Butcher, who has been seizing the world's attention with his eye-popping portraits and wildlife tattoos, with his sports action portraits being some of his most stand-out work. We recently had a chance to interview Steve and get some insights into the thinking and technical processes that go into creating effective focal fields on skin. He shared everything from his stenciling to needle choices and use of color, providing realists with a chance to expand their language and incorporate focus, which can make a piece look like it came straight from a camera. Focal fields are a type of contrast, which makes it possible to selectively make certain elements stand out while others drop back. You can read more about
Steve's groundbreaking technique in the Contrast chapters of your ReinventingTheTattoo.com
subscription. #tattoo #focus #realism #portraits #tattooportrait #education #tattooeducation
10.06.18
Hello,
This is your last minute reminder that on Sunday October 7th we will webcast a live webinar at 8 PM EST in the members area of TattooNOW. In the last webinar the essentials to uploading portfolio images and news to your website was covered. October 7th we will dive into Search Engine Optimization best practices with a focus on google business listings.
If you missed last months webinar, you can log into https://www.TattooNOW.com/Members to see the "TattooNOW Websites 101" replay. There are also some great Youtube videos posted with world class artists including a basic introduction to illustration in photoshop with Aaron Blaise, an interview with concept artist James Paick, and a documentary series called "Brushstrokes" which is all about, you guessed it, brushstrokes. If you have any favorite artists with videos worth sharing, please tag TattooNOWGabe in their Youtube videos.
In the last few years TattooNOW has stopped taking on too many new websites as the updates, upgrades, and new site production list was jam packed (thanks for everyone's business, and patience). Over the summer I have been able to focus my efforts on programming and to catching up with the website tasks (of course keeping a little bit of thinking and planning for the next phase of what TattooNOW can offer the art of tattooing mixed into the day). If you still have a site or update/upgrade in production and have emailed me the files/info you will have your deliverables very soon. If you haven't sent in everything we need, now is a good time to do it!
I am getting very close to catching up and expect in the next few weeks to be able to take on another website or two. If you know someone who could benefit from a TattooNOW website, please let them know we will be taking on some new clients in a month or two.
I hope to see you in the chat room tomorrow,
Gabe
PS Due to a scheduling conflict, November's webinar will be the second Sunday of the month, November 11th, 2019 at 8PM EST.
I will keep my books open for the next few months, currently I am taking new clients for the months of April and May and so on, once you stop by for a scheduled consultation which typically takes around 10 minutes so we can determine if we can both agree with the design and idea then we can discuss the whole process with getting a custom tattoo by me that'll be something you (the client) and myself are both happy with. At this point of my career my focus is to take on clients that want the absolute best that I can produce and Im happy to see what ideas are sent my way.
To answer a few frequently asked questions I will list the most common ones
-hourly rate or day rate? my hourly rate is $250 an hour and have a 5 hour minimum, typically the average session is about 6 to 8 hours.
-how far am I booking,? ideally I try to stay booked between 6 to 8 months out in advance, usually when I start booking further than that I close my books for a few months so that my schedule can go back to normal.
- is there a way to skip the line and get ahead? well the answer is yes and no, once a client comes in and we both agree to work together in the future after they leave a deposit and we've picked out some dates I ask every client if theyd like to be placed on a cancelation list, it is very rare that I get a cancelation but what does occur every once in a while is me finishing a tattoo in less sessions than what I gave a client, so if that does happen I tipically take those dates and offer them to other clients that might want to come in before their scheduled date.
-is there a way to pay more and get in sooner? the answer just depends if I am able to arrange my schedule to come in on my days off, so for the most part yes,
any other questions you may have you are welcome to shoot an email and my assistant will try to get back to you as soon as possible thanks
Were mostly by appointment but we try and take as many walkins we can, if your looking to come down just give us a call and we will see what we can do for you
Our shop will not be offering walk-ins or consultations next week as our front desk management will be unavailable October 17th - 25th. If you are already scheduled your artist will be at the shop ready for your appointment!!! For more information please email powerlinetattoo@gmail.com - if you have a time sensitive issue such as rescheduling, please put "RESCHEDULING" in the subject of your email.