Tattoo of the Day
06.13.18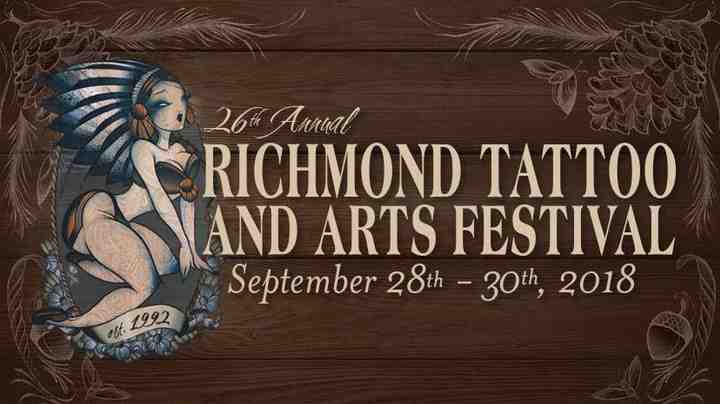 Sept 28-30, 2018 Jesse Smith and Kenny Brown continue the legacy of the Richmond Tattoo and Arts Festival, one of the oldest tattoo conventions in the world!

Hosting a spectacular lineup of tattoo artists including local artists and internationally recognized artists. Featuring many of the Ink Master contestants! Plenty of tattoo industry vendors. We are also proud to have in attendance many local RVA vendors.

Entertainment includes a Street Art Festival with live painting, the 2nd Annual Miss Pin-up RVA competition and much, much more!

Last year's event was a huge success! We thank everyone who came out to support the Richmond tattoo and arts scene. This year we are crafting a show with even more amazing artists and entertainment! Can wait to see you all there!
06.12.18
Rember Orellana sits down to talk light sources, color theory, and where the focus on a piece should lie, as well as how he deals with a shop full of artists, and the importance of treating everyone in your shop like the artist they are. Find Rember's work on Instagram@rember_tattoos Keep up with us at : http://www.TattooImprovement.com
We just got in new t-shirts in new colors and new shop stickers! Come by the shop and check them out!!
Thanks to everyone who has sent emails regarding booking appointments with me, at the moment my books are closed for new pieces/clients, I am taking the next few months to finish projects I have already started, however though I always welome emails inquirying information about future projects that I'll take on, I can help point you towards other good artists or possibly even make an exception for a new piece depending on the subject and flexibility when it comes to scheduling. Thanks, I specialize in black and grey realism tattoos and color realism and have been tattooingout of the DFW for the last 10 years
I will be tattooing at the 2nd Denver Tattoo Arts Convention on June 22nd-24th. Almost all of my time is booked but I still have openings on the 22nd and 23rd. Hit me up with a good idea to get tattooed at the show and stop by the Alternative Arts booth to say hi!