Richmond Tattoo and Arts Academy Hosted by Jesse Smith
08.06.18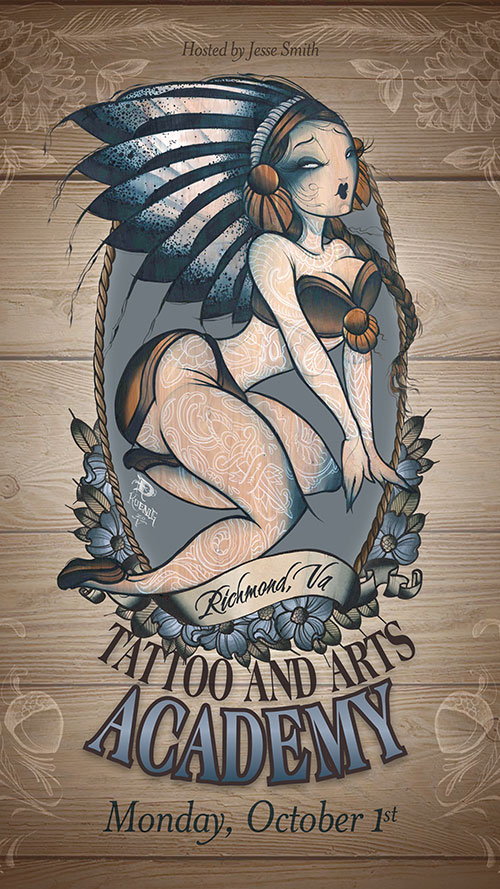 Hosted by Jesse Smith, the 2018 Richmond Tattoo and Arts Academy will take place on Monday Oct. 1st and consists of 6 of the industry's top Artists talking about tricks and tips that have helped them get to where they are today. The goal of the Academy is to create an environment where artists of all different stages in their careers can learn and be inspired by some of the best the art world has to offer.
Each ticket comes with:
Full access to all 6 presentations (Phil Garcia, Jose Perez Jr., Dave Koenig, Gia Rose, Gary Villarreal, and Eliza Ivanova)
Access to a discussion panel where all artists will answer questions presented by the audience
A Portfolio Review by your favorite artist
Full weekend pass to the Richmond Tattoo and Arts Festival
An official, Limited Colorway, 2018 Richmond Tattoo and Arts Festival T-Shirt
A schwag bag of goodies supplied by our sponsors and the presenting artists
Cost:
EARLY BIRD TICKET PRICES (Must be purchased on or before Aug. 31st)
SingleTicket $300 – You SAVE $50!
Group Ticket (3 artists) $750 – You SAVE $150!
REGULAR TICKET PRICES (All tickets purchased on or after Sept. 1st)
Single Ticket $350
Group Ticket (3 artists) $900