Summer Kickoff BBQ Sale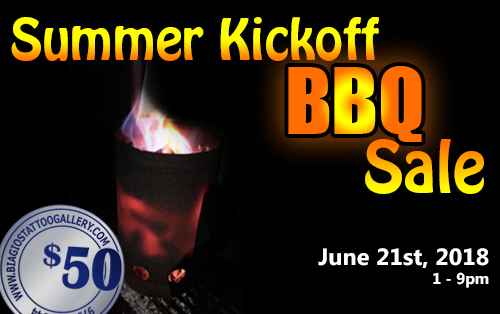 Biagio's Tattoo Gallery is proud to present the Summer Kickoff BBQ Sale! On the first day of summer, June 21, 2018, Biagio's Tattoo Gallery will be celebrating with a BBQ as well as a HUGE sale. We will be offering a promotion for every $100 Gift chip purchased an additional $50 gift chip will be given. Also, we will be doing a special discounted rate for anyone who leaves a deposit on the day of the BBQ. Stop by and get your summer started right!
Webinars, DVDs, Merch & More!

Featured Products
Select TattooNOW Projects

Website Showcase
No one can get you more qualified traffic
" Before commissioning TattooNow to build and host my website, I took on the daunting task of building my own sites and promoting myself through social media. When I finally came to my senses and put it in their hands, my business increased drastically and the site paid for itself in just a few short weeks. This was the start of branding myself in the body art world. My business cards, post cards and banner match my site style.
As a gallery and body art studio owner, I get solicitation calls from companies wanting to build a site or just host my existing site. I let them go through their sales pitch as I laugh on the inside. Then I show them the easy function of my site and I top off my moment with showing them how easy it is to update my site through the TattooNow interface and by showing them the countless features in the community. I send them away with their heads bowed as they cannot come close to comparing to what TattooNow offers specifically to artists. "

– Steve Phipps
"Just got done watching the Jeff Gogue hand webinar. Best $150 I've spent in a while! Every single one that I've signed up for has been superb and really makes a difference for those of us living overseas who don't have access to conventions/seminars period. So this is definitely the next best thing and I'm thankful for having access to them."
– Nick Tse
"I have been happily associated with TattooNow.com for many many years now and finally gave up control over myself built web site and had these experienced tattoo related web builders put together a kick ass new site. I am linked in with many of the popular networking sites like Instagram, Facebook and Twitter and even have several language translation options available for foreign countries. They make it easy to update the images and info yourself any time you feel the need and I could not be happier. I am already getting much more traffic to the site and I'm picking up more clients as well. I would highly recommend them for anyone especially those in the Tattoo Industry. I will also be having them build a new site for my entire shop soon. Thank you so much TattooNow.com"
– Larry Brogan