STAR WARS inspired FORCE IN THE FLESH book Combo!!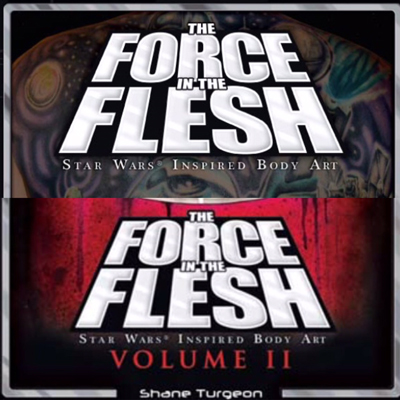 For the past 40 years, fans of the Star Wars films have been going to great lengths to express their passion for the Saga. Perhaps nowhere is this more evident than with the large group of people who have chosen to mark themselves for life with the captivating imagery found throughout that galaxy far, far away. The Force in the Flesh is the first publication to delve into the world of Star Wars tattoos and elegantly showcase the finest Star Wars body art the world has to offer. Force in the Flesh II is the second offering in this series.
We are now offering both FORCE IN THE FLESH books as a combo, so you can get both great books at one special price! We have extremely limited quantities, so get yours before they are gone!
Click HERE to order!
Webinars, DVDs, Merch & More!

Featured Products
Select TattooNOW Projects

Website Showcase
Advertise with us
Reach our network of tattooers & collectors with fine taste with a variety of advertising packages for any budget.
Classifieds
Banner Ads
Mini-Magazine Ads
Video Spots
Sponsorship Deals
Call (413) 585-9134 for more options!
No one can get you more qualified traffic
"I absolutely love the website that TattooNOW has done for me! With being a new shop owner and having a lot on my plate designing a webpage was one of the last things on my mind. TattooNOW was able to totally help me in designing my page and I receive compliments from my clients from it all the time! My shop is in a little remote town and over 50% of my clientele comes from this website! People come from all over the country to my little town in Missouri. It's amazing the power of the Internet these days. I don't know what I would've done without this website!!"
– Jessica Weichers
"I have been happily associated with TattooNow.com for many many years now and finally gave up control over myself built web site and had these experienced tattoo related web builders put together a kick ass new site. I am linked in with many of the popular networking sites like Instagram, Facebook and Twitter and even have several language translation options available for foreign countries. They make it easy to update the images and info yourself any time you feel the need and I could not be happier. I am already getting much more traffic to the site and I'm picking up more clients as well. I would highly recommend them for anyone especially those in the Tattoo Industry. I will also be having them build a new site for my entire shop soon. Thank you so much TattooNow.com"
– Larry Brogan
"I am so happy with the redesign. You've exceeded my expectations and it's been a great experience working with Aaron, the designer. I felt like we were well matched. The site reflects the aesthetic I was trying to create and everything was done rather quickly. The channels of communication were open, I could tell I was being listened to and I think the cohesion of my site reflects that. I'm very happy with the look and function of adamlauricella.com -Thank you Gabe, Brian, Aaron and the rest of TattooNOW.com"
– Adam Lauricella
About TattooNOW
TattooNOW is a professional multimedia development company specializing in Tattoo web sites, webinars, and online promotions. TattooNOW was started by top professionals from both the tattoo industry and multimedia field to fill a void: Reliable highly effective websites for professional tattoo artists.