Sign Up Now For Guy's Latest High-Power Artists' Workshop!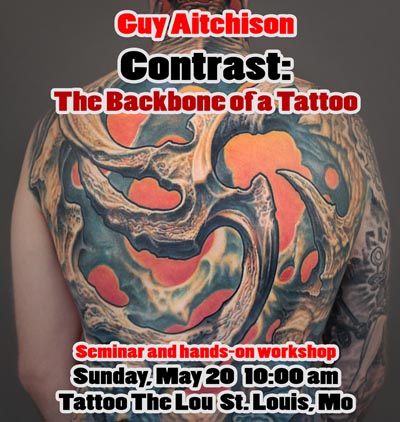 Guy Aitchison has been teaching seminars to tattoo artists since 1993, in the process fine-tuning his approach to give artists the most bang for their buck. In his newest workshop, Contrast: The Backbone of a Tattoo, Guy begins by going over a broad range of theory and practical ways of increasing the impact of your work, using still images and video from not only his own studio but also including work by a variety of top artists working in different styles. This will be followed by a hands-on workshop for participants, giving them a chance to put these ideas to work right away in order to see how to incorporate them into a day-to-day tattooing practice. Intended for professional tattoo artists of all levels of experience. The workshop will take place on Sunday, May 20th at 10:00am, at the Tattoo The Lou convention in St.Louis, MO.
Webinars, DVDs, Merch & More!

Featured Products
Select TattooNOW Projects

Website Showcase
Advertise with us
Reach our network of tattooers & collectors with fine taste with a variety of advertising packages for any budget.
Classifieds
Banner Ads
Mini-Magazine Ads
Video Spots
Sponsorship Deals
Call (413) 585-9134 for more options!
No one can get you more qualified traffic
"I am so happy with the redesign. You've exceeded my expectations and it's been a great experience working with Aaron, the designer. I felt like we were well matched. The site reflects the aesthetic I was trying to create and everything was done rather quickly. The channels of communication were open, I could tell I was being listened to and I think the cohesion of my site reflects that. I'm very happy with the look and function of adamlauricella.com -Thank you Gabe, Brian, Aaron and the rest of TattooNOW.com"
– Adam Lauricella
"I absolutely love the website that TattooNOW has done for me! With being a new shop owner and having a lot on my plate designing a webpage was one of the last things on my mind. TattooNOW was able to totally help me in designing my page and I receive compliments from my clients from it all the time! My shop is in a little remote town and over 50% of my clientele comes from this website! People come from all over the country to my little town in Missouri. It's amazing the power of the Internet these days. I don't know what I would've done without this website!!"
– Jessica Weichers
"With social media always changing, the importance of a professional website is imperative. I loved the design inspiration package they had me fill out to describe how I wanted my website to look. They were able to take my concepts and visualize them for me into a site that really felt individual and personal. I love that I can easily access and publish new news items and photos in an instant through the TattooNOW website. The staff is always professional, friendly and easy to reach. TattooNow has helped me reach a wider audience, allowing me to do more of the work I love!"
– Mallory Swinchock
About TattooNOW
TattooNOW is a professional multimedia development company specializing in Tattoo web sites, webinars, and online promotions. TattooNOW was started by top professionals from both the tattoo industry and multimedia field to fill a void: Reliable highly effective websites for professional tattoo artists.