NEW Guy Aitchison Coverup Tutorial Available Now!!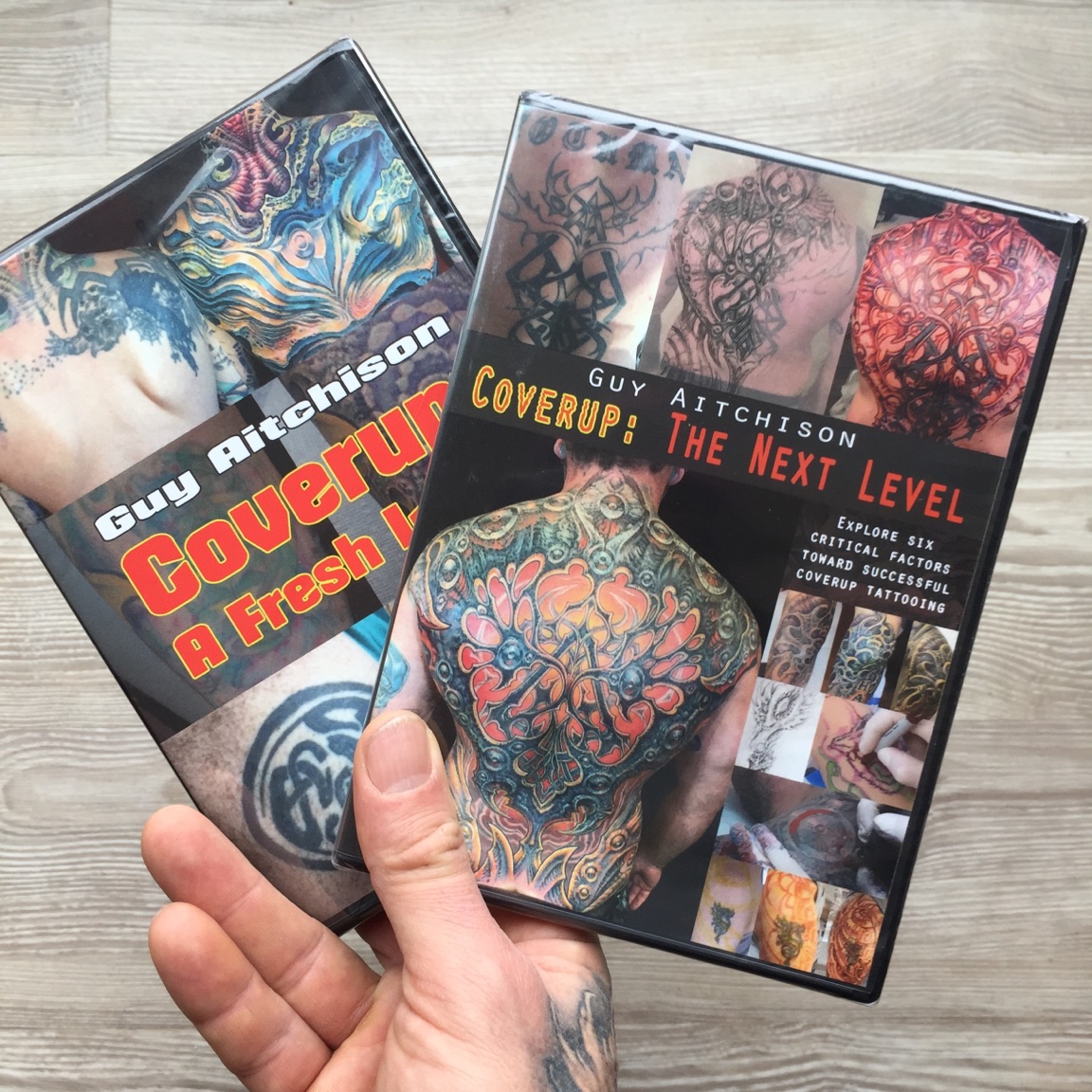 Many tattooists avoid coverup work, feeling that they do their best work on clean skin, but a lot of clients who are seeking coverup work are also transitioning from collecting small tattoos to becoming serious tattoo collectors, and the artists willing to help them with their unwanted work are also likely to get lots of clean skin from them as well- so by taking on coverups you can greatly expand your client base and your career. Noted tattooist Guy Aitchison has been doing coverup work for most of his 30 years in the trade, and shares what he knows about the subject in two DVD tutorials, Coverup: A Fresh Look and Coverup: The Next Level, showing an artist's eye view of the coverup process from consultation to completion, guiding artists past the common coverup pitfalls and showing healed and settled results for many kinds of coverup projects, including work by guest artists in a variety of different styles. These two seminars are now bundled together in a comprehensive educational package that will help gain you coverup superpowers- and in the process, a whole new scope of clientele including larger scale work. You can find it at alongside our other educational DVDs. Or you can simply subscribe to Reinventing The Tattoo, which makes all this material instantly available.
Webinars, DVDs, Merch & More!

Featured Products
Select TattooNOW Projects

Website Showcase
Advertise with us
Reach our network of tattooers & collectors with fine taste with a variety of advertising packages for any budget.
Classifieds
Banner Ads
Mini-Magazine Ads
Video Spots
Sponsorship Deals
Call (413) 585-9134 for more options!
No one can get you more qualified traffic
"I am so happy with the redesign. You've exceeded my expectations and it's been a great experience working with Aaron, the designer. I felt like we were well matched. The site reflects the aesthetic I was trying to create and everything was done rather quickly. The channels of communication were open, I could tell I was being listened to and I think the cohesion of my site reflects that. I'm very happy with the look and function of adamlauricella.com -Thank you Gabe, Brian, Aaron and the rest of TattooNOW.com"
– Adam Lauricella
"I have been happily associated with TattooNow.com for many many years now and finally gave up control over myself built web site and had these experienced tattoo related web builders put together a kick ass new site. I am linked in with many of the popular networking sites like Instagram, Facebook and Twitter and even have several language translation options available for foreign countries. They make it easy to update the images and info yourself any time you feel the need and I could not be happier. I am already getting much more traffic to the site and I'm picking up more clients as well. I would highly recommend them for anyone especially those in the Tattoo Industry. I will also be having them build a new site for my entire shop soon. Thank you so much TattooNow.com"
– Larry Brogan
" Before commissioning TattooNow to build and host my website, I took on the daunting task of building my own sites and promoting myself through social media. When I finally came to my senses and put it in their hands, my business increased drastically and the site paid for itself in just a few short weeks. This was the start of branding myself in the body art world. My business cards, post cards and banner match my site style.
As a gallery and body art studio owner, I get solicitation calls from companies wanting to build a site or just host my existing site. I let them go through their sales pitch as I laugh on the inside. Then I show them the easy function of my site and I top off my moment with showing them how easy it is to update my site through the TattooNow interface and by showing them the countless features in the community. I send them away with their heads bowed as they cannot come close to comparing to what TattooNow offers specifically to artists. "

– Steve Phipps
About TattooNOW
TattooNOW is a professional multimedia development company specializing in Tattoo web sites, webinars, and online promotions. TattooNOW was started by top professionals from both the tattoo industry and multimedia field to fill a void: Reliable highly effective websites for professional tattoo artists.