Guy Aitchison's- Coverup: The Next Level- added to Reinventing The Tattoo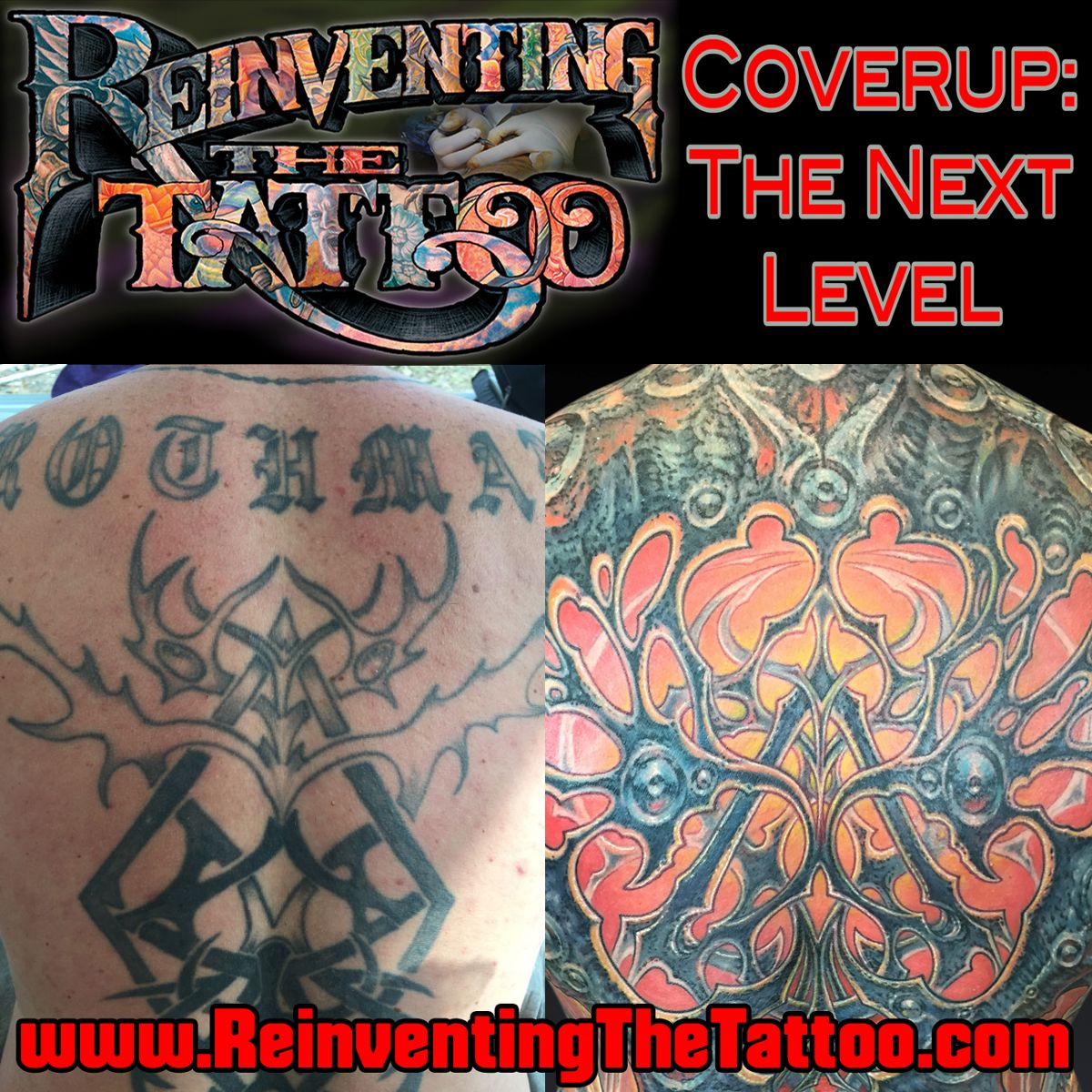 As tattoo clients start to get larger work, it is often up to their artists to steer them toward thinking larger scale, instead of filling up with small pieces. These artists will usually have the job of covering or incorporating earlier pieces, and if approached with the right mindset, these collectors can be guided into getting the kinds of large scale work that we are proud to have in our portfolios. Guy Aitchison's Coverup: The Next Level provides a clear foundation for not only tackling any kind of coverup job, but also for using coverup as an opportunity to get larger scale projects and a more serious clientele.
Building on last year's Coverup: A Fresh Look, Coverup: The Next Level has been added to the coverup chapters in the Reinventing The Tattoo curriculum, making it part of the most comprehensive guide to coverup tattooing anywhere in the industry. Reinventing The Tattoo now contains dozens of videos showing closeup tattooing with in-depth voiceover descriptions, along with hundreds of pages of richly illustrated text addressing every aspect of tattooing, including guest chapters by artists such as Phil Garcia, Megan Jean Morris, Halo Jankowski, Don McDonald, Russ Abbott and Nick Baxter. Drop by www.ReinventingTheTattoo.com to find out more!
Webinars, DVDs, Merch & More!

Featured Products
Select TattooNOW Projects

Website Showcase
Advertise with us
Reach our network of tattooers & collectors with fine taste with a variety of advertising packages for any budget.
Classifieds
Banner Ads
Mini-Magazine Ads
Video Spots
Sponsorship Deals
Call (413) 585-9134 for more options!
No one can get you more qualified traffic
"I absolutely love the website that TattooNOW has done for me! With being a new shop owner and having a lot on my plate designing a webpage was one of the last things on my mind. TattooNOW was able to totally help me in designing my page and I receive compliments from my clients from it all the time! My shop is in a little remote town and over 50% of my clientele comes from this website! People come from all over the country to my little town in Missouri. It's amazing the power of the Internet these days. I don't know what I would've done without this website!!"
– Jessica Weichers
"Just got done watching the Jeff Gogue hand webinar. Best $150 I've spent in a while! Every single one that I've signed up for has been superb and really makes a difference for those of us living overseas who don't have access to conventions/seminars period. So this is definitely the next best thing and I'm thankful for having access to them."
– Nick Tse
"I can say without reservation Gabe Ripley's webinar, and the information presented, was one of the keystones to my career choices and direction the last year. I often quote much of what I learned not only to others, but to myself as well as a reminder to stay on track. I've taken the webinar twice and will purchase it if ever made available on dvd. I can't recommend it highly enough."
– Ian McKown
About TattooNOW
TattooNOW is a professional multimedia development company specializing in Tattoo web sites, webinars, and online promotions. TattooNOW was started by top professionals from both the tattoo industry and multimedia field to fill a void: Reliable highly effective websites for professional tattoo artists.