I had the opportunity to tattoo this abstract style portrait and bird inspired by the Edgar Allen Poe poem, "The Raven." I tattooed this in Phoenix, Arizona during the last Hell City Tattoo Convention in August. Really enjoyed designing and tattooing this piece!
TattooNOW News
9/22/14
Northwest News: October Open House
Off the Map Tattoo Northwest is inviting everyone to our open house Friday October 3. Our entire shop will be here to meet everyone and answer any questions about tattoos art or life in general. Our shop walls will be filled with great art and we will be selling prints shirts and dvd's. There will also be a drawing for a $100 gift certificate. See you soon.
read more
TattooNOW Network News
Adam Aguas at the Tampa Convention
submitted on 9/23/14 by -
Dark Water Tattoos
Last weekend our full time artist Adam Aguas, had another successful convention weekend!
Working in the Stylus booth at the Tampa Tattoo Arts Convention,
Adam took home 5 awards including...
1st Place Large Color, 1st Place Large Color Female, 1st Place Most Unusual, 3rd Place Medium Color, and 2nd Place Best of Day - Friday
Congradulations Adam!
Below are the tattoos Adam did over the weekend.
---
New England News: Guest Tattoo Artist Jordan Campbell Visiting this Week
submitted on 9/23/14 by -
Off the Map Tattoo
We are thrilled to have guest artist Jordan Campbell here this week as our guest artist! He arrived here yesterday and will be here through Saturday! He's still got some openings for tattoos this week so there's still time to grab a spot while he's visiting.
Jordan can conquer any number of styles from realism to illustrative or even the recently popular abstract watercolor style, as shown in this dog tattoo.
The bear tattoo belows shows his skill in realism as well. So as we said, he is happy to take on any tattoo you want to throw his way!
You can stop on in to the studio or give us a call to check out his availability! We hope to see you soon to get tattooed by our talented guest!
---
Now Available: Feathers Of Inspiration, An Epic New Art Book Set!
submitted on 9/22/14 by -
Hyperspace Studios
Over the past few years, Jinxi Caddell of Out Of Step Books has assembled a number of incredible tattoo art anthology books, most of which we carry at the Hyperspace Studios online store. These include the recent releases Eight Arms of Inspiration and Antennae of Inspiration, hardcover large-format coffee table art books featuring hundreds of pages of art from a long list of incredible artists, including many of your favorites along with many that you'll be discovering for the first time. They're great books for both artists and collectors, and I can tell you from experience that they go over extremely well both as gifts and as reading material in the tattoo studio waiting room.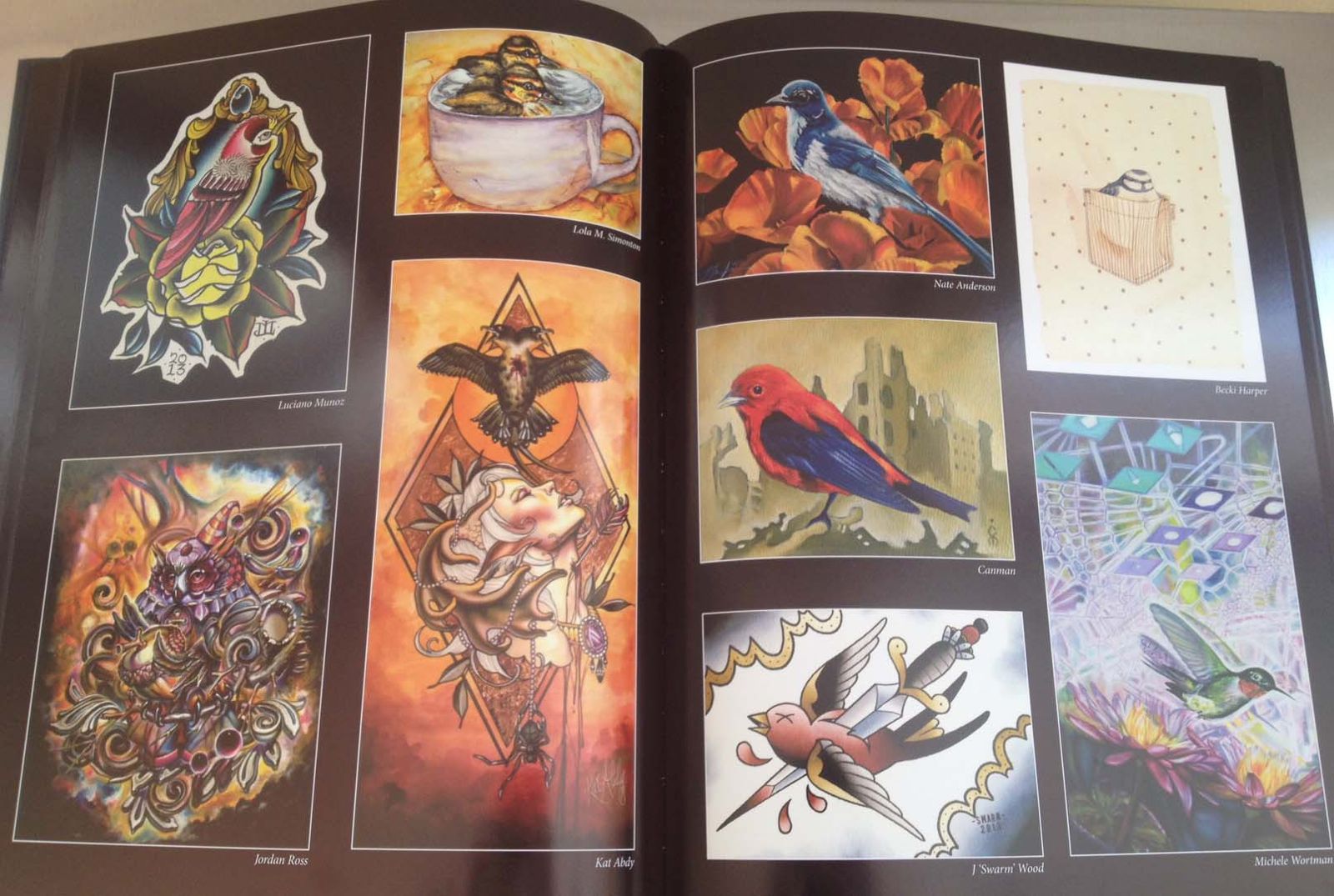 So we are psyched to be adding the latest one, Feathers Of Inspiration: The Bird Art Project, to our online catalog. It's a project that became so massive that they chose to break it up into two separate volumes, one of just tattoos and the other of all kinds of other mediums including oils and acrylics, watercolors, drawings, sculptures, photography and more. This is a limited edition pressing with only 750 sets available, which are sure to be gone by the end of the year. Works include a number of pieces by our very own Michele Wortman, plus hundreds of other artists of a broad range of styles. You can find this incredible book set now at our online store!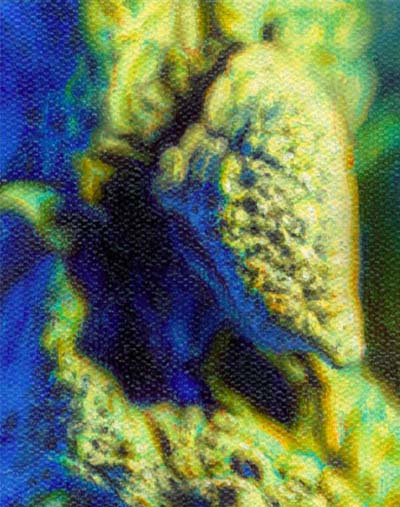 I also wanted to mention that I have another painting from my book Organica posted on eBay this week. This is a little guy, 3x4" inside an extra-thick gloss black frame that can be hung or placed on a shelf, and would make a great little addition to your home or studio art collection. The small, affordable pieces from Organica are mostly gone at this point, so now is your chance to pick up a part of this collection.
Thanks, and I'll be in touch soon!
---
Three Weeks Until Max Departs for Italy
submitted on 9/22/14 by -
Max Rothert at Off the Map Tattoo
We hate to see Max leave his regular home at our Easthampton, Massachusetts tattoo studio, but it's exciting to watch him venture to our Italian location with Alex de Pase and the full crew at Off the Map Italy. October 13 will be Max's last day at our Easthampton location until mid-December. We'll look forward to Max coming back to us regularly December 11.
Max already has a few tattoo clients lined up for him in Cervignano del Friuli but he would love to gather more Italian tattoo lovers to fill up him time there. There is even still a chance for a lucky client to win a FREE tattoo from Max during his stay.
Aside from tattooing in Italy, Max is also looking forward to attending the World Wide Tattoo Conference, to learn from incredible world renowned tattooers including Shige, Alex De Pase, Jeff Gogue and more! Between this incredible learning opportunity and the inspiration of the area, we imagine Max will be doing some of the most impressive tattoos we've seen from him yet!
The tattoo below was designed with the inspiration "a suitcase full of memories," and we look forward to filling up Max's suitcase with memories, stories, tattoos and beautiful artwork to share with you all during and after his Italian adventures.
If two months feels like a really long time to miss Max, feel free to swing by the studio to see him off, give him a hug, and maybe a tip or two for things he should see, do or experience while abroad! Ciao!
---