TattooNOW News
10/23/14
Guy/Russ Collaboration Technical Seminar
TODAY IS THE (SECOND) DAY!!! We're about to kick off day two of tattooing with Guy Aitchison and Russ Abbott. Today's seminar will dive into all of the technical aspects that brought the tattoo to where it is now. The client, Brian Geckel sat like a champ yesterday and has about 60% of his lower leg completed at this point, but there's still a lot to do! Watching the fusion of Abbott's ornamental style with Aitchison's bio-mech has been amazing and will continue to amaze us at it travels all the way up his leg today.
What an incredible opportunity it is to have these two masters share all of their tips and tricks with us! The 3-camera angles that we have set up really increase the visibility of the work being done and those closeups make all the difference for detail.
Wanna know something awesome? You can still purchase tickets!! $200.00 will give you access to today's full day of tattooing, the ability to ask questions directly to the guys in the chatroom, and will enter you into a raffle to win one of the Cintiq Companion tablets they've been using for this process!
After purchasing the webinar you can find it by going to www.tattoonow.com/members/ and click on the webinar link in the upper navigation menu.
read more
TattooNOW Network News
Halloween Hours
submitted on 10/24/14 by -
Dark Horse Tattoos and Body Piercing
DHT will have modified hours Halloween weekend.
FRIDAY Open Noon-4:30pm 10/31/14
SATURDAY Open Noon-7:30 11/1/14
SUNDAY Open Noon-9pm 11/2/14
We wish every ghoul and Guy a horrifying holiday.
Frightfully Yours,
The Dark Horsemen

---
New England News: Pint Sized Paintings Tomorrow!
submitted on 10/24/14 by -
Off the Map Tattoo
We couldn't be more excited to announce Durb Morrison's, Pint Sized Paintings Volume 2 Exhibit will be coming to Off the Map Tattoo TOMORROW!! Pint Size Paintings is the world's largest collection of unique miniature masterpieces from artists around the globe.
The newest compilation included art from- Filip Leu, Loretta Leu, Titine Leu, Nick Baxter, Ajja Leu, Tanina Munchkina, Matthieu K. Leu, Oleg Turyanskiy, James Kern, Durb Morrison, Chad Sinkhorn, Chris Beck, Christa Zurich, Dominic Holmes, Hiro Hayashi, Kevin Stress, Richard Cook, Ian McKown, Shawn Will, Caryl Cunningham, Nathan Bauer, Amber M. Slick, Esra Skulls, Mick Tattoo, Susannah Griggs, Dan Henk, Ron Russo, Scott Santee, Sean Herman, Adam Schnur, Melissa Fusco, Michael Gilbert, A Stattmiller, Barbie Frudakis, Ben Her, Benjamin Duarte, Berk Visual, Brad Nugent, Canman, Danny Fugate, Darin Slavik, Seige, David Goodwin, Eddie Bonacore, Edwin Vazquez, Erika Jaynes, Frankie Curran, George Scharfenberg, Jamie Cross, Jamie Parker, Joe King, John Lloid, John M Lally, J ORourke, Julio Rodriguez, Justin Garcia, Justin Whitehouse, Kelly Corwon, Kim Bowers, Kristen Flaherty, Leo Olivarez, Matthew Adams, Matt Truiano, Mike Ashworth, M Kerley, Nate Marti, Nathan Bauer, Nathan Petz, Nick Chai Chang, Nick Wilcox, Perry Stratton, Pony, , Robert D Harris, Ron Rich, Shane Strout, Shey, Smash, Spiro Kambitsis, Steve Phipps, Tyler Kinnaman, Victor Modafferi, Vinnie Realm, Jamie MacPherson, Jason Stephan, John Paul Seger, John C. Cummings, Kelly Jo Shows, Aaron Odell, Gunnar Quispe Sanjines, Kurt Windish, Ben Boling, Anthony Davis, Kat Marie Moya, Jersey Nicolardi, Abril Andrade Griffith, Adam Fox, David Ruiz, Jerrid Rodriguez, Ben Karner, Thad Minnick, Steve Wishnewski, Joey Martin, Tracy Nicole, Atom, John Lloid, Kristen Flaherty, Jason Vogt, Ricky Cavaness, Elie Hammond, J.P. Decker, Maximilian Rothert, Rusty, Annabelle Headlam, Sorin Gabor, Toby Gehrlich, Joey Foote, Christopher Wynn, Jesse Vardaro, Dennis Kirsch, Jamie Bollerud, Andrea Baker, Joshua Wiley, Aia Leu, Ashley Owens, Dave Barton, Ben Licata, Dimitri HK, Jesse Smith, Luke Atkinson, Blaise, Leon, Jens Schnettler.
Even though the paintings are small, Pint Sized Painting is a big project. You can Purchase Volume 1 here, and there is even a FREE Pint Sized Paintings App in the iTunes store!
Need even more reason to come? All you have to do is show up and we'll be giving out $25 tattoo tokens to everyone who attends! Not to mention some free tasty beverages and snacks.
We hope to see you tomorrow but until then, check out the video from when Pint Sized Paintings Volume 1 visited Off the Map!
---
Original paintings available
submitted on 10/24/14 by -
Ian Robert McKown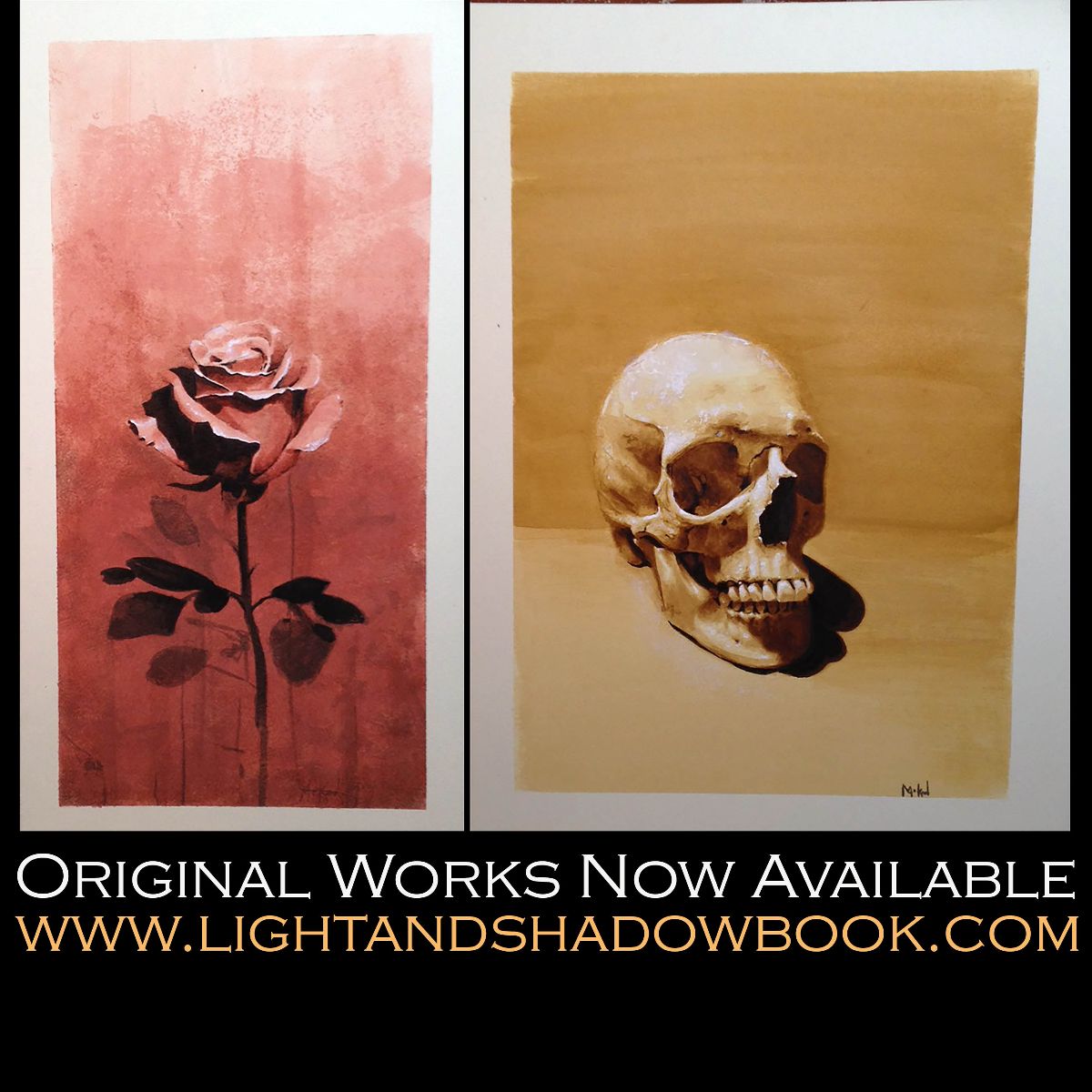 ---
Octopus by Trevor Kennedy.
submitted on 10/23/14 by -
Sweet Trade Tattoo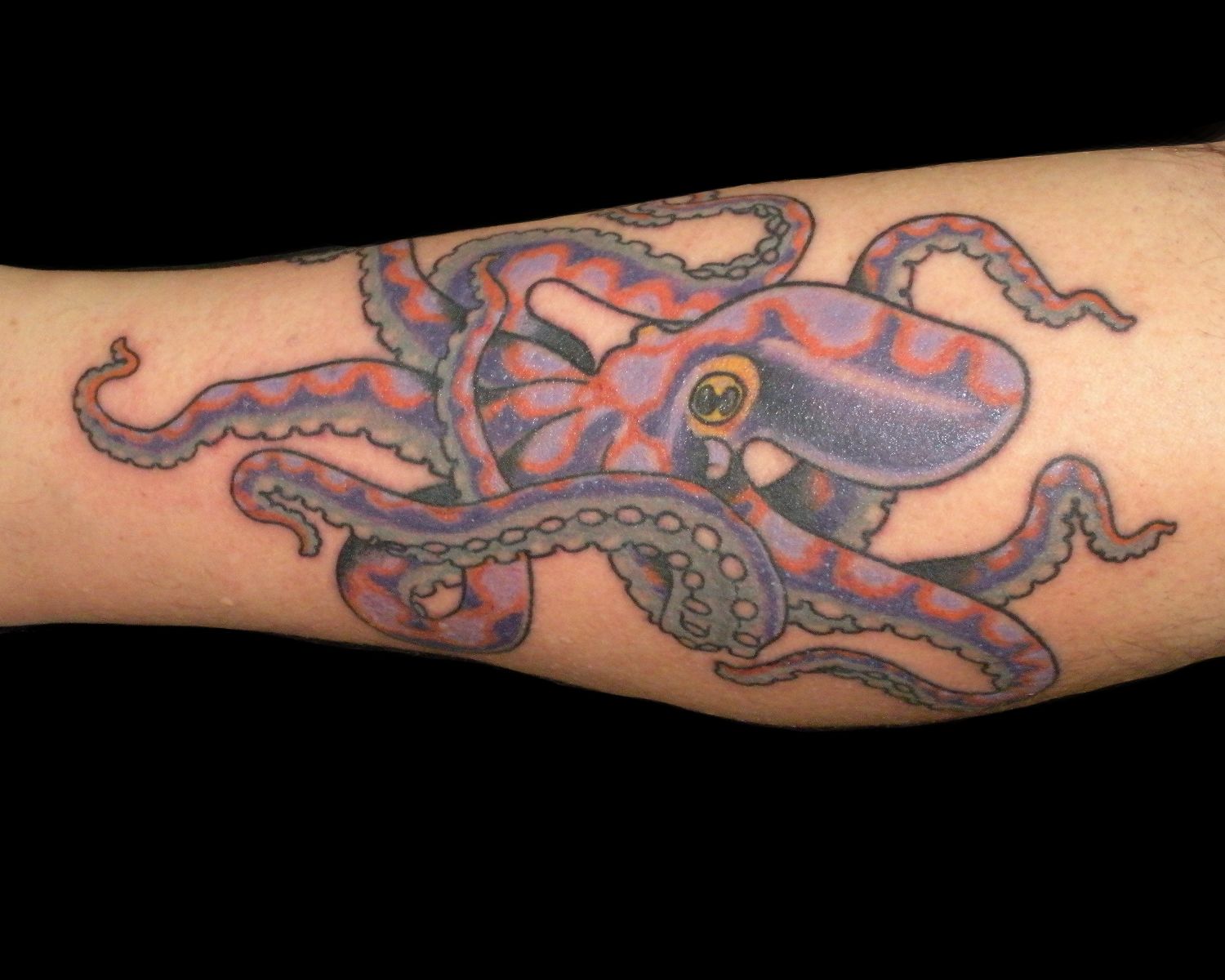 ---