My take on a tools of the trade tattoo. I had the pleasure of working with Caroline Hedgepeth, a fellow tattooer who is not only an excellent person, but artist as well. She is also the winner of Bart's and my tattoo raffle from a few months ago. The tattoo machine is one of Rob Rutherford's and the placement is on the stomach/sternum. The flowers are daffodils and poppies. Had a lot of fun working on this piece.
TattooNOW News
7/31/14
Off the Map LIVE! Added to Another Station!
Thank you to Urbana Public Television for picking up Off the Map LIVE!. Since 1995, UPTV has provided the Urbana-Champaign, Illinois area with local programming on community issues and events and is currently broadcasting to 42,000 subscribers. With the addition of UPTV, Off the Map LIVE! is now beaming directly into over 100,000 homes.
Do you want to see Off the Map LIVE! on your TV?
Contact your local Community Television station now and tell them that Off the Map Live! is available now to them for FREE download via PEGMedia.org.
read more
TattooNOW Network News
Pacific INk and Art Expo
submitted on 8/1/14 by -
Biagio's Tattoo Gallery

Pacific Ink & Art Expo
Biagio and Leilani will be heading to Hawaii for the Pacific Ink & Art Expo August 1st - 3rd 2014!! Stay tuned for more information about this awesome event!!
---
Skulls Part Deux
submitted on 7/31/14 by -
Max Rothert at Off the Map Tattoo
---
Abbott/Aitchison: Evolution
submitted on 7/31/14 by -
Tattoo Education
A few days ago you may have seen the newsletter we sent out announcing the addition of Russ Abbott's educational courses to our On-Demand catalog, including his classic Iron Clad: Tattoos Built To Last, along with his new course on color theory, The Tattooist's Palette. These are both top-quality professionals-only tutorials that demonstrate the foundation of Russ's solid, vibrant working technique. To celebrate the new courses we contacted Russ for a quick interview, which you can see at his Tattoo Education Artist's Profile, including some of his jaw-dropping new work.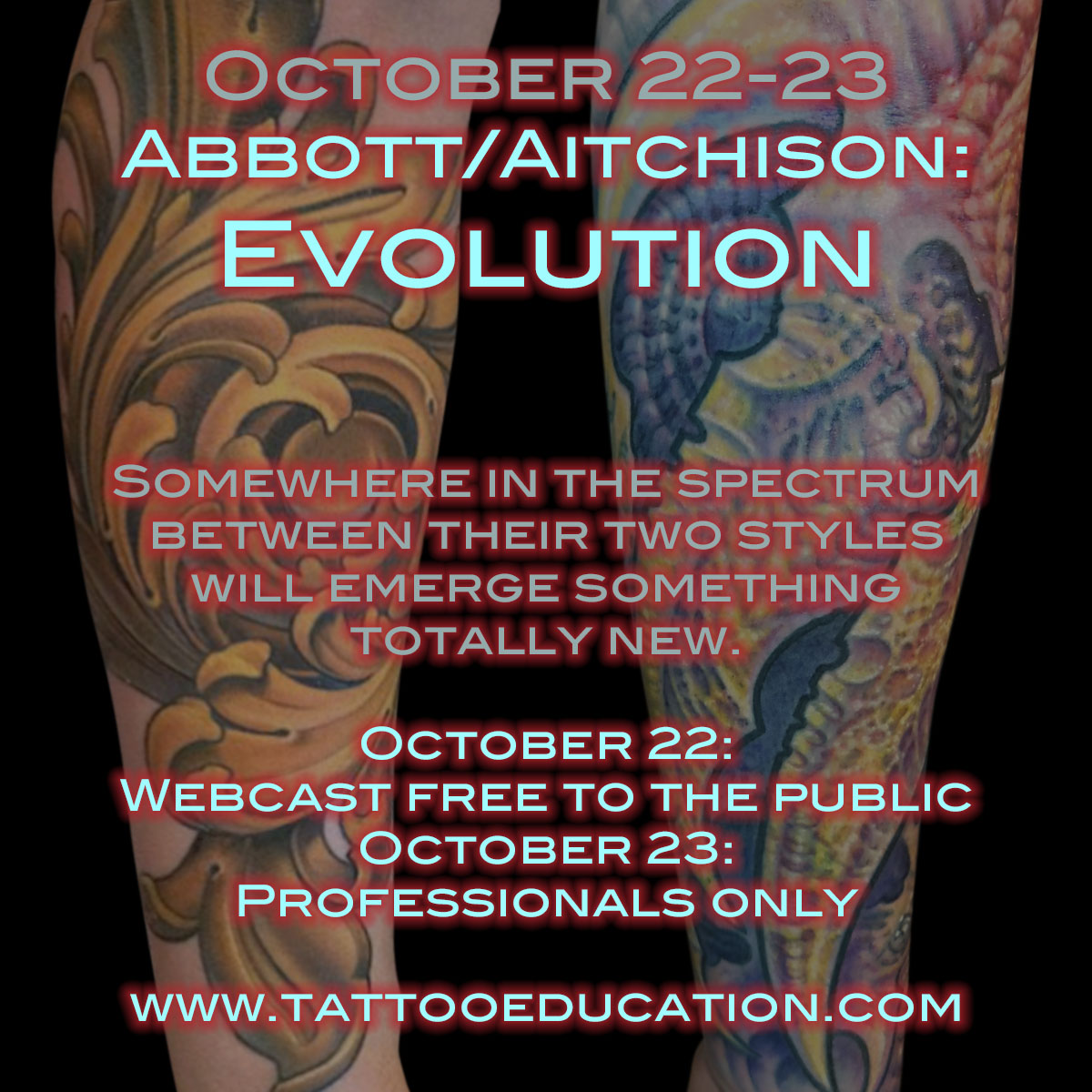 In addition to this, I am psyched to announce a collaborative seminar called Abbott/Aitchison: Evolution, which Russ and I will be conducting in October at Off The Map East in Massachusetts, on October 22 and 23, where you'll see biomech, ornamental and dimensional graphic elements fused into something totally new. The first session's webcast on the 22nd will be free to the public, where you'll be able to observe the unfolding of a major leg piece, and can submit your questions for the artists through the TattooNOW chat feature. The second day's session on the 23rd will be for professionals only and will get into the in-depth technical aspects of the project, from layout to machines to rendering techniques. Don't miss this unique learning opportunity! Tickets are available now at our online store.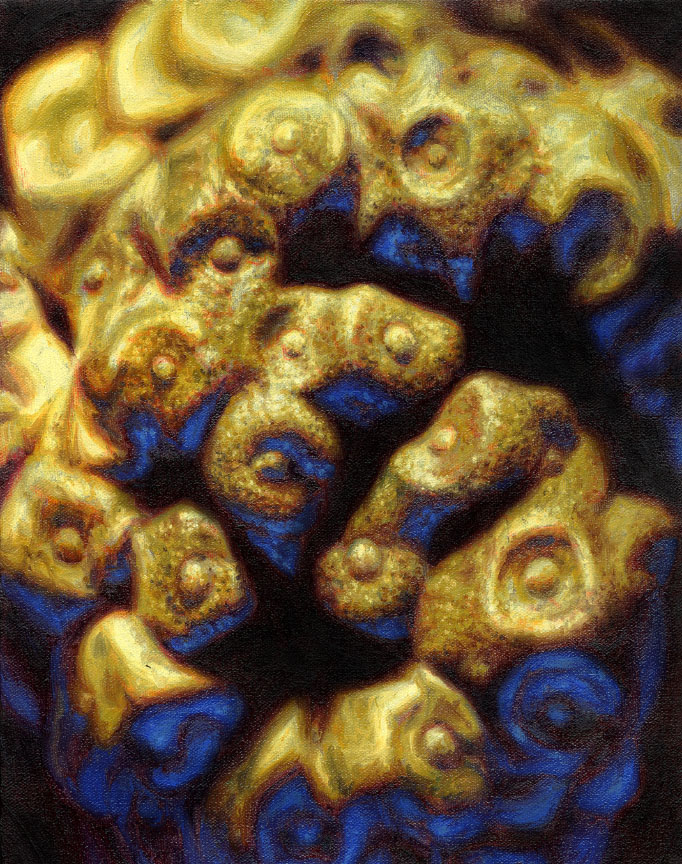 Finally, I wanted to mention the new auction that we just started with another painting from my book Organica, this time a more substantial piece. It's one of my hyperreal duotone organic macroscapes, big enough to have a strong presence in your shop or home art collection. The auction has just kicked off and has a few days left, check it out, or follow me on Instagram or Facebook for updates about this or other auctions.
---
Flash Back
submitted on 7/31/14 by -
Frank Ready Tattoos
Once upon a time, not that long ago, tattoo flash was more or less the only option for getting tattooed.
If you wanted a piece, you looked at the flash sheets on the wall, and picked out what you wanted. More an more shops are creating more of a custom environment, but that doesn't mean tattooers don't still have fun creating more traditionalionally inspired flash!
Daggers and roses have always been a pretty common subject matter in flash sheets, but Frank put a humorous twist on them in this "Ouch" flash, including, of course, the notoriously stabby swordfish.
This flash sheet was inspired by the one and only Sailor Jerry, debateably the founder of tattoo flash. His traditional tattoos continue to be tattooed, drawn and deliver inspiration to modern tattooing. We think Frank did him justice, how about you?
If you are inspired by any of these designs and would like to make them permanent, Frank would love to create tattoos based on his flash. However, even though they're flash, Frank would only tattoo each design once to keep them more custom, so if there's one you love, snag it before someone else does!
---