Tattoo of the Day
01.29.15
We're excited to announce three brand new live webcasts that were just added to the site. Never taken part in one of our live events before? Well, now is certainly the time to take advantage of these once in a lifetime interactive experiences. One of the biggest benefits is being able to ask questions right through our special live chat feature. We believe strongly that professional development should not be limited by geography and we hope you enjoying pushing your art and tattooing to the next level with our webcasts! You can check out our full catalog here.
Okay, so, who's up next? Drumroll please...
1) ADAM GUY HAYS - SUNDAY JUNE 28TH - EASTHAMPTON, MA & ONLINE
This seminar is a comprehensive look at Adam's painting process. It will include: The forethought and planning that goes into his process. A breakdown of fhis favorite materials and pros and cons of different mediums. You will be shown various illustration and pen and ink techniques and he will touch on the differences in watercolor techniques and their multi applications to various artwork. Secure your spot now! COST $200.00
2) BOB TYRRELL - SATURDAY, JULY 14TH - EASTHAMPTON, MA & ONLINE
We're thrilled to be welcoming Bob Tyrrell back to Easthampton for another awesome webcast. This time Bob will pushing his love of horror aside for a bit and will be focusing on the softer side of portraits. One lucky collector will be get to receive a highly detailed dog portait and Bob will be explaining the techniques he uses to capture the true essence of hair. Get your ticket now because this one will undoubtedly be flying off the shelf! COST $200.00
3) RALF NONNEWEILER - DATE TBA - EASTHAMPTON, MA & ONLINE
Check back soon for more detailed information on this one from incredibly talented black and grey portrait artist, Ralf Nonneweiler. Ralf will be joining us in Easthampton but if you're a litlte out of reach you can beam in to the live webcast event from anywhere! COST $150.00
01.22.15
One of our favorite types of tattoo are animal tattoos. They come in all shapes, sizes, and styles. Whether they are fun tattoos of fluffy bunnies, or realistic tributes to pets or spirit animals, one thing is for sure, animal tattoos are here to stay.
and a timeless favorite
Here is a fun little charcoal sketch that Scott did.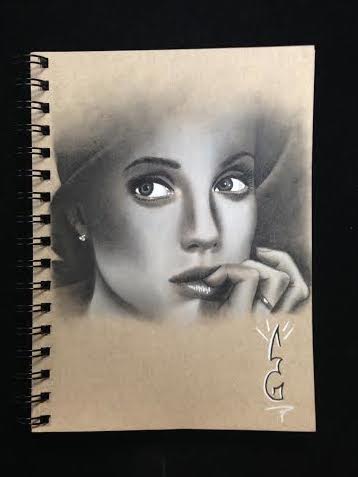 After some delays, Jared Preslar finally arrived in Grants Pass safe and sound! Today he is spending some time getting some work done with Jeff Gogue and will resume appointments tomorrow! Jared will be here with us until Saturday the 31st, if you are interested in booking an appointment with Jared, shoot an email over to jared@luckybambootattoo.com or call us (541) 244-1141.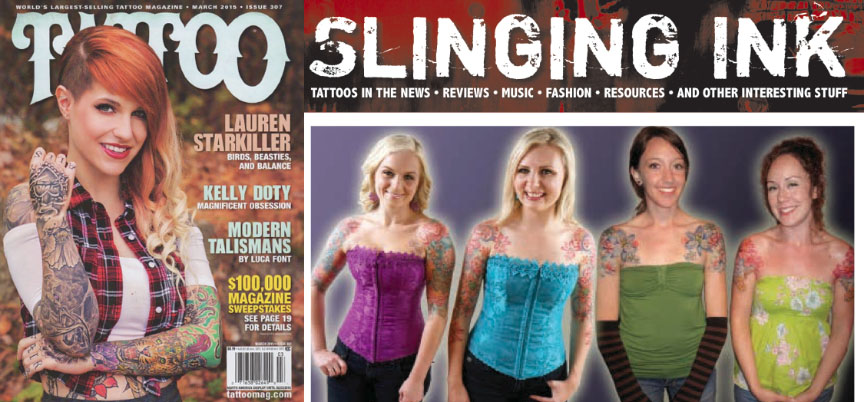 Michele Wortman is known in tattooing for her innovative body sets. She has been designing a signature look for her mainly female clientele throughout her tattoo career. Starting with a desire to see a more unified and flowing female esthetic, 15 years ago, Michele embarked on an artistic journey to redefine more options for women wanting a lighter softer, balanced look within their tattoo collection. Many of these sets began with shoulder cap coverage, and gradually Michele's clients found themselves inking their way down to full sleeves and beyond. She began documenting this process, and the Bloom project was born.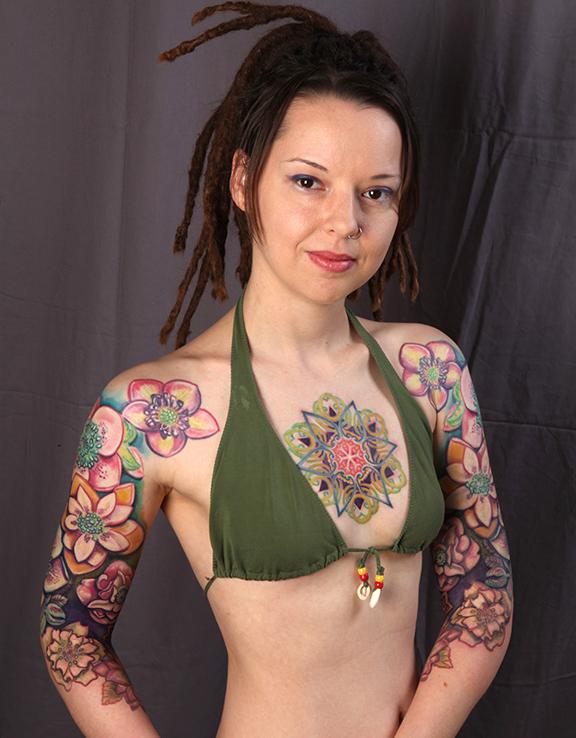 Michele identified with the word Bloom as many of her clients requested floral motifs from her, and she likened this process of unfolding through layers of ink, adding on over time and personal transformation to the similarities of a bloom opening to flower.

Michele has inked several body sets and is currently working on an art book showcasing the lovely ladies she has been honored to tattoo and their process of collecting work through the years. The book will feature in-depth photos of her work as well as many of her clients who have come to be known as The Bloom Sisters. She is currently taking on new clients with this project in mind as well as trying to finish up work in progress in time for the 2020 publication.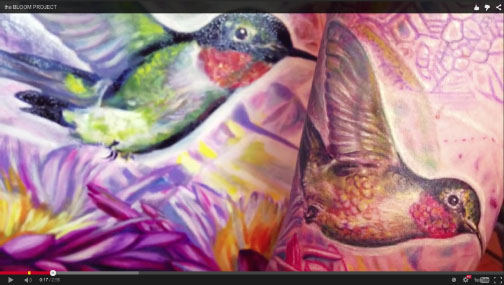 You'll be able to meet The Bloom Sisters in an ongoing series of articles in Tattoo Magazine, starting with a feature on Kristen Blinne in issue #304, which is on newsstands now. Michele has also produced a short video about the Bloom Project, offering a sneak preview of what you can expect when the book is released.