212 529 0666 -




WorldwideTattooConference.com
TattooNOW News
3/7/12
Over 40 new tattoos since yesterday!
I am at the airport on my way to the Off the Map Tattoo in Grants Pass Oregon. Holy moses, we cant thank Jeff enough for the oppertunity. Anyways, I am hammering out this update at the gate, I hope I have time! Ok, new tattoos have b...read more
TattooNOW Network News
3/20/12
3/19/12
3/18/12
TattooNOW and Paradise HQ
Appointments preferred, walk-ins welcome (413) 527-6574
Websites & Artist Services
Last TattooNOW Website Launch: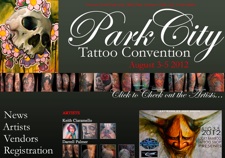 Park City Tattoo Convention
Free website consultations
10-3 EST (413) 585-9134
Feedback
Let us know whats working, and whats not! Please take this quick survey.