Tattoo of the Day
06.20.18
Have a friend take a picture (or pictures) of any tattoos that are especially meaningful to you. Submit images through Instagram | No fee | Submit as many images as you wish | Keep your print!
Full details can be found at: https://buff.ly/2LqWif7
25 selected images will be printed as part of "The Side Show," a photography exhibition within "Beyond Ink: Recent Artwork by South Bend and Regional Tattoo Artists," opening July 21 and featuring artwork by some of the region's best tattoo artists.
06.13.18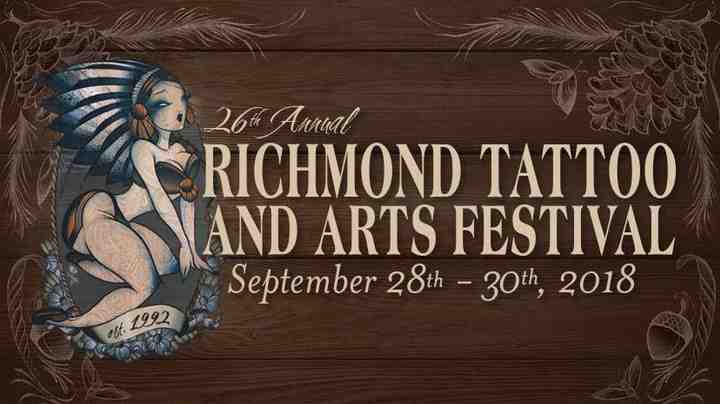 Sept 28-30, 2018 Jesse Smith and Kenny Brown continue the legacy of the Richmond Tattoo and Arts Festival, one of the oldest tattoo conventions in the world!

Hosting a spectacular lineup of tattoo artists including local artists and internationally recognized artists. Featuring many of the Ink Master contestants! Plenty of tattoo industry vendors. We are also proud to have in attendance many local RVA vendors.

Entertainment includes a Street Art Festival with live painting, the 2nd Annual Miss Pin-up RVA competition and much, much more!

Last year's event was a huge success! We thank everyone who came out to support the Richmond tattoo and arts scene. This year we are crafting a show with even more amazing artists and entertainment! Can wait to see you all there!
Hey guys! The studio will be closed from July 3rd through the 6th. We will be taking our annual company trip and no one will be here! We will see you guys after the holiday! Happy 4th of July!
We will be working by Appointment Only this weekend (Satruday 06/23 & Sunday 06/24). If you have a scheduled appointment, your artist will be here!
Feel free to email us at powerlinetattoo@gmail.com for more assistance. Thanks!
We just got in new t-shirts in new colors and new shop stickers! Come by the shop and check them out!!